My Secret Pal over at the ville is such a sweet person. She has been spoiling me to no end. I can't believe how lucky I am. It is like we are a match made in heaven. Whoever picked us out and paired her with me sure did a wonderful job. We have so much in commen. I believe that we are both kindred spirits with wonderful imaginations. I think we both are romantics at heart. And when I talk of romantic...I don't mean lovey dovey kind of romantic...I mean the kind of people that live in eras of old and have a lovely view on the world itself.

Anyways, I get e-cards and postcards from my SP almost daily and sometimes twice a day. Here are some pics of some of these postcards.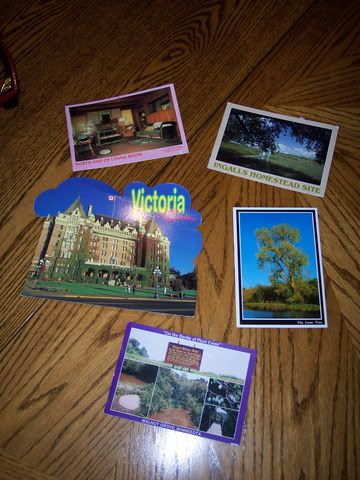 Aren't they bueatiful? Alot of them are from Laura Ingalls Wilder's homestead and around there. It really is quite neat. I just wonder how on earth my SP would know that I love Laura Ingalls Wilder. She must either live close to this area or she knew before hand that she was going to be paired with a kindred spirit. I like to imagine it is the later.
I recieved my first package from my secret pal too. It had the most gorgeous doily in it. I absolutely love this doily. I have a hard time making anything gorgeous for myself. This doily is so beautiful. Don't you think???
And it is pink!!!! My second most favoritest color in the whole wide world. I think God made pink and purple especially for me!!!!! I have always wondered what God's favorite color is. He has a favorite number so He's got to have a favorite color. I also wonder what his favorite creation is. (aside from humans of course) I also wonder what He is creating right now. I mean, he is a creator and creators never stop creating. It doesn't have to be only on our earth. He's gotta have some of the loveliest things up there in heaven. I can't wait to see them. I look forward to the day when I can sit at His feet and ask Him his favorite color. Then He will take me by the hand and lead me into His Garden and show me all His beautiful flowers. Then we will sit under a beautiful shade tree while I crochet up a perfect replica of each of the flowers in His garden and give them to Him as a gift. I yearn so much to be in heaven. It will be the most perfect place. And the tea there will always be sweet and never bitter. And all my crochet friends are welcome to come to my mansion anytime. Oh its gonna be so much fun!!!
Anyways, see??? Told you I had an imagination. I could literally daydream my life away. (of course while I am crocheting)
Well, back to the package. I also received some lovely thread. One is a size 30 Dmc thread and I am currently working on a dress design into which I will incorporate this lovely thread. The other is a size 50 thread from Turkey. OM gosh!!! I am so thrilled about this. I thought I was getting bold to just buy myself some DMC Cebelia. I have only ever used the cheapest thread I could find. Recently I have decided to start venturing out and trying some of the more expensive yarns and threads. But this was very recent and I have yet to try much. So, I am thrilled to have this stuff. I have the perfect thing in mind for it. I have been wanting to try one of those crinoline ladies. And they call for small thread. Not sure of the size but I think I am going to have to give it a try. And it might just have to be this week cause this thread is really singing to me. It knows my name and is calling it every 10 minutes..."Anna...make something with me!!!"
And here is a close-up of the doily. It is inspiring me to make a doily. I am getting the itch to do just that. Maybe this next week.
Flea Update:
We still have fleas and they are getting worse. My warfare against them is going to have to be taken up a notch. I can no longer sit on my couch without being attacked. So, it is time to bring in the big guns. (military wife speaking here) Someone has suggested to me the "TERMINATOR". Hubby laughed when I said that. He asked if I meant the exterminator and I said I did but doesn't terminator sound better? Anyways, someone has suggested an exterminator and so that is what I am going to have to do. And SOON. These thing are getting annoying. And poor Pattycakes. She cries all the time now. She really didn't like it when I sprayed her with the flea spray. And that other spray I had??? I sprayed our couch with it. More like drenched our couch with it. I might as well have sprayed my couch with koolaid for the good it did. I am ready to just burn this house down. I can't take these things. It is so gross. I HATE bugs. (so what am I doing living in Louisiana??? I am a loyal wife is all I can say.)
Okay, enough of that grotesque saga. I have some more pictures to show. Here is a pic of my latest dishcloth series. These are in testing right now and should be wrapping up soon. I can't wait.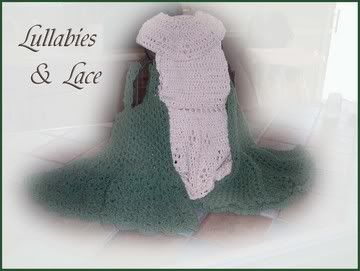 And my latest design??? I am so tickled pink with this. (well, green since they are green but it doesn't sound right...tickled green...) I am calling it Snips and Snails overalls. Love that name. It will be the first in my Nursey Rhyme Collection. I am going to make a girl version here on of these days and call it Sugar and Spice. I am also going to design another boy/girl set and call them Jack and Jill. You will be able to buy each of these seperate or as a whole collection. I can't wait to get my website.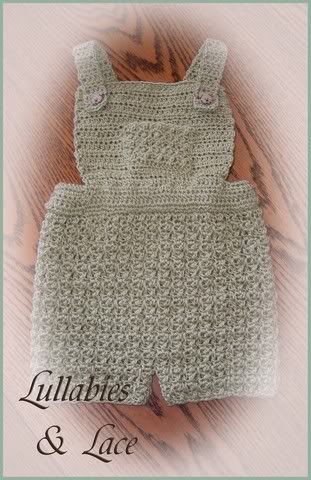 Oh!!! And by the way...go check out my website. There is a little suprise there that Debra has given me. I was so excited when she told me about it. www.lullabiesandlace.com Fun, isn't it??? I am having a blast.
I think I may have just figured out a way I can post more than five photos at a time on my blog. YIPPEEE!! I am going to try it here and see if it works.
So, my SP Miss Sterious wanted to know where some of my favorite places were and I promised some pics of my picures. Well, here they are.
This first pic is of the river that runs through Norwich in England. Absolutely gorgeous. I love the way the trees hang down into the river. It would have been so much fun to ride in a paddleboat down this river. This picture is framed and sits in my living room so anytime I need to get away, I look at it and dream that I am back in England amongst the fragranced flowers and cobblestone streets.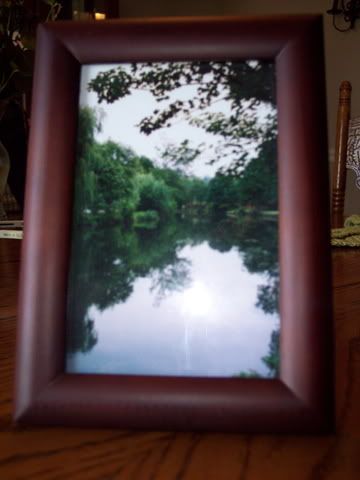 This next picture if a picture of the Ely cathedral. We lived in a village about 5 miles away from Ely called Prickwillow. Ely was one of my favorite places to go on a quick outing. I loved shopping there with my best friend Rachel. (who is a proper English lady) And Rachel and her husband Kirk were here for Christmas (if any of you remember that far back in my posts, there are pics of them there) and they gave us this picture for Christmas. I love it. Now I will always remember Ely and the times I had there.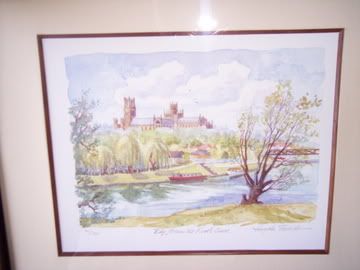 And next I decided to take pictures of my scrapbook. Alas you will not be able to view these individual photos well but you might get a general idea of some of my favorite places.

First is of Stratford-upon-Avon. I absolutely love this place. It is my favorite place in England. Such history there and beauty.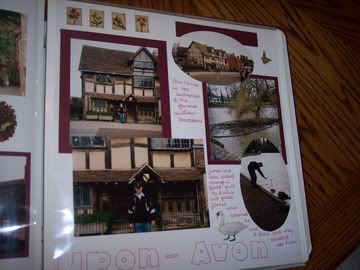 I stood in awe before these houses knowing that people centuries ago walked along the same ground that I did. It was awesome. My favorite place was Anne Hathaways cottage. I loved it there. It was so rich with history. I even got to touch then bench that Shakespear and Anne sat upon by the hearth while he courted her. Truly romantic.

And here are more pics of Norwich.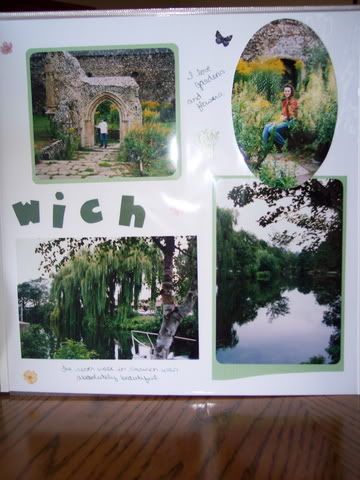 One of the wonderful things about England are thier gardens. I, for one, am a lover of anything called a flower. I love flowers. I love colors and scents and textures. (guess that is why I love crocheting so much, minus the scents one...can't crochet with smelly yarn...gives me a headache)
I realized that I never showed you all my latest hat for the Hat-A-Week CAL. I am up to 9 of 21. WooHoo. I go girl!!! (okay, that's supposed to be You go girl...but since I am talking to myself...well, nevermind)
Love this hat. I have some white yarn that I am going to make me another one with. I may give it to my mother for her birthday. (okay, planning waaayyy ahead here since her birthday is in October) I used Lion Brand Jiffy yarn for this hat. I didn't really like to color on it at first and I was going to give it to my friend Kelly in Italy but upon finishing it, I fell in love with it. (sorry Kelly) So, this hat is staying in my house. I may make another one for her but I have to get more yarn. Anyways, the pattern is from here and is a unique one. I love doing the hdc in the front loop/back loop. That gives it this "knobby" look. Very cute.

Well, that is all I have for now. Chloe is hollering again. Not sleeping like she's supposed to. I am about to throw this babywise thing out the window. They said that she would stop crying herself to sleep at around 4-5 months old. She is now almost 15 months old and is still doing it. At least she does during the day. She doesn't at night which is a blessing. I am about at my wits end with this though. I am tired of her spending so much time of the day crying. Well, she isn't really crying...just hollering...kind of fussing at times...I don't really know how to explain it.

We are going to MudBug Madness tonight. Wish me luck. I peeled my first mudbug last summer myself. (I like it in the restaurants when they do it for you...something about those beady eyes staring up at me kind of freaks me into losing my appetite)But I did it last year. I don't know if I have the nerve to do it again this year but since it will be my last festival here, I gotta give it a whirl.

Have a wonderful day everyone. I am off to see if this picture thing worked. If it did, you all are about to be bombarded with photos. That is the main reason I have been so slow with my photo posting is because I can only post 5 at a time and so I am a bit choosey. If this works then not any more. This will become Photo Galore!!