Okay, watch out! Don't say I didn't warn you all. I did warn you cause I remember warning you. I told you all that I now have learned to add more than five photos at a time on this here blog thing and so you were to be prepared for tons and tons of photos. Well, today is the day for said photos. I have so many things to show you. I am giddy with excitement. (or just giddy from exhaustion being that its after 11:00 at night and two hours past my bedtime.Hmmmmmm, we'll just call it excitement)
So, what is going on with Chloe lately? For those of you just dying to know all about the little crumbsnatcher. This thing has learned to climb. This is not a good thing to learn to do at this age. (well, at any age really...but that's besides the point) Anyways, this thing is climbing everything she sees. She can now climb on top of her new toybox (using a toy as a ladder...preferably a stable toy...stuffed dogs don't really work well, neither do balls...that is a lesson we have learned as well) and once she reaches the height of the toybox, she stands and surveys her kingdom. Not only does she stand and survey her pride, but she will tiptoe to the extreme edge of her pride rock and raise her hands out to the side and say "ba da dat. ohhhhhh." She says that about twice or maybe at the most three times before she gets swept of her feet and planted firmly on solid ground. (If you wanna know why this last bit happens, just look at her cheek and you will then agree with this manner of removal from the her position.)
So you don't believe me on this??? I have proof. My handy dandy camera that captures everything. Here she is atop her new favorite roost...when she is unable to climb her first choice. (pride rock)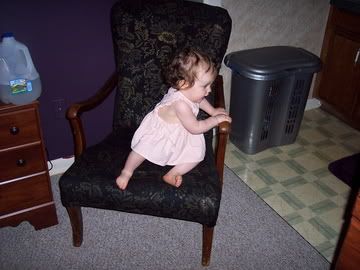 That one was taken shortly after she climbed up. And this next one was taken as she was getting ready to claim her stake on her new mountain peak.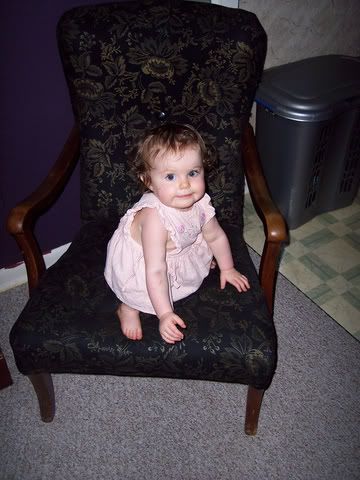 And here she is sitting back down after claiming her station.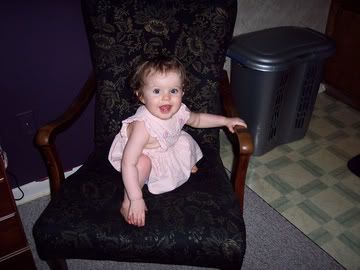 What a child!!!! And to think that I want something like 12 of these things. Oh but you gotta love them. She is such a riot. I love her to death and if all my kids were like her then I would have 50...and James couldn't say no!!!!
The other day, I decided that if I am going to have tons of kids, I need to train them young. So, off Chloe and I went to Toy's R Us. The perfect place to find the essential training tools for babies. I bought her a broom. And not just any broom. This thing is Chloe sized. Well, needless to say, when we got home, I immediately put her to work. We have changed her name now to Cinders. (but we don't have a fireplace so I don't know how long this name will last) We might have to change it to Ella when she gets older and starts to complain about her self image. (Ella is a good name)
Doesn't she look thrilled to be working?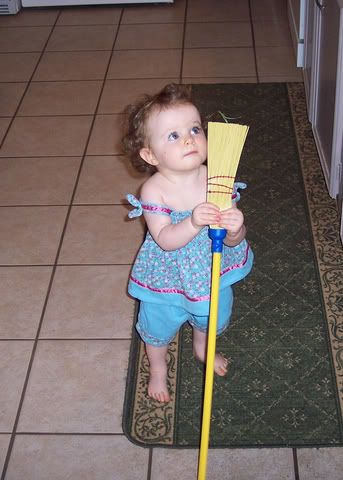 Oh yes...she loves it!!! Can't you tell?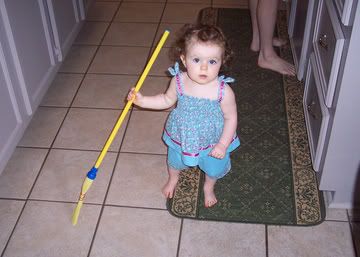 But no, really, she did enjoy her new activity. She actually did smile a lot while she was brooming. James has this knac for taking pictures of Chloe making horrible faces. (yes, those are my legs you see in the photos) He doesn't smile at her or talk to her or anything, just kind of yells her name and snaps the picture when she turns. She looks so sour in the pictures he takes. I think I should ban him. Here is a pic showing her actually brooming. And she really did like it. I promise.
Okay, I have something really funny to tell you all about my husband. He is such a riot. He cracks me up.
He has this thing about his grass. He takes good care of it. Whenever we drive down a street, he will point out the nicest yards and the worst yards. He will tell me what he likes about each and what he dislikes about each. Needless to say, he loves his grass.
He loves his grass so much that he takes pictures of it ever so often to share with his family. That just cracks me up writing about it. He is hilarious. The funniest guy I ever met. He wrote an email to his brother a couple of weeks ago and titled it Augusta National. How funny is that? Well, not very unless you watch golf...and understand the work that goes into their greens...then it becomes hilarious.
Even funnier are the pictures he takes. Like this one. The roof view. He gets this shot every time he takes grass pictures.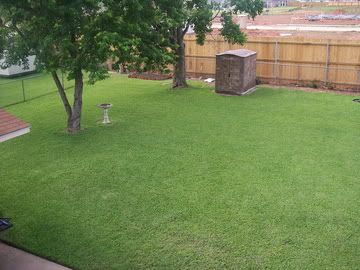 Okay, so you think that is funny? This one gets me every time. Just look and you are going to die laughing.
The close-up of the blades. Perfection!!!! (acutally, I see some brown blades in there so he must be slacking...)
Now here is something worth bragging about. (although hubby disagrees with me on this matter) My Asibles. I am so proud to have finally found a gorgeous flower that truly grows in a pure shade area with horrible soil that doesn't drain and actually has moss growing on it. These flowers have taken off. And next year they will be one long hedge type thing. (which is too bad cause I won't be here and these thing aren't going to move very easy...well, not at all actually)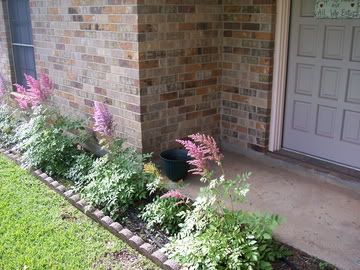 Okay, regardless of how funny I think my husband is, he is the sweetest man I know. (not including my father...but they are close...which is probably why I choose my husband) He bought me a tea kettle. And not just any tea kettle. He bought me one that automatically shuts off so you don't boil the water out and ruin the tea kettle. (don't know why that would be an issue...anyone like to tell me who in the world does such a completely stupid thing like that and why this would be neccessary to have??? I mean, come one...what do people do, turn on the tea kettle and then leave the room??? Do they sit on the computer for hours or something??? hmmm...puzzling) Anyways, dear hubby thought this was a nice feature for some completely unknown reason so he got it for me.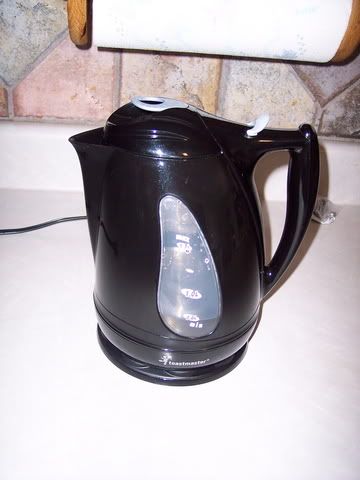 What a nice tea kettle!! And it keeps shutting off on me after it boils...can't figure out that one...I walk in the room and its off...oh well!! Makes a nice cuppa though...awfully nice...and I lights up blue when you turn it on. How cool is that???
Show me pictures of Chloe!!!! When do we get to see NEW pictures of Chloe!!!!!! That is all I hear any more. Pictures of tea kettles and grass aren't good enough anymore. Nobody cares. They only want to see Chloe.
Well, James was in the picture taking mood the other day I guess (which is extremely rare) and so he snapped some picutres without me knowing. I found these when I was uploading my crochet pictures from the camera. The minute I saw them I started crying my eyes out. For those of you who know me, you will see why when you look at the pictures.
For the first time since my daughter was born 14 1/2 months ago, I saw myself in her. Plain as day. I cried...I laughed. It was the most exciting moment since she was born. (well, maybe not the most...but pretty darn close) To realize that your daughter looks like you...that is pretty exciting.
Here is the first picture I saw...and I saw a resemblence there.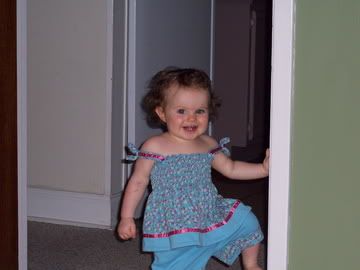 But this is the picture that I saw me in. My parents have a picture of me when I was probably three years old and I was leaning over a drinking fountain getting a drink. It hangs in thier bathroom. Well, this is exactly what I looked like in that picture. Curly hair and all.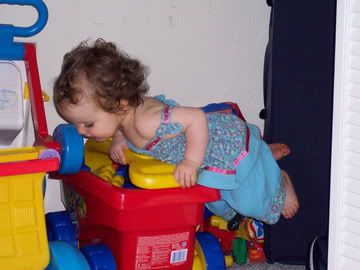 And I can see that resemblence here but not as much.
So, now enough pictures of my baby. I am probably boring everyone now. So, the topic you all are dying to hear about. CROCHET!!!!!! What have I been up to? Not much and a lot at the same time. I have deemed that in light of my new business endeavors and how much work I put into that, I am taking Sundays off. Completely off. I am going to spend Sundays crocheting for myself. Whether this be my CAL's or SWAP's or just a pattern I am dying to try out...it will not be work related.
This last Sunday was my first day off. So, what did I do? Well, my SP Miss Sterious sent me some lovely size 50 thread from Turkey...so I decided to do something with it. I had seen these Crinoline ladies online and decided that I had to have them. So, I bought three of them. (I think that is all she had) I made one. She is called Crinoline Girl Doily. Now the pattern says to use size 10 thread but as we all know...this is not a rule to be followed. So, I got out my size 50 thread and the smallest hook I had (size 11) and proceeded to make this girl. Well, let me tell you that it took twice as long as I though it would being that it was such small thread. Had I used size 10 I think it would have taken me about an hour to complete but with the smaller thread it took me like 3. (and that includes weaving in the ends...which there were more than I thought there would be)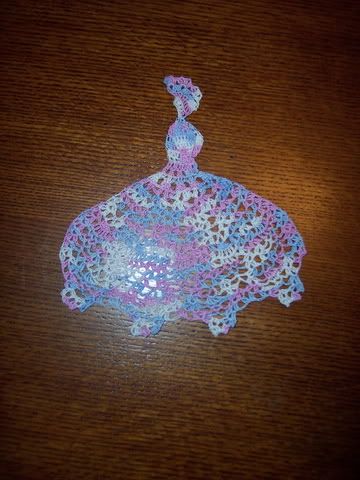 Anyways, I love her. I think I am going to frame her and hang her in my office/spare room. She was so much fun to make and I can hardly wait to make the other two I bought.
And as a little side note, I just have to say that Cylinda over at
www.crochetmemories.com
is extremely sweet and helpful. She emailed me soon after I bought the pattern and asked if everything was okay with it. I shared a photo with her of the finished lady and she said she will probably put it in an upcoming issue of her newsletter. Isn't that sweet?
I did my hat for this week for my Hat-a-Week crochet along. This is hat # 10 for me. I should be working on hat #22 since this is week #22 but alas...I am behind. I will try to get caught completely up this week and next. (gotta buy more worsted weight yarn tomorrow though)
I will have to add this link to this hat later as it is late and I am too lazy and tired right now to go search for it...but it is called Basic Bucket hat and it actually looks cute on me. (much cuter than in this picture where is looks blah!!)
And I have three of my four bookmarks done for my bookmark swap. I don't really know if I am supposed to be posting these pics before my partners have received them or not but oh well, they are here now and I am in a picture posting mood. (the only problem with my new found skill of adding tons of photos is it does take twice as long to do it...)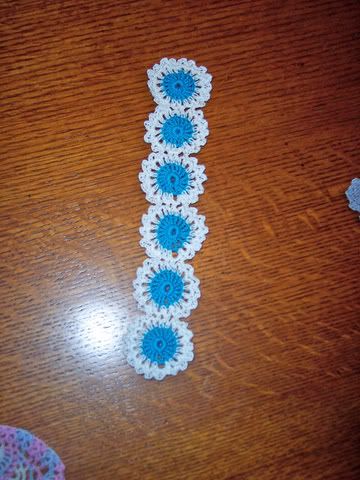 This is the yo-yo bookmark. Quite cute. Lots of ends to weave in though.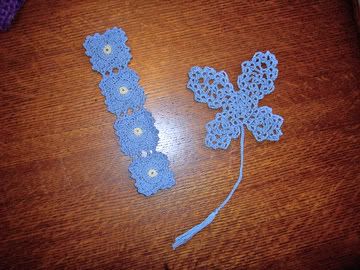 And these are two other bookmarks. One is a butterfly that I have doubts whether it acutally looks like one or not.It is pretty though. I am probably going to be making each partner more than one bookmark each since there are so many patterns I just have to try.
I have to show you something that might put me on the naughty list. My SP gave me the most stunning doily last week (and I posted a pic of it for you all to see then too) and she told me where she got the pattern. (big no-no...bad SP...bad SP) So, I had to get myself a book of her doilies. It was by Patricia Kristofferson. I was so amazed by it that I went searching for her book at Micheals today. (and I didn't have to search far...there were quite a few to choose from) I had a hard time choosing a book since I wanted ALL of them. But I ended up choosing this one since they are different. I have never seen doilies like these before and I just have to make some. So I got this book.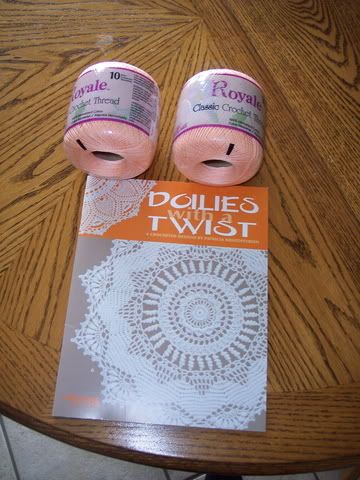 Now another reason I felt I needed to get this book is on a sad note. As many of you may recall, James father's health is poor. He has liver disease and was dying in Feb so this is why James and I are home and not in Afghanistan (me up north with my parents). Well, early Sunday morning we got a call saying that he wasn't doing well at all this weekend. We have been kind of sitting around and waiting for the past few days to decide when James needed to go up there. Well, yesterday his father was admitted to the hospital and they say that he's not leaving. They started him on pain medication last night which has put him in a coma. James arrived there a few hours ago and says he doesn't look well at all. He is spending the night in the hospital tonight. They are just trying to make things as easy on his father as they can for the pain and all. So, he is dying basically. So, this week has been a little tough on me.
So, I thought having a fun doily book would cheer me up some. I am at a loss really for ways to help. I am here by myself with a baby and can't do anything from so far away. We couldn't afford for me to go up too.
Anyways, enough on that. Here is the doily I am going to make myself this week. Isn't it gorgeous? I can hardly wait to get started. I have been working on my latest design (a shawl) and today while I was working on it, I had this book and the thread sitting next to me on the couch. Every couple of minutes I would gaze over at it and daydream. I can't wait to make this doily.
Now don't ask me why I have peach thread to make it in. It was the color that spoke to me in the store. Light pink was talking pretty loud to but peach won.
Anywasy, I am tired and it is now almost 1 in the morning. (man I have been posting this post for almost two hours...ya'll are lucky) I am going to bed and I will try to do a better job at updating everyone so I don't have to do it all in one post like this again.
Have a gread day/afternoon/evening everyone. (whatever it is when you are reading this)