Crocheting that is. When am I not crocheting? When I am sleeping, silly! What a question. Next question...what did I crochet? Lots of things. Wanna take a look? Sure you do.
I finally got around to making a ballcap to go with my Snips and Snails Overalls. It turned out cute I think. Something different that you don't see everyday. (Now if I could just make myself sit down and type up the pattern, we would be doing good.)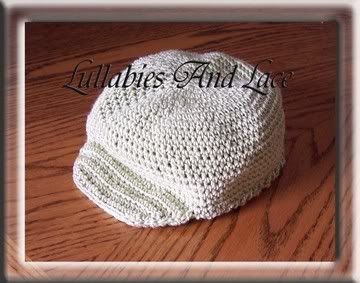 See how adorable? You want one...don't you?
Anyways, I also got my butt in gear after three days of slacking and taking my time and I finished this hat this morning. I think this is the longest it has taken me to crochet something so small. Really, it should have taken me a day. (at the most) But with the news of James father passing this week, I just haven't been myself lately. Kind of moody and introspective. I get like that.
Well, here is the Spring Blossom Sunhat.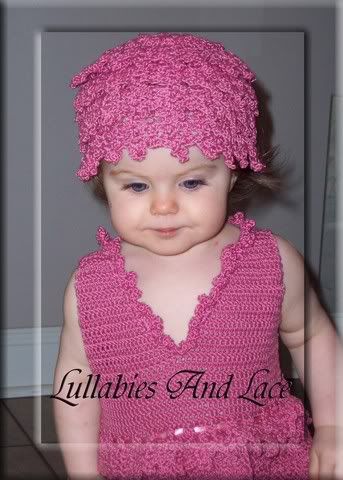 What do you think? I had one person tell me it cracks them up!! I think its cute. Only problem with it is I didn't get my gauge (don't know why I didn't stop and fixt that...guess I just wanted to finish)so this hat is a little snug on Chloe. The ruffles are supposed to be a little more floppy and not as tight around. Oh well. you get the picture. Anyways, I like it and that's all that matters. I think it is different and cute. We need some different things now and then. That's the spice of life.
So, I also worked on somethings for my partner in the Accessory Swap. I had fun with this swap. It was a great idea. For my second project, I made a purse. (I hope JimmieLu isn't reading this since our blogs are now linked by her webring she started for Christian Crocheters...check it out in my sidebar...pretty cool, eh?)
Anyways, I really wanted to show this purse cause if I don't do it now, I will probably forget. Now the other project I made her I am not going to show cause I want is to be a surprise (and you might not get to see it cause I will probably forget...I am not good at stuff like this)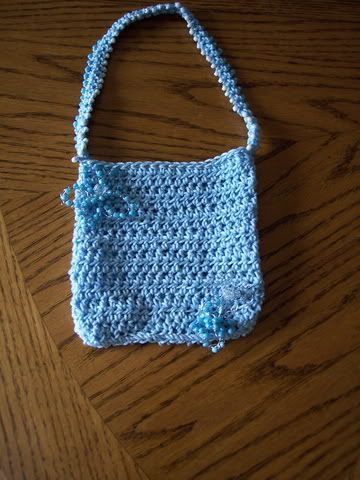 Now the special thing about this purse is the crocheted flowers in the corners. They are not just your ordinary crocheted flowers. Oh no!!! They are crocheted with wire. Yes!!! You read that right...wire...and beads. I love crocheting with wire and beads. It is something new to me and it is different. I like different (if you didn't catch that before...I did mention it two paragraphs before this one.) Here are the two flowers on the bottom corner. One is done entirely of wire (no beads) and the other one has little beads crocheted into it.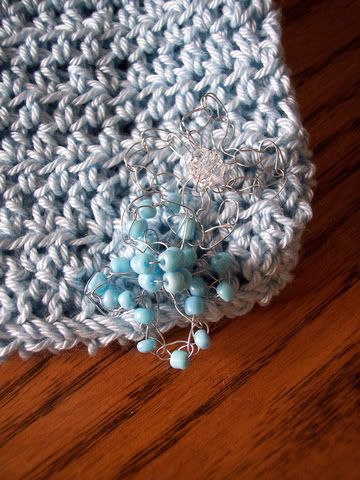 And here is the flower in the top corner. I tried to make each of the three flowers slightly different. (remember that different being good speech I gave a little earlier? By the end of this post...you will get the point,I'm sure.)You can see the flower better in this picture which is why I am showing it to you. So, you can get a good idea of what a wire and bead flower looks like.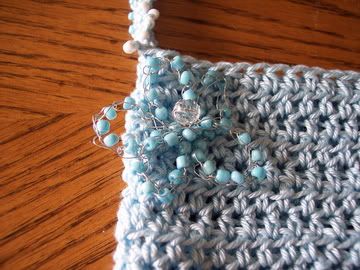 Now many of you know that I am involved in a Secret Pal Swap. If you don't know...keep reading the posts previous to this one and just see how spoiled I am getting from my lovely SP Miss Sterious (who is not so Miss Sterious anymore...details later) My goodness, how she spoils me. I am in heaven. I really am. I got another package from her today with the loveliest doily book in it. I don't know what to do. Oh...I gotta quit designing things. That's what! Because now I have these wonderful doily books and each and every doily in them is screaming out to me, "MAKE ME!!! MAKE ME!!!" Where oh where am I going to find the time to make them all. (Oh, I am sure I can work somthing out.) See how forgetful I am? I almost forgot to show you the picture.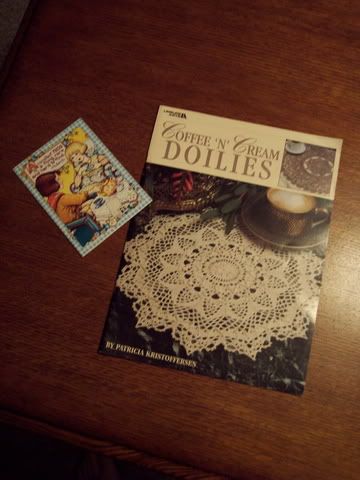 This particular book is another one of Patricia Kristoffersons. (does she know that I adore these doilies???) Oh, can you see that one in the top corner of the cover?? That is going to be my next doily. (after I finish Rosa that is.) And how is my dear Rosa coming along? I have four more rows and she will be complete. I am really trying to get caught up on a few things before I devote any more time to her though.
One thing I need to focus on is my Known SP. I have only sent her two packages so far and so I have three more to send in three weeks. Two are going to have two clues each in them as to my identity and the last one will have a picture frame with my picture in it. (she can take my picture out, of course and keep the frame...but I thought it was a cute idea.
Another thing I am doing is I started sending her an e-card every day with a clue in it as to who I am. Each day the clues will get more specific and obvious. I hope she enjoys this.
Now I am going to post a picture of what I made for her that I am sending out to her on Monday. In this package the clue I give her will be that I have a blog in my sig line. Then if she goes blog searching...she will see the item in the package on my blog.
So, here is what I made her today.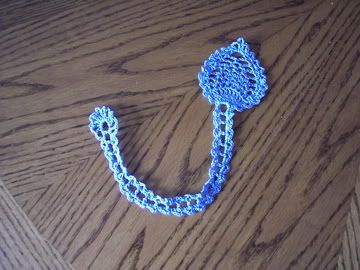 Its a bookmark. (in case you couldn't tell) I also made her some slippers but I don't know if I am going to send them to her. She asked for slippers on her questionairre thingie but I just can't find a decent pattern for some. One I tried was soo poorly written that I had to give up. I couldn't for the life of me figure out what they wanted me to do. The second one was okay...some minor problems but I was able to work through them. (okay, does any else not notice these errors in the free patterns? Or am I the only one on the planet that uses the free ones?)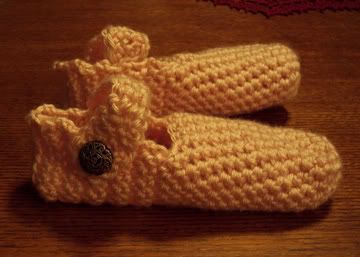 They are supposed to be mary jane slippers but they are small. (and they are done in size K hook...go figure.) So, if I stretch them, they do fit me (size 8 foot) but I am scared the my SP will think they are for a child...not her. So, maybe tomorrow when I am in better spirits, I will relook for another pattern. I have an idea of one I might try. We will see.
Guess what!!! I got an RAOK today. Its my first one since they redid the whole thing. (new cooridators and all.) I got something I really wanted to. I never thought anyone would send me something like this. (just from the fact that I really wanted it...isn't that how it goes?? If you really want something, you never get it?)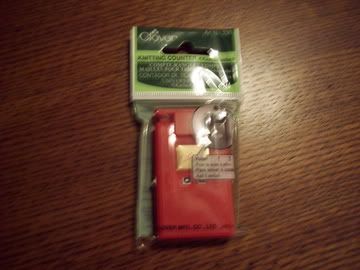 So, that picture didn't come out the greatest. This is a Clover row counter. And what makes this one special from other row counters is that it clicks. You just tap it and it does its thing. I have on that you have to turn the dial manually so I have to put down whatever I am working on, pick up the tiny thing, change the number and then pick up my project again. Well, no more thanks to my Fairy Godmother. yes, I should be able to hold my project in one hand and click the counter with the other. (unless I am really tired or drinking a cup of tea...but then I shouldn't be crocheting then anyways...so that shouldn't be a problem.)
So, I am ready to burn my house down. Literally! I think I am half insane. These dang fleas!!! Man, I feel like white trash. I mean, come on... who has fleas crawling on them??? I am so disgusted. I have resorted to two showers a day because I feel so nasty all the time.
Well, we had to get that new ac so the fleas had to stay. Not anymore. Its either them or me...and I choose me. So, if all else fails, I am pulling out the good ole charge card in the morning and calling the exterminators. I can't take this another day. I am going crazy.
So, do you all rememeber that lovely thread my SP sent me a week or two ago? The one that she used to make my very first doily she sent me? Well, I took it out of the drawer today where it was living with my American thread...and trying to learn English so it could tell me what it wanted to be...well, it learned enough to tell me "garden...dream" Just those two words. That's all it said. I petted it for a while and put it back in the drawer. I realize now what it was trying to say. www.crochetgarden.com dreamscapes sunhat. Yes, that must be it. It wants to be that sunhat. So, I plan on buying that pattern in the future and making this sunhat. I need to also make the Angel Set I bought from her a few weeks ago. It is a shorts and t-shirt set done in...guess what??? Thread!!! (and you were really wondering...)
Well, I am off to bed. James gets home bright and early tomorrow. (try like 3 or 4 in the morning...before the dawn.) I can't wait to see him. I am pretty excited tonight. This is why I need to go to bed. So I don't start pacing the floor and making myself sick.
Have a wonderful day everyone.