I have worked very hard today. And what a day it has been to. I have faced some difficult working conditions today. Remember last night???When I mentioned before I signed off that it was extremely hot in my house??? Well, I woke up a couple of times in the middle of the night sweating. Chloe woke up a couple of times as well. This morning I got up at 6:45 am and looked at the thermostate which I had turned down to 65 degrees when I went to bed...and the temperature in my house was 85!!! At 6:45 in the morning!!! Can you believe that??? I can't. It was too early in the morning to get that hot.
Well, I got on the phone with James and he finally called some service people out to take a look at it for us. After they were here about half an hour, one of them came inside with the bad news. The gadget in our thingiemabob was broken and you can't replace it. (ever heard those words before??? I think they just say this) So, he tells me we have to replace the whole Ac unit. And you wanna know what one of them things costs??? You don't. I know you don't. If I tell you then your ac will go out tomorrow. I just know it. That's how it works. Okay, I'll tell you. $1400. Not $400. $1400. That is fourteen hundred dollars in case anyone is confused by those two zeros on the end. Oh, but get this...I guess James told him we were moving soon so the guy tells me he has a used unit in his warehouse he can sell me for the low, low price of $600 buckaroos. ONLY!!! There goes our spending money this month. ALL of it!!!. If we do this ac thing, that means we don't have the money to bring in the exterminator for this flea problem we have with Pattycakes. AGGG!!! Choices...choices...what to do. Well, we opted for ac. Chloe was getting red cheeks by this point and woke up from her nap with wet, dripy hair. (and no, there is not a sprinkler in her room for all you cynicals out there)So, the fleas are staying put for ANOTHER month. Not to fear, though. My tactics last time were not the "seek and destroy" they needed to be. Tomorrow, I am going to cover every inch of this house with poisen. Last time I did one room at a time over a two week period and never really got the cat good. No!!! Tomorrow??? I am hitting every inch...every corner...every hair of this cats body. We are getting rid of these fleas one way or another. I hate them. HATE THEM!!! It is so gross.
So, now I am sitting here in the cool of my house, being bitten by fleas. How lovely. At least I am not sweating though.
So, what did I do today that warrants the title of Good Girl? I crocheted. And not just any crochet. I worked on something for my Accessory Swap Partner JimmieLu. Check out her blog on the sidebar in the Christian Crocheters Web Ring. I can't say anything about what I made her since she may read this blog now that we are linked. I will post pics of it once she receives her package. I am hoping to get it done and in the mail this week. I hope I can make it.
What else did I do??? Yes, there is more. I have done quite a bit today. I have decided that it is indeed better to give than receive. So, in the spirit of giving. I will be attempting to send out one RAOK each week. I have already done two and let me tell you, it feels good. I also decided that its not the size of the package that matters either. Even something simple and sweet. So, one person asked for directions to learn to felt and I found a pull-off sheet at Micheals for a cute little purse with the instructions for felting on it. I wanted it and as I was searching for my yarn, I remembered that someone on the ville wanted one too so I pull off two and sent one to her with a card. How easy was that??? It only cost me one stamp, a card (which you can get a pack of cards at Micheals for $1)So, I can tell you that this is something I will be doing a lot more of. I will peruse the Wishlists and randomly choose something that catches my eye. It will not be favorites in any way. One thing I will try to keep in mind though is if this person has received items before. I think it would be great to RAOK people who have never received anything.
Anyways, I made these stitch markers today for an Raok. I will not tell you who I have chosen this week but I will show you what I make or whatever. (just cause I love photos and talking and hearing myself talk...or in this case, type)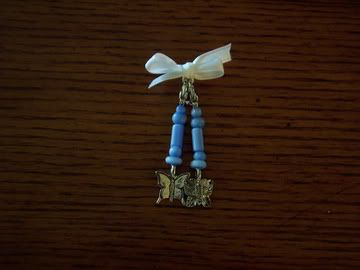 And since I liked them so much, I made some for myself while I was at it.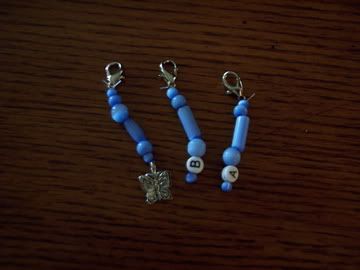 I did make more today, but that is a story for another time, folks. Not a word today.
And I did MORE!!! More??? Yes, I did more today. You will not believe what I did. THREE more hats. Not one, nor two...but three. I am catching up on my Hat-A-Week along. Yay!!!
This first hat is one I started last Sunday night but didn't finish cause I went to bed instead. It is
Tepperwears Ribbed Newsboy
hat. I love it. I do!! I used Lion Bran Jiffy for it. It took about one and a half skeins of it.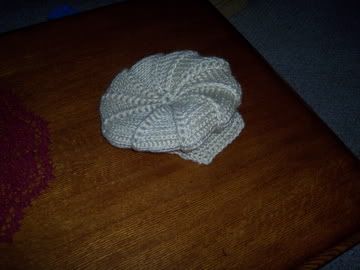 This hat has style and I must say that it looks adorable on. This picture doesn't do it justice. I love it. When James gets home I may have him take some pictures of me in all my hats I have made so far...just cause they look cute on but not so cute in the pictures.
I did this hat today too. It is called the
Addison hat
. I used Simply Soft Brites in Blue for this hat. It worked up quickly and I love it too. Its a perfect fit.
Now this next hat is a disappointment to me. I so wanted it for myself. It is called
A Little Bit of Funk
. I used the weight of yarn the pattern called for and also the hook size. This hat fits Chloe!!!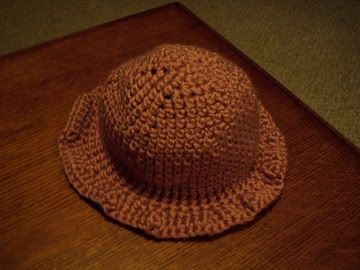 I don't know why some of these hats are turning out so small. I think I have a pretty good tension with my crocheting. Not too tight, not too loose. I think I am pretty average. So, why is this the third hat I have made that turned out way too small? I don't know. By the time I figured out it was too small though, I didn't feel like frogging the thing and uping the hook size. So, Chloe will have plenty of hats for the cold weather up north this winter.
I am sorry that the last picture didn't turn out so well. The hat is actually a pretty rose color. Not that pukey orange looking color. That's the lighting at night in this house for you. No more pictures at night!!!
I received a lovely little something in the mail today!!! Yes I did. It sure made me smile a lot. I am so pleased. Thank you very much Miss Sterious for my wonderful new pattern book. (now I know why I got in so much trouble for buying that other book)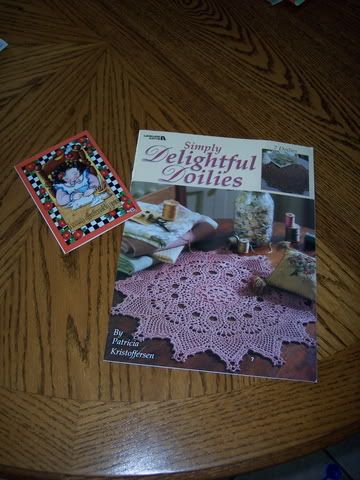 Oh, man!!! There are so many things I want to make. These doilys are among them. Lucky for me that I have already received two doilies out of this book from Miss Sterious. But I do want to make them all. Oh how I want to make them all. They are so gorgeous. Thank you so much Miss Sterious. I am very pleased with this. I can't wait to get started. (I already picked out one...but don't worry...it will be some time before I can get to it...got a busy week ahead of me)
Well, it is getting late and I could write for hours. So, I better cut this off and get to bed. Got a lot to do tomorrow. (like flea hunting...not really my idea of fun cause I will need to leave the house...that stuff gives me a headache like you wouldn't believe.
Goodnight my dear readers. I know you are there for I see the numbers below. How you all make me smile everyday!!! Thank you!