So I am trying a new thing out. It is called a Meme. (I think) I am new to this whole kind of blogging thing. I always thought a blog was just an online journal to write about stuff. But I have come across other blogs recently that have these sorts of lists and I like them. It gives people a chance to learn a little bit more about me.
So, Mondays are Memory Mondays.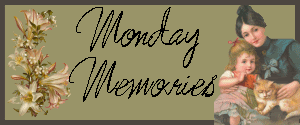 Monday Memories: Did I ever tell you about The Day my Daughter was Born?




This story will bring many tears to my eyes as I tell you about the first time I met my beautiful baby girl.

I have always been a bit worried about having children and going through the childbirth process. It had been my opinion that you cannot squeeze a watermelon through a lemon. I held onto this belief for a very long time. I always knew that I wanted kids (someday). Well, the time came two years ago (this month) that we were ready to make the big jump. And we did. Next thing I know, I was pregnant. And boy, let me tell you...I was pregnant. I was sick the whole time. (well not the first three months.) It was a bit funny really. At my 12 week checkup, the dr. told me that I would be getting over morning sickness and I thought, "great...cause I haven't really gotten any...this pregnacy thing is a breeze". Of course, in the back of my mind this whole time was what the labour was going to be like. And it didn't help that I had people giving me thier horror stories. (please...if you are that kind of person...save it...no one wants to hear horror stories of labour. Those who haven't experienced it yet don't need to be scared childless...and those who have...already know)Well, I got sicker than a dog. At about 4 months along, I had to be prescribed medication for it. I was pretty sick. And I continued in this manner until about half and hour before my daughter popped out.

Well, my due date came along and I had appointements every week. Those were no fun, let me tell you. But a neccessary evil...so I went. I went into labour two days after my due date and my husband and my mother (who was down for the birth from up north) took me to the hospital. I was not dilated at all but since I was in labour and they had plans to induce me the next morning anyways, they admitted me. That was the longest night of my life. I sleep every five minutes or so. They had me on an iv and some medication. (thank goodness for that)

My lovely daughter was born on Tuesday morning at about 11:00 in the morning. I remember that it wasn't near as painful as I had imagined. I don't really remember any pain at all.

I remember the first moment I laid eyes on my baby girl. I was in love. Completely in Love. It is a feeling that I could never describe. I knew at that moment that I loved and adored being a mother. I had a few doubts during my pregnancy. I wondered if I would like being a mother. If I would like my child. (okay...pregnancy hormones there) But the moment I laid eyes on her sweet face will remain forever etched in my memory. She had the bluest eyes I had ever seen and dark hair about an inch long all over. She was truly the sweetest baby I had ever seen.




I remember watching James hold her. I could see the pride in his eyes as he gazed at her tiny face. She had such little fingers and toes and we counted each one.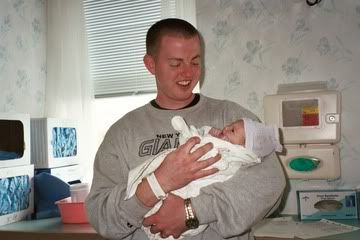 Those first days in the hospital I layed there for hours just stroking her face and whispering "I love you" in her ear. I would hold her every moment she was in my room.

My baby has grown now to a toddler. She takes all the books of her bookshelf and she climbs everything she sees and she opens all the cupboards and tries to sit inside them, but she is the darlingest baby in the world and I love her more and more with each passing moment. I love who she is becoming. I have found that being a mother is truly the most rewarding job in the world. Each smile I receive is my payment for a job well done. And it is worth it. Totally and completly worth it. I wouldn't trade a moment of it a for anything.

So, this is my memory to share with you today. I hope you enjoyed reading it as much as I enjoyed remembering it.

Links to other Monday Memories

(If you participate, leave your link in the comments and I'll post it below)


Click here for the Monday Memories code
Click here for Shelli's blog



Trackbacks, pings, and comment links are accepted and encouraged!



View More Monday Memories Participants