Short post today. I just wanted to show you all what I have made yesterday. This is a grocery sack holder. Some of my testers of the Vintage Style Dishcloth series said I should design a grocery sack in the shape of a dress. So, here it is.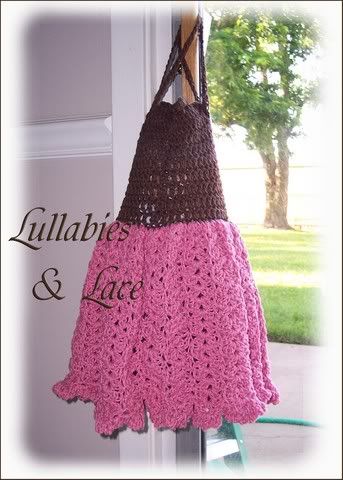 So what do you think? Is it cute??? This was the surprise I was talking about yesterday. I like it...but I don't love it. Someone suggested to me to add some crocheted flowers to it so I think I will do that today.
I am calling it Chocolate Covered Roses Grocery Bag Holder. Long name but I really liked the whole chocolate covered roses thing. Kind of different and since it is chocolate brown and rose colored, it fits. Unless everyone who buys the pattern does it in something like tourquoise and orange or something. Oh well.
I think I may like it better if I had done it all in one color.I am also thinking it would have been better to do the dc's on the actual bag part as hdc's instead. Maybe it would hold its shape better. Other than that, I do like it. Its different and cute and not something you would see everywhere. That's what I like.
Now, here is a picture of what I got in the mail yesterday for the bookmark swap.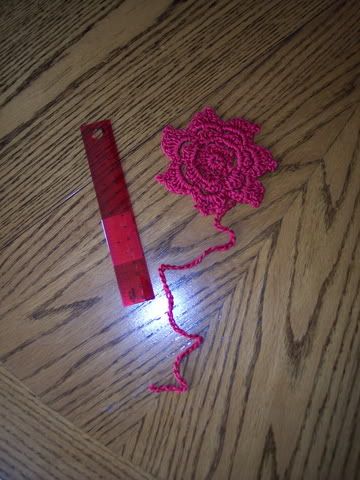 Isn't it cute? And I got a little ruler too. Perfect for checking my gauge and stuff. I will put it in my little handy dandy sewing box transformed into desginers box. Thank you so much Donna for this lovely bookmark. I love the red color too.
Well, that is all I have for now. I gotta take little one to her dr appt. I am curious how much she weighs now. Will be interesting to know since last time she dropped completely out of the percentile all together. I have been trying to feed her more protein so this will be interesting. Take care everyone and have a wonderfullyishes day.