Sorry, I can't think of one whitty thing to title this post...so I am going with completely idotic. I hope no one minds.
I have been so lax in posting here lately. Skipping a few days here and there...saving up pictures so my posts end up a mile long. Ah, well...you enjoy it. (I know you do...)
Well, My SP revealed herself to me. She gave me clues and I went hunting and found her. I was shocked to find out that my SP was the co-ordinator of the Secret Pal thing. The big lady!!! The Head Honcho!!! She is a big someone!!! (although she might beg to differ on that point, which I will argue my case with her, if she wishes.) Lori, aka...home burrough was a fantastic SP partner. I think anyone who would have her as a partner would be the luckiest person on earth. (as I truly am) I got so many things from her. Packages, doilies, e-cards (almost daily), emails full of interesting information about her (all without revealing any secrets to lead me to find her). She was very clever. Very, very clever. She has been doing this a while though and so she has perfected stealth mode...that is my assumption. She is very good at learning the inner beings of people. A trait that not many have. She has a gift for seeing below the surface. (and a rarer gift since she did this all over the internet and email)
Want to see what I got in the mail from Lori today??? Sure you do.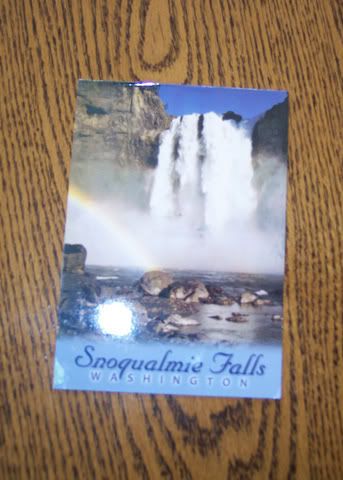 The first thing I saw was this postcard. I have found out that Lori lives in my homestate. She is familiar with many places that I know and love and cherish dear to my heart.
Now I have never been to these particular falls (that I can recall) but I know my mother loves them. I would love to go visit them. This makes me think that I need to get out more with DH. We need to see things before we move. We need to experience life around us instead of only in our house. So, this weekend we are going to find a pick-you-own-fruit place and pick our own fruit. I want to can some strawberries next week. Actually, I want to make some strawberry jam. I think it would make great Christmas gifts for those hard to buy for people (like our brothers...)
Well, the next thing I got from dear Lori was a letter with little notecards full of information about her. She titled one of them "Useless things about me" but I don't find them useless. I find them extremely interesting. I like knowing these little things about her, like her shoe size (finally someone bigger than mine...which is 8 1/2)
What I find extremely interesting about this particular stationary is that it is Hello Kitty (whom I love) but it is in Japenese or Chinese or something. (sorry if I offended anyone there, I really am. I have no idea the difference in these languages)
Now, the next package contained something very special. Lori told me that she was sending me something to go with my doily pattern books she already sent me. I have been wondering what on earth she could mean. I was thinking that since one of the pattern books was called Coffee and Cream that maybe she was sending me coffee??? (shrug) Well, to my surprise (and embarrasment over my idea) she sent me some Clover Soft Touch hooks. Not one...not two...but three!!! Yes, 3 soft touch hooks. I have been wanting to try these since others say they are so good and all, but just couldn't bring myself to pay that much for a hook. (note: I thought I would inject here a little info, if someone had asked me for one of these hooks, I would have forked over the money immediately...why is it so much easier to buy "special" things for others than to treat ourselves?) Nevermind. I am so pleased with my hooks. Thank you so much Lori. I love them and can't wait to start using them. (I already have the next doily planned out in my head...from a book Lori sent me)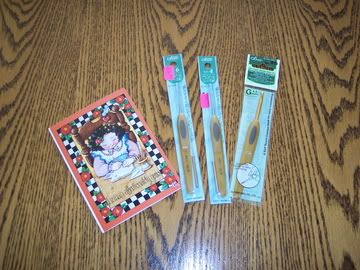 Speaking of doilies...Rosa is done!!! Well, almost. I still have to weave in ends and block her but she is finished with the crocheting part. Yay!!!!!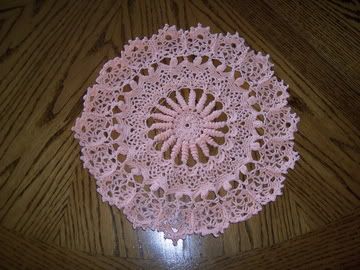 Isn't she beautiful???I am in love with Patricia Kristofferson doilies. I have to make more. I must make more...gotta have more....(breathing heavey and drooling on keyboard now)
I am very proud of myself this week. I have designed the bloomers for the Spring Blossom Dress. (which I can now call ensemble since it has all three parts to it...hooray for me)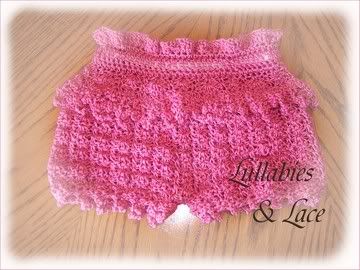 So, what do you think??? Cute? I like them. They are just meant to cover a diaper (which is not the prettiest thing around) but they are so cute...and it has a ruffle butt. (for my dear friend and tester Lilybean31905...who has been asking for a ruffle butt for some time now)
So, I got yet another RAOK the other day!! How good that makes me feel to know that people are thinking of me. I feel so special right now. I mean, total strangers, taking time out of thier day to make me things and shop for me and spend thier hard earned money on me!!! They don't even know me. I love them. My little fairy godmothers.
Here is what I got this week.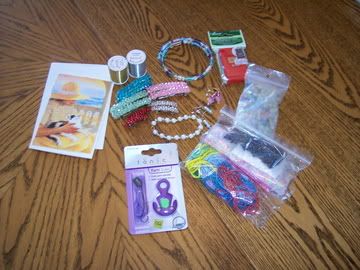 This is like the motherload of RAOK's. I got beads and wire and a yarn cutter pendant and a clover row counter (the clicker kind) and some handmade earrings and bracelet and necklace and barrettes. I have been needing barrettes badly. Mine are so boring. Yay!!! I have pretties. Thank you so much. (if you read this blog...)
Well, DH is calling. Movie time. (cuddle time...hehehe) Have a wonderful evening everyone.