Well, I have been busy again. Okay, when am I not busy??? Never. I don't think I have ever been bored. Oh, sure, I may not "feel" like doing anything...but I am never bored. I always have something to do. And if I don't, I create something for me to do.
That being said, I have not been bored the past couple of days. A few big things have happened. We got a call Saturday about our house. They came and looked at it. The house has been on the market for 1 week and 2 days and we had ONE viewing. ONE!!! That's it!! I am not happy. Not happy at all. Then I find out that our realtors who are supposed to be selling our house (ie...showing it to people and marketing it and such) are on a three week vacation starting the week the house went on the market. AAARRRGGGG!! Makes me mad. How on earth are they supposed to sell it while they are on vacation??? They should have assigned us a different realtor is what I think! Plain and simple. When we bought this house, we put a contract on it on day 7 of it being on the market. We are on day 9 and have only had one viewing. We have heard nothing about the viewing though so I am assuming they aren't buying it. Drats.
Another big thing happened for me on Saturday!!! I received in the mail from my Secret Pal Lori, a gift certificate to www.hhtatting.com. Oh my goodness. You have got to check that site out. They have the best thread in the world there. I am drooling. I am at a complete loss for what to use my certificate for. I have been wanting to learn to tat so I am seriously debating getting the supplies neccessary to do that. Or else, I may just get a sampling of different threads to play around with. Make some doilies or whatever. Or, I could get some thread to make Chloe a gorgeous dress. There are just too many choices in life. I have no clue what to do. HELP ME SOMEBODY!!!! PLEASE!!! HELP!!!!
Okay, got that out...I feel better now. Thank you so much Lori for being such a sweet and kind person. I really feel cared about. Isn't that strange that I can feel cared about from an online friend whom I have never met??? Crochetville is the best place. I love it. I have learned so much there and made some cherished friends.
Another one of my newfound "online" friends was my most recent swap partner, Jimmie Lu. I received a package from her today for our Accessory Swap. Jimmie Lu is another one of those sweet people's who loves to spoil swap partners. Check out all that she sent me!!!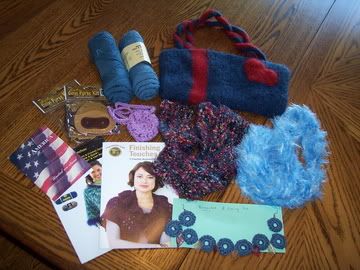 Broken up into smaller bites so its easier to explain everything. This next photo is a picture of the scarves she made me. The blue one is soooo soft and furry. I love it. The multi-colored one is soft too. I have no clue what kind of yarn it is and it appears to be a mix of two kinds maybe. They are so soft. I love them.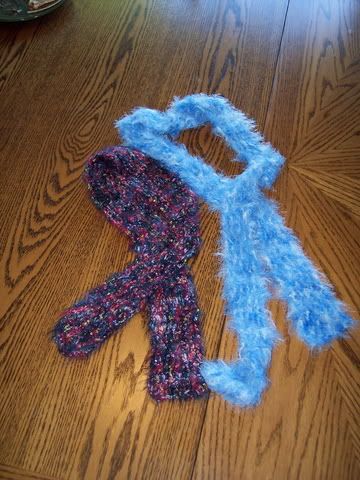 Next is a photo of a felted purse she made me. WHOO HOO. My first felted purse. I have been wanting to try this felting thing. Isn't it cool???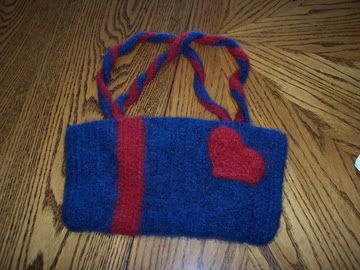 And here is the back of the purse. To be honest, I don't know which is the front and which is the back...but I am assuming the front is the one with the heart on it.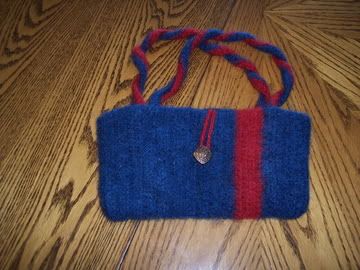 Next she sent me all sorts of goodies that had nothing to do with the swap. Little coin purses, some wool yarn and some lovely tea. I have already drank one of them. The Tazo tea. That was yummy and I will be looking to pick some of that up in the store next time I am out. I hear that green tea is quite healthy for you and anything that tastes yummy and is healthy for you at the same time is good in my book. (kind of like chocolate...very healthy for you...keeps you from going insane...can't get any healthier than that...it also keeps you going to the gym! Now you can't tell me THAT's not healthy!!!)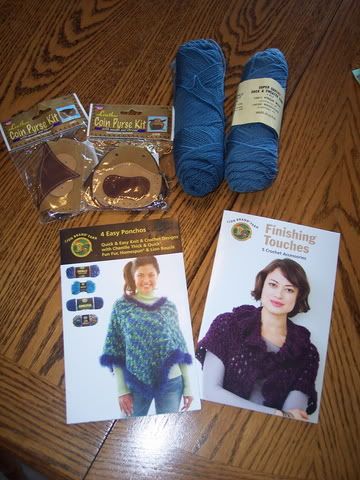 And here we have some earrings and a bracelet she crocheted. Isn't it cute. I love those little leaves dangling from the bracelet. Very cute. I am wondering where she got those rings that she has crocheted around. I am needing some of those for a design that is in my head for a belt. (nothing else said about that though...if I can locate those rings, it will be a surprise, k?)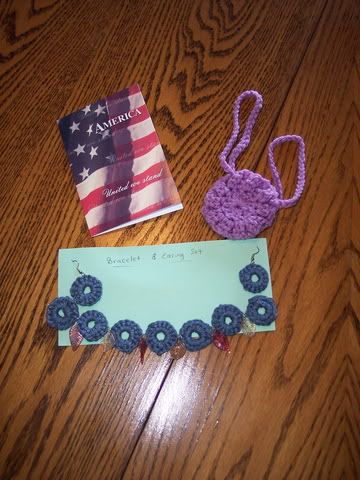 Now this didn't really keep me busy that much. Maybe the 10 minutes or so it took me to open the package and show Chloe each item that was inside while she ate. (a little dinner theatre...she enjoys those. Makes her giggle)
What I did do this weekend though was make three more hats for my Hat-A-Week along. I am so far behind on this thing, its not funny. I feel like I make three or four hats a week and still am like 10 weeks behind. I think its a conspiracy. They add three weeks to my one...that's what it is...the world is off by three weeks.
To be honest though, I am only 6 weeks behind now...and I think I can get at least two more hats done this week. (fingers crossed) Maybe three if I design Chloe's Freedom Belle outfit.
Here is hat number 18. This hat was made from this
Hippie Hat
pattern.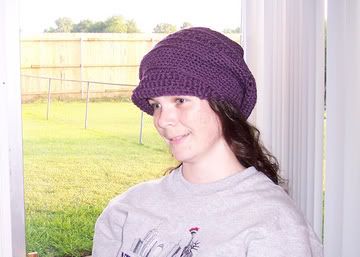 I didn't like this hat so well. It fits me around the forehead but the top of the hat is wayyyy too huge. Maybe this is the style a "hippie" hat is supposed to be. I don't know. I tried it on and James took one look at it and said "that cute...but YOUR not wearing it." He said it would look good on a Jamaican. The he commented, under his breath as he was leaving the room, "and you're not Jamaican." (He is very observant...I have complimented him on that from time to time)
The next hat I made was this
Shell Edging Hat
from Tepperwear's site. I love all her patterns.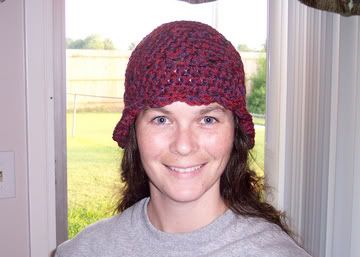 This hat, though, turned out too small. I can barely get it to fit. I can get it on though. Next time I will use a bigger hook and see if it fits better cause I love the pattern.
And hat # 20 is from Dot's site and is her
E L Brimmed Hat
. Love this hat. It is my favorite adult hat I have made so far in this hat-along.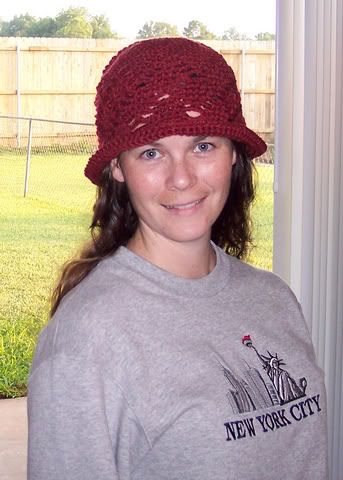 When I get some free time, I will have to add these three hats to my little galleries, I made on my sidebar. Have you seen that? Its pretty cool. Has all the hats I have made for this Hat-along in one place. I like it.
My Secret Pal is going to kill me for this next photo. I am apologizing in advance for breaking my promise. I shouldn't even be showing this and I could have totally pulled this off...but I am so excited about it. I have started another Patricia Kristofferson doily. Okay...okay...okay... before you all start yelling at me, let me explain something. Technically, I did say that I wouldn't do anymore doilies from the Doilies with a Twist book. I had no idea at that time that Lori would be sending me two more of these pattern books. Have you seen these patterns??? I mean, come on!!! How can I say no??? They are screaming at me to make them. Here is the one that yelled the loudest. And the color choice was no contest. It jumped into my hands as soon as I opened the thread drawer.
I am so in love with her doilies. I think I will make every single one from all three books of hers that I have. Am I biting off more than I can chew??? We will see...I am pretty hungry.
Well, darling crumb-bum must go to bed. So, I will run along now and see to it that she does. Have a wonderful day everyone.