This is a story about a day in the life of a housewife. Many will most likely find this tale to be boring, but it will be told, nonetheless.
The day started out like any other Thursday. It was bright. It was sunny. It was a day with many things to be done. Thursday is Errand day. A day full of car rides and long lines. A thursday type of day is not usually the highlight of a housewife's week but it is a day when many things get accomplished.
The particular Thursday that our story will detail started out like any normal Thursday Errand Day would. A giggle could be heard from the crib as the housewife awoke at 7:00 am on the nose. She arose from her bed as the days plans scattered around in her mind. Lists of chores to be done and the weekly menu to be written...all had to take place before the car ride adventure could commence.
With breakfast on the highchair tray, and a tornado toddler sitting still, mashing bananas into her mouth, the housewife sat down to the kitchen table to begin the grocery list.
Upon completion of the list, she arose and proceeded to clean up the kitchen from breakfast and gather the things neccessary for the days outing. While packing the diaper bag full of snacks, diapers and little attention grabbing toys (for those long lines with nothing to look at but miles of laudry detergent) the phone rang. Getting quite used to the phone ringing and it only being the husband, the housewife answered the phone and was shocked at who was on the other end. The centralized showing agency. They wanted to see the house which was for sale. The housewife said yes as this was only the second call on the house in two weeks. Little thought did she give to what time the showing was. After putting down the phone, these things started to come into her mind. The showing was scheduled right in the middle of the aforementioned toddlers naptime. Well, plans were quickly made for a place this housewife could go to for the naptime to be on schedule. But this meant to rush through errands.
Well, needless to say, you cannot rush lines in the grocery store and so lunchtime was not on time (which, in turn, means that naptime was not on time...which, in turn, means cranky mama)...and during the toddlers lunchtime, the housewife didn't have time to eat because she was running around the house, getting everything in order for the showing. (house must be spotless, you know.)
The housewife then packed up the car and the tired toddler and left for a friends house. At this point in the story, the housewife makes a judgemental error. She took a wrong turn on the road to the friends house and ended up at Hobby Lobby. (how she ended up at her favorite store, we will never know...it is in the opposite direction of the friends house)Well, in she went to buy a skein of yarn. Just one skein. She had run out in the middle of designing a skirt for the toddler. Upon entering the aisle of yarn, she passed by the crochet hooks and pondered if they carried any Clover Soft Touch hooks (that her secret pal kindly introduced her too and she fell in love with). Well they didn't, to the housewife's disappointment, but as she turned to leave the hook aisle, something else caught her eye. It was a Clover Bamboo Knitting needle. At this point, had the housewife had any wisdom at all, she would have kept on walking. But she didn't. She petted the knitting needles and dreamed of what she wanted to knit with bamboo needles. She imagined how the wooden hooks would feel in her hands after using cold, hard aluminum for years. (crochet hooks are aluminum too.) Somehow, (and we will never know exactly how) these size 8 bamboo knitting needles ended up in the buggy.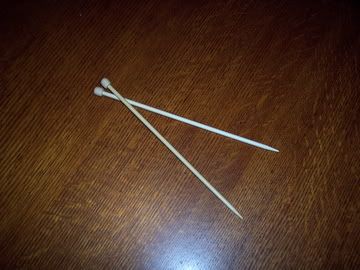 Then another wrong turn was made and instead of going to the well known aisle where the Sinfonia yarn slept, she ventured down the pattern book aisle. After a few minutes of browsing the knitting patten books, she placed one for some cute knitted dishcloths in her buggy. (to keep the bamboo knitting needles company, of course)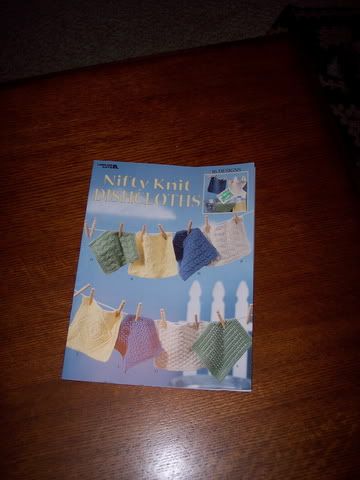 Now the housewife had another knitted dishcloth pattern book she had bought a few weeks earlier but when purchasing it, had failed to look closely at the dishcloths until she got home. She then realized that they were all patterns of heart and the housewife was not a big fan of hearts. This new pattern book suited her style so much more so I can see why she was inclined to purchase it.
The housewife then grabbed her Sinfonia yarn and trotted on out to the car with it. The next chapter of this story is what makes this Thursday much worse than the typical Errand Day Thursday. The housewife inserted the toddler into the car (note here that the toddler is asleep and has been for the past 15 minutes) and proceeds to start the engine of the car. Nothing. Nada. Zilch. She tries the key again. grrrrr...brrrrr....sssiiggghh....nothing. Did she leave the lights on??? No. Is is in park??? Yes. What is going on??? She does not know but it is very, very hot inside this car and she looks into the backseat where already, the sleeping tot has drips running down her forehead and cheek. She tries to call the husband on the phone but it is busy. She fears what he will say when he finds her stuck in the Hobby Lobby parking lot instead of the driveway to the friends house.
Well, after ten minutes, she finally gets a call from her husband and he comes and rescues her from the parking lot. She trots off to the friends house to sit and wait for the showing to end.
The plan of a long naptime at this friends house backfired when the cell phone rang (inside of Hobby Lobby) to let the housewife know her husband was waiting for her outside. (to jumpstart the car...what??? You thought she would wait all this time outside in the heat??? Are you nuts??? She went in and dreamed of patterns to crochet and knit until the phone rang.
Well, the tot would not go back to sleep, so the housewife finally went home. But she did try out her new bamboo knitting needles while she was sitting in the cool of the friends ac...
Now this is a dishcloth done on size 8 bamboo knitting needles. The pattern called for size 7 but Hobby Lobby didn't have bamboo knittineg needles in size 7 so the housewife bought size 8 (which is the size she uses the most often anyways). Well, these bamboo knitting needles are a dream to work with. The housewife has found a new love. I think she will begin collecting crochet hooks and knitting needles. Bamboo, turn of the century(TOTC), Clover Soft Touch, Baleen and crystallites. She might as well. It could be fun!!!
Well, that is not the end to this story. Oh no...but the worst is over...at least for the time being.
The housewife came home, much more relaxed from when she left. There is something about knitting that relaxes you. I think it may be the fact that she knits so slow due to being a beginner...but that's neither here nor there...Anways, she then cooked dinner of Chicken Tetrazzine (per her husbands request) and they sat down to dinner. Her husband (being the brilliant man that he is) decided it was time to teach the toddler to eat with a spoon.
He placed some squashed up squash on a baby spoon and placed it into the toddlers hand. This is what she did with it.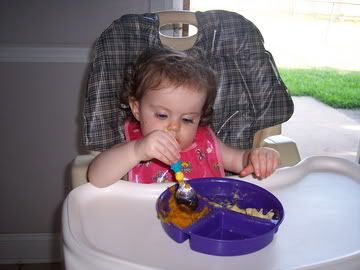 Upon handing her the spoon empty, this is what she did with it.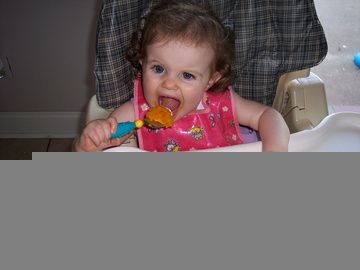 Is she hungry?? Or what???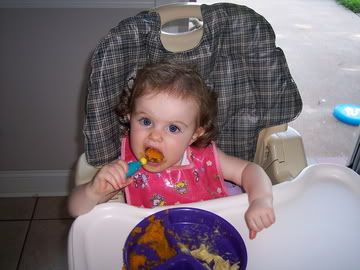 She might just make it in, this time.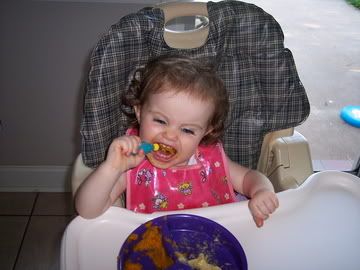 Its in...and boy is she proud. She didn't even wait for the spoon to get out of the mouth before she got the biggest grin. How funny it is to watch toddlers learn something new. I have loved every minute of Chloe's life so far. I look forward to the moments yet to come.
So, I bet you are wondering right about now, just what that housewife did with that yarn that caused such a big fiasco...well, I'll show ya!!! That's what I'll do.
Ta-Da!!!!!!!!!!!!!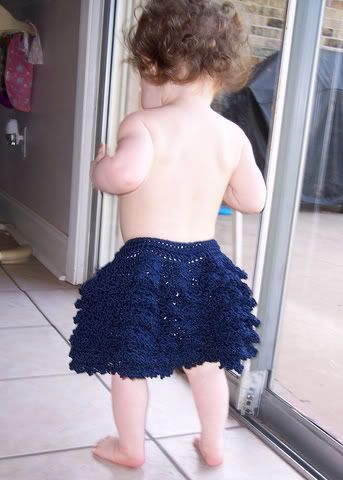 This is the skirt for my newest outfit Freedom Belle. I love that name. I have been waiting since last summer to come up with something by that name for my Holiday Lace Collection.
And I think Chloe likes it too. I put it on her and she was prancing around the dining room in it. Then she pretended to sqaure dance.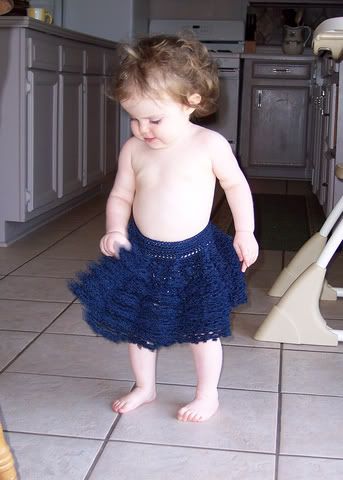 Well, at least that's what it looks like in the picture. She is growoing up more and more everyday. And turning into the most adorable little girl. I just love her.
Anyways, I just want my Unknown (now-known) secret pal Lori to know that I love these clover soft touch hooks. I have been using the size 4 for my latest Patricia Kristofferson doily (hazelnut I think it is...some sort of coffee flavor from the Coffee and Cream book Lori sent me) and then the Freedom Belle Skirt was designed specifically so I could implement the "G" one she sent. I love it...it seems to make my wrist feel better and I can get a gauge easier with it as it seems to help me hold my tension better. What a great hook!!! Loving it.
Well, this post is probably the longest post in history. I have probably bored you all to death with my un-exciting day that happened yesterday. We are waiting to see if they liked the house well enough to put an offer on it. Last night they said it was between two houses and ours was first on the list. Yay!!! We got feedback on the first showing from last weekend and they say they are going over their finances so they can try to afford this house...they really want it...and then we had another showing today and are waiting to hear the feedback. So, wish us luck!!! (and pray that someone will buy it soon...this house selling stuff is for the birds...I am not enjoying it one bit...not ONE bit.
Oh, a little announcement for those of you who were brave enough to read this far...I have recently found out that I have not been such a nice blogger person. Somehow my email notifications for comments on this blog was set for my old email address (that I NEVER use for anything so I don't even know why I had it in here) and that email address has been closed for months now. I wondered why so many other people had tons of comments on their blogs and mine diminished to nothing. (which is why I put in the hit counter...to see if people actually read this thing...and you do...thank you) So, to let you all know...this has been changed and I am now a nice blogger again...so comment away...I love comments. Especially how cute you think my baby is or how wonderful my designs are. (just kidding...but not really...I do love comments though...)