errrrr...that should be A Mockingbird to Kill. I saw the funniest thing the other day. And I didn't see it only once. I have seen it three times this week and each time it gets funnier. I look out my window and I see a little squirrel running for dear life along a narrow post across the fence in my backyard. He is obviously fleeing from something. And then it catches my eye. The mockingbird. The squirrel was being chased by the mockingbird. And how do I know this?? The mockingbird was no more than 5 inches away from the squirrels tail. It really was a funny looking site. He kept swooping down and pecking at the squirrel. I actually felt sorry for the little guy but a mockingbird is no match for me. It would win. They are mean little suckers. I have decided that they are indeed NOT romantic. I have always thought of them as romantic cause they are a southern bird and southern life has always seemed romantic to me. But they aren't. They should be baned to the Sahara desert or somewhere not cool like that.
Poor squirrel.
Well, I have been keeping myself occupied. (and no one thought I couldn't, I bet) That has never been a problem for me. Always something to do. Never what I should be doing though...gotta work on that. I designed a new bonnet just in case I get chosen for that television deally. I really hope I get chosen. I am way excited about it. I may even design a sunhat too. I have an idea in my head and I will use peach thread and call it Sherbet Lace. Cute huh???
Okay, so now onto what I DID do and not what I am DREAMING of doing. I am calling this bonnet Angel Rhapsody. It is so gorgeous. I love it. I am to the point right now in my designing that I look at something and can't believe that I made it up from my head and didn't follow a pattern. If I saw something like this bonnet on a website, I would probably buy the pattern, that is how much I love it. Wow!!! How cool is that? Anyways, here it is.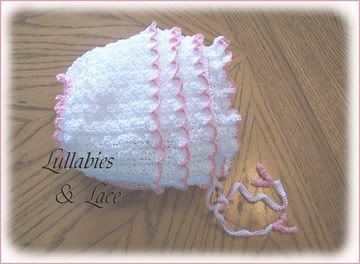 And here is a better view of it...the close-up came out better, don't ask me why.
And this is the back of it. I love how all the details came out on this one. So perfectly gorgeous.
Please choose me!!! Please choose me!!!!
Well, anyways, I had some shopping therapy the other day. Being home alone while James is off taking care of his father is kind of hard on me. I desperatly long to be near him and to wrap my arms around him and comfort him. But I can't. So, I say as kind of things I can say whenever he calls on the phone. That is all I can do. That and pray. He has been trying to talk to his dad about the Lord but his father just won't listen. Its so sad. To be so hard-hearted against the Lord. Makes me cry.
So, back to the shopping. I was just browsing along and happened to glance at the knitting patterns and wouldn't you know it but they started whispering to me. (not yelling like the doily pattern did) I wasn't really in the mood to argue with pattern books so I bought two.
This is a sampler afghan and each square is different. I thought it would be good for me to venture out and learn some different stitches besides a purl, knit, garter, and stockinette. Isn't it a pretty afghan??? I can hardly wait to get started on it. But hey, check out my side bar. I figured out how to add percentage bars in there so now you can all see what I am currenlty working on. Its not like I needed to add a knitted afghan to the mix. What was I thinking. Well, obviously I wasn't...but that's besides the point.
Here are the colors I choose for this. I am thinking of making it for James and his fave color is blue.
So, tomorrow is crochet-for-me day. I wonder if I will really adhere to this new thing. But I am going to try. I have four more bookmarks to make for the bookmark swap (can't stop at just one each...too many patterns to choose from out there) and then I have to finish up a little something for my secret pal...can't tell you cause she might be a detectiive or sherlock holmes or something and find it on here and then my secret cover would be blown. I will take a picture of it and show you all when the swap is over though cause it really is quite cute.
I may work on one or two of these tomorow.
I thought I would share a picture of the virtual flowers my Sp Miss Sterious sent to me the other day. She is really the sweetest person to think of me in my time of need. Thank you Miss Sterious for being the best swap partner I have ever had.
Well, I am tired and need to get to bed. I wrote up another pattern tonight so now I only have two more finished dresses I need to write up and then I am caught up. Yay!!! What really sucks is that I am almost done with my new Candy Lace Shawl but I ran out of Paton's Grace in Blush. I went to both Micheals to find some and neither one of them had it. I am probably going to call the one across town in the morning and see if they have any and if they could hold it for me. I gotta get this thing finished and in too testing. I already have testers for it and everything. And speaking of testers. My friend Kristen posted in the ville that I needed a tons of testers behind my back and now I have tons of them. I have testers just sitting around waiting for me to come up with patterns. It would be so much easier if I didn't run out of yarn half way through a project.
Okay, enough of that. Have a great Sunday everyone!!!