Thats right. It doesn't look like much but at least I have something to show for FOUR days worth of work. Okay, technically four days is how long it takes me to crochet one of my baby dresses. (4-5 days depending on size and difficulty) So, what have I spent four days on???
A simple little boys hat. THAT'S IT!!! That is all. Four days worth of work. But let me explain something about this hat. It is done in thread and it is done completely in single crochets.
So, I will now show you the hat and then I will describe it a bit.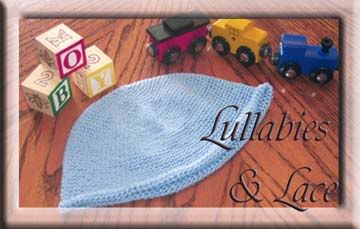 It doesn't look like much, but that little bugger was a little devil to try to figure out. I learned many lessons in working this hat.
Lesson #1 ~ Just because I can design a dress with intricate stitches in thread...does NOT mean I can design EVERYTHING. Lesson learned.
Lesson #2 ~ Thread is alot smaller than yarn. This, of course, means that you must make note of the differences in sizes pertaining to increases and decreases. They are not the same. Maybe this lesson was learned...that is yet to be tested.
Lesson #3 ~ Rolling the brim of a hat when you have never done so before can be quite a chore. It is very VERY easy to get a ruffled brim instead of a rolled brim. This lesson was probably not learned...I don't think I accomplished this as well as I would have liked.
Lesson #4 ~ Ruffled brims are not appropriate for boy hats. (see lesson #3) I didn't really need to learn this lesson as it is one I have previously learned while in designing school 101. (ha...I wish I had designing school 101...I didn't even have home ec...I have NO clue what I am doing here, NONE.)
Regardless of the various lessons I may or may not have learned while designing this hat, I am very pleased with the final outcome. I sure hope my friend
Debra
likes it since this will be for her new little boy.
Okay, so everyone needs to wish me luck. I am venturing out of my house for the first time by myself since Chloe was born for a girls night out. I am a little nervous, not of leaving Chloe as she is in the very capable hands of her daddy, but for the fact that I am going to be around people who have hurt me in the past and I don't know how to deal with this. I feel that this is God's way of telling me to forgive them before I move. It would be horrible to leave here next month with bitterness in my heart. I mean, for all I know, these people have no clue they have hurt me. So, I am praying for God's fogiveness to fill my heart. This is my purpose in going. James thinks it will be good for me to get out the house anyways. I am quite the homebody and don't like to leave very much. I love my home...I am safe here. It is my refuge. But I will go...and I will TRY to have a good time.
This weekend is going to be VERY busy for me as well. I have some updates for my
new website
and some patterns to get ready to be released for sale next week. Oh...the joy of finishing a patter completely. I have a lot of loose ends to tie up this weekend regarding said patterns though.
If you haven't done so yet, go check out my website www.lullabiesandlace.com. We have added a new feature so you can be notified by email when I have new patterns out and also to recieve a quarterly newsletter I will be putting out. Alot of fun things going on around here.
Have a wonderful evening everyone. Take a moment and look at the night sky and marvel at the bigness of it all. God cares about the number of hairs on your head, even in such a grand universe. Amazing thought, isn't it?