Can life get any busier? Oh I bet it can. Just add two or three more kids to the mix and this would get instantly busier. But for now...I claim what I have been doing as plenty busy. The biggest news of the day is that my website (MY very OWN website!!!) should be up and running tonight sometime. CAN YOU BELIEVE IT?????? I nearly can't. I had dreams. Big dreams. And this website is one of the first of those big dreams coming true. Getting my testing forum (www.lullabiesandlace.com/forum) was another one of my big dreams...but now the website. I am beside myself right now. My life will change drastically once this happens. I have gotten a lot more confident in the past two months since I started having my patterns tested. I have learned so much. SO so so much. I could write a book on what I have learned in the designing business.
Most important...write EVERYTHING down...don't think it will be there in a couple of days. Minds are fickle and they tend to forget just the things you want them to remember. Another lesson learned...take your time. There is no rush to get patterns out. Take my time writing them...designing them...make sure they look outstanding and gorgeous. I have tried to many times to rush things and this could be why I feel that my patterns thus far have been sub-par. Not any more. I am taking my time on this next pattern...I will be adding little details to it that will blow everyone's minds. I can't wait!!!
Well, I have a little surprise I have been working on for a special friend. I have a feeling she will read this blog before I get the surprise in the mail (and part of that feeling comes from the fact that I told her there might be a picture of her surprise on here tonight...)Now as some of you may know...I met my friend Debra on crochetville when she saw a post of mine with a picture of my first dress I designed. I had mentioned in that post about my dream for having my own website to sell patterns on. Well, Debra contacted me because she designs websites and we struck up a friendship. We have a lot in commen, not the least of which is that we are sisters. We both share the same heavenly Father so that made our bond almost instant.
Debra liked my Anne of Green Gables 37 doily challenge I started for myself and said that she may like to do something like that for herself. Then, the other day she mentioned that she loves the PK doilies I have gotten from my secret pal Lori and the ones I have been making for myself and that she might just have to buy herself one of PK's pattern books. That got the wheels in my head turning. So Debra likes doilies??? And she would like a PK doily??? Ahhh...what a perfect thing to want.
So, in light of this...I have made my friend and my sister in Christ a PK doily. Now I must be clear on one thing here. I am in love with PK doilies and for me to part with one...well...that is "love". I have to really...really...really like the person to part with a PK doily. (and this one has yet to make it out the house...Just kidding...)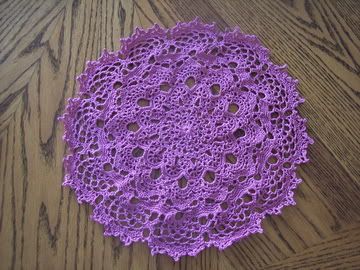 So, it is not blocked yet...that will happen tomorrow with all my other doilies that need blocked...and this picture does not do it justice. It really is more gorgeous and stunning in real life. Why, for the life of me, can I not take a decent picture to save my toad??? I don't know. They just never turn out right...even with a $500 camera. Arrrgggg......
This doily is called Charming and I think she is just that...charming. I started her yesterday afternoon and finished her this afternoon. She was my 24 hour doily. I could have gotten her done quicker had life not gotten in the way. Grocery shopping...baby feeding...dinner stuff...shower troubles...you name it??? it happened between yesterday evening and this morning. Of course...the two things I wanted to happen didn't and those would be a call about an offer on the house and that my patterns magically got typed up by little elves.
Speaking of elves...a little crochetville elf had me in tears today. I was literally standing at my kitchen island (the same one who bit my wrist on Sunday) staring at my wonderful Christmas in July gift in tears and shaking. I cannot believe the generosity of complete strangers in this wonderful world known as crochetville. Its as if they took all the nicest people in the world and placed them all together in our own little world.
This little elf sent me a boxful of vintage threads. Size 30 up to size 60. Size 60????? Oh ya, baby...size 60!!! I was literally in heaven. They even SMELLED vintage. Oh she was such a dear to share her wonderful treasure with me. Want to see???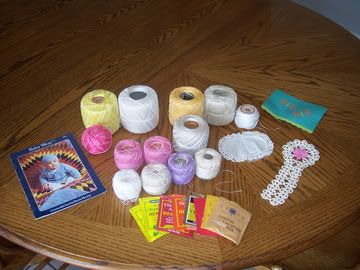 Just look at all that thread...and every last bit of it is vintage. This will be my very first time working with vintage thread. I am hoping beyond hope that I will inherit my grandmother Anna's vintage thread, doilies, patterns and such from my mother when she gets the chance to get the stuff out of storage. Oh...but until then...I have something to wet my appetite. And I already have plans for that purple and pink both of which are size 30. Lets just say...embellishments for Summer Meadows. You can imagine whatver you please...it will be done in a couple of weeks.
So, there was a bunch of other stuff in this package too. Some lovely teas in assorted flavors. I am eyeing that Caramel one...sounds yummy...never had caramel tea before. Also, inside one of the balls of thread was this...
I placed it next to the tea bag (which only happened to be the caramel one...sheer coincidence)just so you can see the size of it. It is not finished...so I may crochet a few more rounds and add some shells to it (since I am so fond of shells). I am thinking of doing some tiny embroidery work on this and it will be a miniature doily. This will be a treasure of mine. It makes me want to finish my trunk in a hurry. (a story for another time...and maybe a picture too...not today though)
Now in this package was a bookmark. What I don't know was whether this came with the thread or if it was made by my wonderful elf. I love it regardless and will be using it. I have a feeling that it was made from some vintage thread too. (one can tell these things, you know...)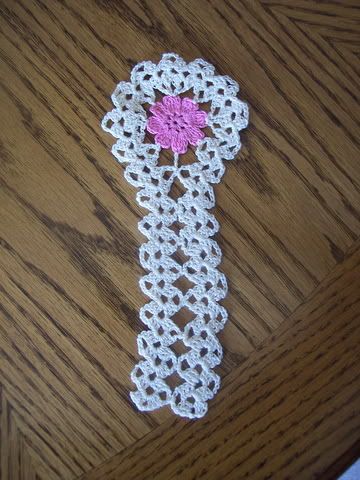 Isn't it gorgeous? I love it.
Now just to show you proof that I really am the proud owner of my very first size 60 thread...I have taken a picture of the label.
And this is almost like sewing thread. I cannot wait to see what size 100 feels likes. I think I may buy some with my GC from Lori. I still can't decide what to get. I better hurry up though or she might start thinking that I don't like it. AHhh...the struggles with indecision.
I did a very, very silly thing. Well, two silly things. The second one becomes less silly when you know the first one...so I will start with the first one so I can be forgiven the second one.
I signed up for a swap on crochetville. ANOTHER SWAP????? Yes..indeed...and this one is Lori's fault. She's the one who told me about it. Had she not mentioned anything, I probably wouldn't have found it in time to sign up. Oh well...its done...I have signed up and now I will be making a doily for someone. The assignments should be coming out tonight or tomorrow morning and I am anxious to see who I get to make a doily for. And a little nervous for who will be making mine...there are some talented people in this swap. I don't want them to be disappointed in the doily they receive from me.
in light of this recent silliness on my part, I bought a new pattern book. And I am proud of myself...its NOT a PK pattern book. I restrained myself and bought a different book that I have been drooling over for a month.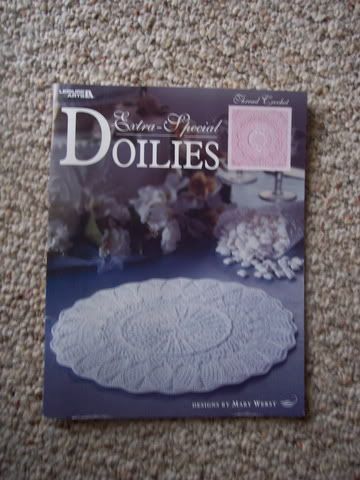 The doilies in this book are similar to PK doilies but not near as intricate as hers. Of course, I am only going by the pictures as I have yet to crochet one. When I do crochet one...this will be the first one I crochet.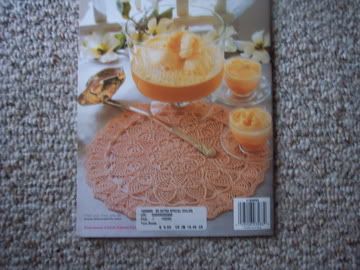 I choose this one not only because it is sheer gorgeous...but also because there is bowl of orange sherbert punch behind it and I absolutely adore orange sherbert punch...or orange sherbert...or just sherbert...its all good. But isn't it a gorgeous doily??? I wonder when I will have time to make this one? James ordered another one from a PK book first. But he said I have to design something before I am allowed to make another doily. (men and thier funky rules, eh?)
Warning: Abrupt Subject Change!
Chloe's book of the week club. Well, its not really a club...more like a mommy and me thing...but here is a picture of the book I bought Chloe this week. I was going to get a DR. Suess book or a Cajun book (to remember our time here in cajun country) but for some reason this book just had Chloe written all over it. And I was right. She adores this book. She will sit on my lap for 20 minutes just looking at this book. It only has like 6 pages...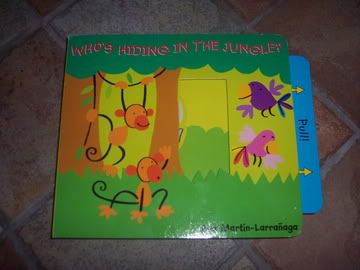 In addition to crocheting that doily for Debra today...I also designed the third and final scarf in my Funk Rock Collection. This one does NOT have any beads though as I felt that beads would take away from the design. I am calling this Ocean Waves Trellis. Pretty neat, eh?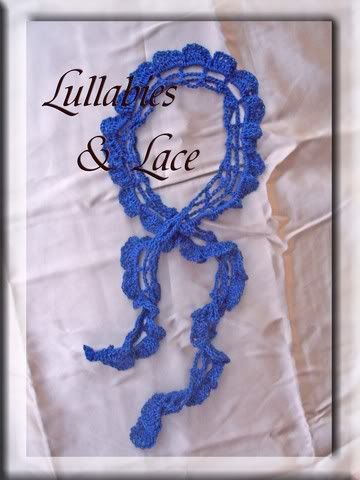 James took one look at it and said "Won't keep you very warm..."
I said, "Its not supposed to keep you warm...its just for looks".
To which James replied, "but its a scarf...scarves are supposed to keep you warm."
To which I countered, "This is the style for a summer scarf...its to look cool."
James, "Its awfully short and thin..."
Me, "You don't like it, do you?"
James, "No, not really. I would like it better if it kept you warm."
I can't win. Hopefully someone likes it enough to buy my pattern. That is all I can hope for. I am going out on a limb here with these scarf designs. It is my attempt at "funk" and I fear that I am not very good at it. I am more "vintage" and "lacy" and "old-fashioned". I don't think I would make it in these modern magazines. I was looking at a knitting one yesterday that everyone keeps going on and on about and frankly, I never even noticed the knitted items from all the "funky" bright yellow wigs with bright red lipstick eating apples and stuff. I don't see room for lullabies and lace in this type of magazine.
Well, James has rented a movie tonight. And this one WILL be good. The last one he rented was soooo awful we were sickened by it. It was a horrible horrible movie that I will not even repeat the title to for fear that someone will watch it just cause how horrible I said it was. No, tonights movie is End of the Spear. I already know the story so well. My parents were missionaries with New Tribes Mission (long before I was even a thought in a mind) and now my brother is a missionary with them. So, this movie will hit home a bit with us. (that and I spent some time in Papua New Guinea with New Tribes Mission Summit the summer before my senior year of highschool...maybe a Monday Memory sometime?)
I had better get off this computer thing so my husband won't feel neglected. He worked so hard today to fix this shower...the amount of money we put into it could have paid a plummer. Ahh...but it could not have paid for the knowledge he now has fixing shower pipes!!! Knowledge is Priceless.
Have a wonderful evening everyone. And if you get a chance sometime, stop by my new website www.lullabiesandlace.com. It might not be up at this moment but it should be up by morning. When it does go up...I will make a big post about it. It will be a moment to celebrate in history.