I truly am blessed. I cannot get over just how much the people around me spoil me and treat me so well. I got three packages in the mail just today and another one on Saturday. A total of four packages in three days. How wonderful. My mail-lady must think its my birthday all year long.
First I will show you what I received on Saturday for the Holidays in July at the ville. I got 3 balls of vintage thread. I cannot get over the generosity of people. Why on earth would they give me...a perfect stranger...such a treasure? I don't know but I am truly grateful.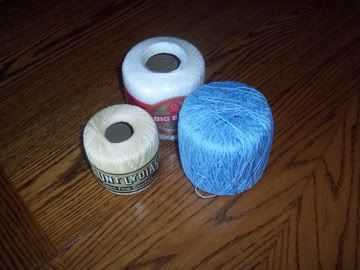 I already have plans for two of the balls of thread. The nice blue one will be a little thread hat my friend Debra ordered. Its gonna be darling for her little boy. And then the white one is going to be something for Chloe. Not quite sure what yet...but Chloe laid claim to the ball as soon as the box was opened and she wouldn't let go of it for 15 minutes as she toted it around the house and even placed it in her stroller for a ride a time or two.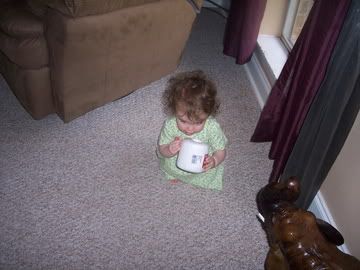 It has even been taste tested. (very important for a toddler)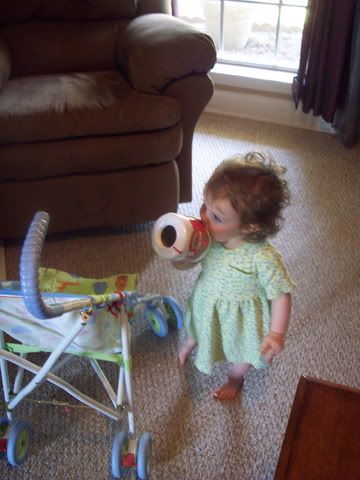 And then today's first package was from my secret pal Lori. How cool is she??? Simply the coolest person I have ever met. She made a doily for her fair entry but something went funky with it and so guess what is now gracing my night table in my bedroom? You got it...a new doily from Lori. This is such a unique doily. I really must search for the pattern book she says it came from. (yup...another PK doily) I am really in love with PK doilies. (wait...have I mentioned that before? Sure...but it is worth saying again.)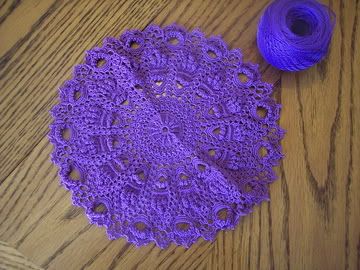 And not only did she send me this gorgeous doily (that you can't really tell it puckers...I think I can play around with the blocking a bit)but she included the leftover thread she made it with. Now THAT is cool!!! Super de Duper cool. I can tell you that this doily will be added to my 37 doily challenge. Click on the link in my sidebar to see them all.
Okay, for package #3!!!!!! I got a bookmark from my bookmark swap at the ville. Yay!! I had almost forgotten about this swap since I finished and mailed my bookmarks some time ago. I still have one more bookmark after this to recieve. But here is the bookmark from Juli. Isn't it pretty?? I love red...such a vibrant color...full of passion. And I love the points on the fan of this bookmark. Very cool.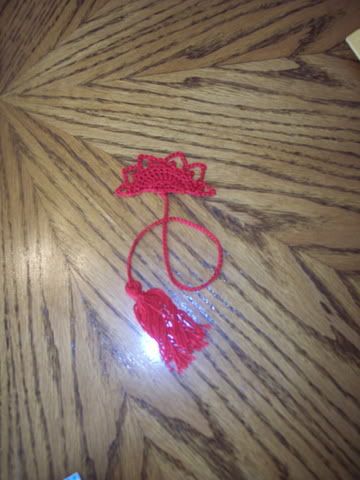 Doesn't this look like an oriental fan??? I just love it.
Package #4 just blew the top off me today. Can you guess what was in it??? MORE VINTAGE THREAD!!!!! Holy Moly...I am literally blown away right now. (I think I am in the south seas somewhere...ya right...I wish) But check this thread out.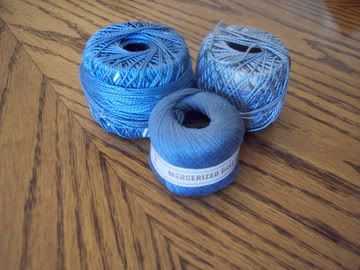 I STILL don't know how to take a decent picture with this camera. (I really should read the owners manuel) Anyways, this thread is a really pretty color of a grayish blue. One of my favorite colors of blue too. I love it.
Now just so you can see the size of it, here is the smallest ball of thread. I am guess this to be either size 30 or 50...possible 40...I can't really tell and I can't see it anywhere on the ball.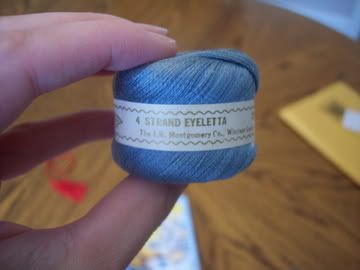 I am thinking this will be a doily of some sort. Don't know which one yet, but I am leaning towards that Bourbon Rose Jug Cover I made my secret pal. I love that pattern and this thread might be perfect. Thank you RAOKer's and Holiday in July cheer-givers from crochetville. If you read this blog, please know that I am so grateful for your thoughtfulnesses. You all are too kind. I will put all these goodies to good use. Believe me. I will.
So, here is something I don't think I ever mentioned before. I joined a couple of yahoo groups a few months ago (2-3...not sure exactly). Well, one of those groups, Crocheting With Thread, started a CAL (crochet-a-long) a couple of weeks ago. Now what makes this CAL different from others I have participated in is that I don't know what I am crocheting. Funny??? Yes. I love it though. Its kind of unique. Intriging. Keeps me interested. (well, its something small anyways and its not like you have to work hard to keep me interested in crochet...lol)
So, here is Part 1 of the CAL.
So, my guesses at this point were ~ bookmark, and bookmark, and maybe a belt. Hmmm...part of the supply list was velcro, snap buckle and a ring. So, I must keep that in mind while I am trying to figure out what this thing is. I think bookmark is out.
Well, last night I finished Part 2.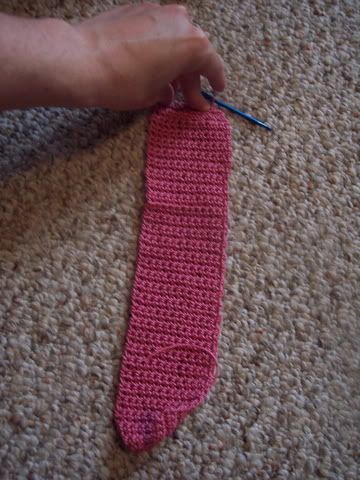 Man alive...the guessing is getting harder the more I do...not easier. Book mark is definately out because we decreased at one end for "flap". There are also two places somewhere in there you can see where we worked in the Back Loops Only making little ridges. These are not spaced even along the strip though. I am very very curious and will be working on Part 3 sometime in the next day or two. My guesses now??? Some sort of bag...like a cell phone case or something. But whyfore the ring??? I do't know. I will keep you updated. Does anyone care to give a guess as to what this will be??? Just leave a comment.
We had a photo shoot today. I was able to get some decent pictures of Chloe in the Freedom Belle set. Wanna see??? Sure you do.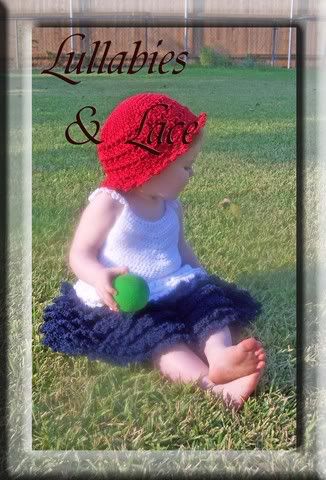 Drats...I think something was on my lens because every single picture I took today of Chloe has this little fuzzy, faded thing going on...part of it looks like that fading they do on the glamour shots. (maybe I am doing better than I thought...lol)
And the hat up-close.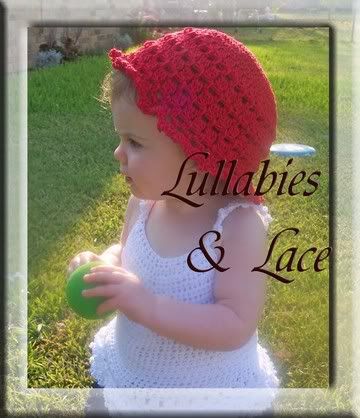 Okay, pay no mind to the little green ball in her hands. I have found that she poses much better nowadays with something that acts as a form of distraction she can hold in her hands. Works like a charm. I am not looking forward to the day when these little tricks no longer work. Ah well...it works now so I will be grateful.
So, what do you think??? Too corny in the red, white and blue theme??? It was a whole heck of a lot better than doing a striped skirt or something.
I have spent some time in prayer lately about my desiging capabilities. I so badly want to design beautiful things. I am loving it. It brings me such joy to crochet something and know that I not only made it...I designed it. But alas, everything has its down sides. I can see all the flaws in my designs and I get told of them too...and this is hard to take. I try to take everything said with a grain of salt but after a while, it gets to me.
So, this morning I handed it over the Lord. This business is His and I will do and act as He directs me. I am thankful for my abilities to design and to complain how I am not as good as this person or that person would be slapping my God in the face. I cannot do this. He has blessed me beyond anything imaginable.
Yesterday, I was reminded of how many martrys there are all over the world in prison for thier faith. What have they done to deserve this that is different from me? Nothing except that they were not born in a free country. They do not have the privilege to worship God how they like. And then, here I sit with all my food, air conditioning, television, radio, microwave, shopping and yarn/thread and I complain that someone else has more talent than me. What??? I have got it all wrong. Its all backwards. I should be thankful for each and every stitch that I have the freedom to make. Each and every piece of yarn or thread that sits in my spare room closet. Knowing that there are many all over the world who sit on a cold, cement floor with no bed and only a hole in the corner to squat over when they need to use the lu. They see no daylight, hear no voices, feel no soft fabrics or smell fresh air. I have much to be thankful for.
So, I have a new mission now. That God be glorified in each stitch I make and that somehow, He will advance His Kingdom by using my talent and abilities. Ahhh...that felt good to say.
Well, its time for me to stop sitting here in front of my computer (which I am very grateful for) and get busy crocheting.