I need to remind myself of that sometimes. Just when I thought I had everything under control and I was catching up...some more things get dumped into my plate. Of course, I can't complain since I am the one doing the dumping. I call it upon myself really.
Lots to talk about tonight...Let's see...what's first? Maybe I will start with something easy. Chloe's book of the week club. Here is her latest book. I got this one yesterday when we had to leave the house for another showing. This realtor wanted a two hour window and I said, "No Way". I made her narrow it down to an hour...I am getting tired of carting around a teething, cranky 16 month old right smack dab in the middle of her nap times all over town for long periods of time. Well, we went and got this book.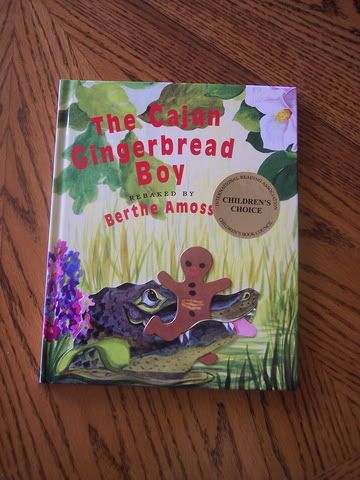 Chloe LOVES it. Funny thing is...she expects me to continue reading once she gets down and walks away. If I don't??? She comes and crawls back into my lap until she is satisfied that I will continue. This happens over and over until I get the point and I read for about 10-15 minutes to myself. Short books tend to get very boring at about the 5 minute mark. But I continue on for the sheer pleasure of my toddler.
This book struck my eye because it is the Cajun version of the Gingerbread Man. How clever is that??? I got it so it would be sort of a souvenier once we move (in 1 1/2 months...where does the time go?) and a way to remember the backwardsness that is Louisiana. Next week I have my eye on the Cajun version of Cinderella. That would be cute.
So, yesterday I started crocheting some snowflakes. You think its hot enough around here??? I thought maybe the snowflakes would cool me off a bit. Not really...it is pretty cold in this house without snowflakes...hubby keeps this thing like an icebox. I had decided that since numerous people on the ville were asking for snowflakes for the Holidays in July, that I would whip some up. Well, hubby and I ended up playing Yatzee last night together (and he actually got a yatzee!!!) so I only got about 3 done. I picked it back up today and got another 7 done. Here they are unblocked.
Unblock????? Doesn't she block ANYTHING??? Why yes, I do. In fact, today was football day. No...not football, football...but blocking football. I tackled all the doilies in my house that have never been blocked...both recent and ancient. (say...8 years ago??? I'm bad...yes, I know I'm bad.)
So, how does one go about blocking a doily??? (or snowflake???) Well, you need a board that you can riddle with pins...such as this one...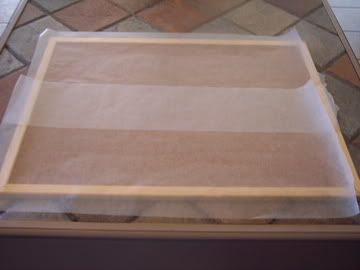 Notice I have covered it with wax paper. This is an important step if you do not wish to soak your corkboard (or whatever board you are using) with water and starch (if you prefer to starch.)
Next, you pin everything in place, stretching it to the size and shape you want. Here is the doily I made for
Debra
along with my 10 snowflakes.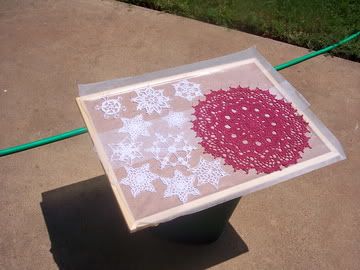 And here is my doily Rosa from PK's Doilies with a Twist book. She got pinned to the carseat box because the cork board wasn't big enough for her.
The really cool thing about this heat is that I set one of these babies out in the sun and presto...30 minutes tops and they are dry and ready to come in...That is how I got so many doilies blocked today. Man...if I had known it was this easy, I would have done it years ago.
Now I will show you just how gorgeous a blocked doily is. Doily #1 is Rosa. Just look at her details. Isn't she stunning??? I knew there was a reason I wanted to make her. (if you don't remember...she is the one that screamed at me in the store to buy the silly book and get in big trouble with
Lori
...my then "unknown" secret pal.)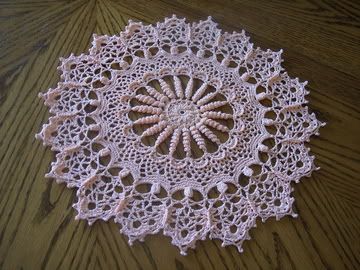 And a fun photo of her...I had fun playing with the camera angles on these doilies...made for some interesting views.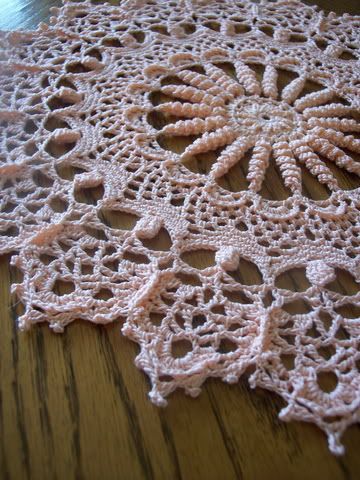 I actually did it so you could see the stitch details. This is the reason I fell in love with PK (Patricia Kristofferson) doilies. Her stitch details are like nothing I have ever seen before. Simply gorgeous.
And here is Charming...another PK doily from her Simply Delightful book. This is the doily for
Debra
. I took her picture on my sweater since I couldn't get the color right on my wood table. It was coming out all funky like...now you can see the pretty warm rose color.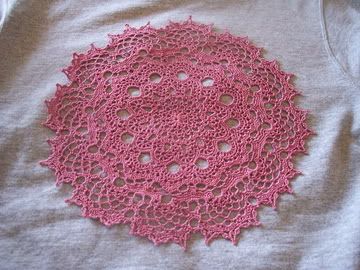 And the fun view on this doily. Can you tell I was having a blast with the camera??? (am I getting good or what???...you don't have to respond to that...)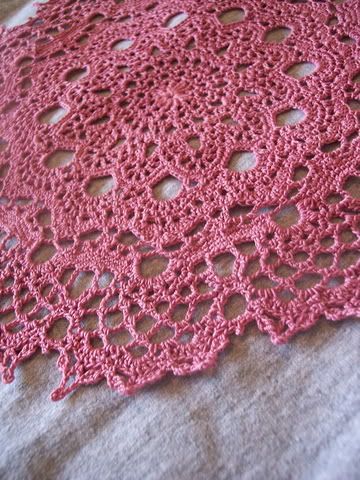 And my gorgeous doily Espresso from PK's book Coffee and Cream. I love this doily...so different.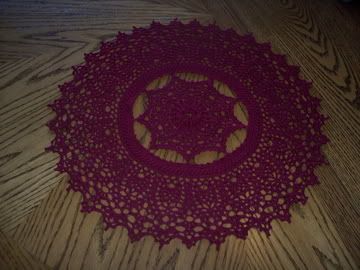 And my fun shot.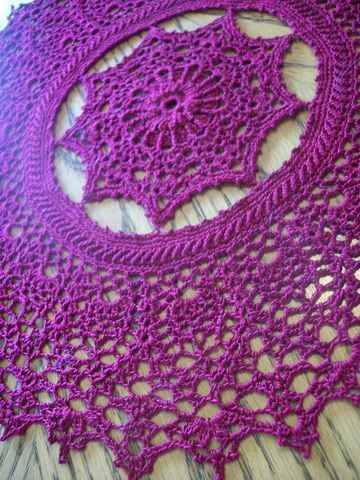 And here is the very first doily I ever crocheted...doesn't it look much MUCH better blocked??? I think so. I never knew just how beautiful this doily was.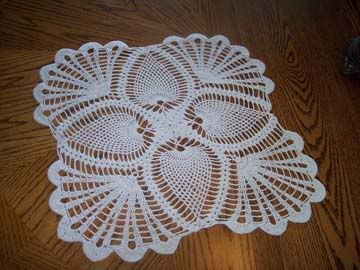 And the fun shot.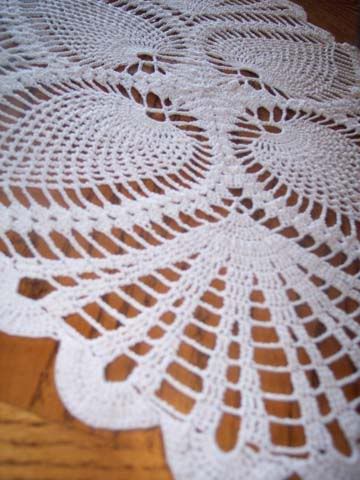 And a doily I made in England.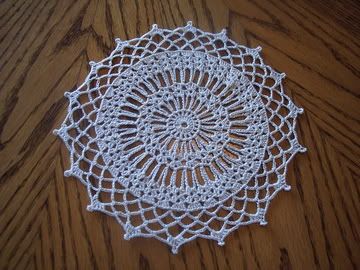 This fun shot has got to be my favorite. Well...its a tie between this one and Rosa. I think I am getting better at this camera angle thing.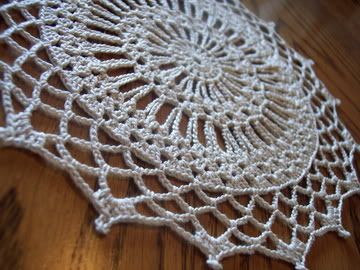 And here are the snowflakes...all ready to be packaged up and shipped off on Monday.
Package One will contain these two snowflakes.
Package Two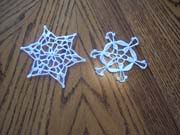 Package Three
Package Four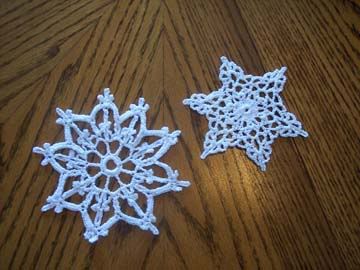 And Package Five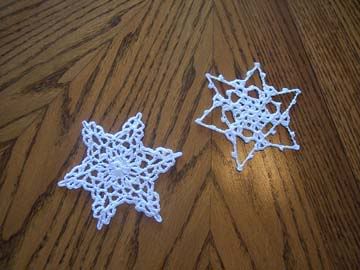 So, that is is for doilies and blocking and such. All these blocked doily pics will be added to my
Anne of Green Gables Challenge Gallery
. That will most likely take place tomorrow as it is getting late here and I need to get to bed.
Wanna see a bug??? This is currenlty residing on my living room window. Thank goodness its the outside and not the inside. I have a thing with bugs...and I think I would have to burn the house down if I ever saw such a thing inside...gross.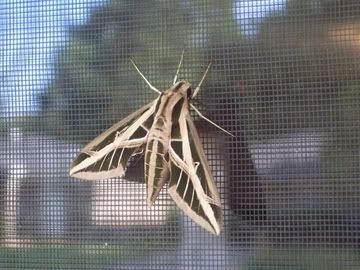 So, Chloe has been very tempermental today. I think I felt a new tooth breaking the skin. Yay!! Its about time...only problem is...I see a few more white spots on her gums so we are far from over on this teething business. Far from over. It doesn't help that I have had a headache for a few days now. Today I was just tired and headachy all day. Ugggg......
Anyways, to help her get through the evening...we got out the bubbles. Well, actually, she got them out and brought them to me saying "uhhh...uhhh...uhhh..." and holding them straight out in front of her until I grabbed them. I took that to mean she wanted to play with them. And she was semi-interested in them. She preferred to sit in my lap and watch the cat though.
Pattycakes sure loved them. I have never seen this cat get so interested in something before. She is the most mellow thing ever...but as soon as I got these bubbles out, she started mewing and then hopped down and played with them. I think she actually played with them more than Chloe did.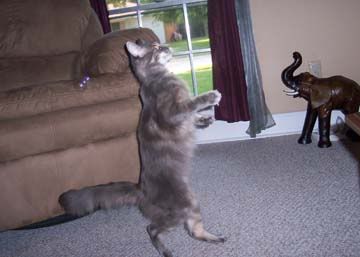 It was quite humerous to watch as she would jump in the air and then clap her paws onto the bubble. Then she would sit down with a quizzcal look on her face as if to say, "now that's funny...I THOUGHT I had it..."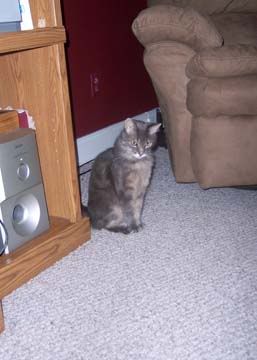 Other times, she would just sit and watch them pop on the floor. This is one funny cat.
Chloe did try to catch a few.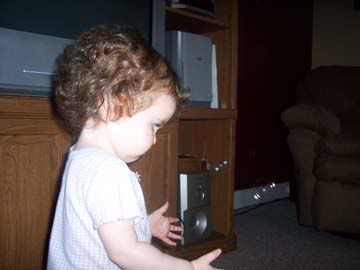 Well, I had better get going to bed. I am tired and need some sleep. I sure do hope I feel better tomorrow. It was errand day today and I skipped it cause I didn't feel well. Now we need milk so I HAVE to go tomorrow. drats...