Man alive have I had a busy time the past few days. I don't even know where to begin. Let's start with Saturday morning since that is the logical place to start.
I have been wanting to pick some fresh fruit myself for a few years now. (since we lived in England actually)I got my first opportunity to on Saturday morning. I finally talked James into taking us. We had a blast. It is sooo much cheaper to pick your own fruit than to buy it in the store. Espcially wonderful fruits like berries.
So, we found a blueberry farm (that sells veggies too) and drove all the way out there. They charged $1.20 a pound for the blueberries you pick yourself. What a steal!!! We picked 3 lbs of blueberries.
Here is a picture of Chloe with the blueberry farms kitty. You can see 3 lbs of blueberries in the bucket there.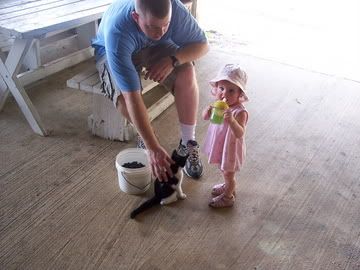 And here is Chloe dipping into the bucket for a bite.
While we were out in the heat picking these blueberries, Chloe sat in the shade with the bucket in front of her, scooping up handfuls of berries and shoving them in her mouth. I think she liked them. You wouldn't know it from this picture though...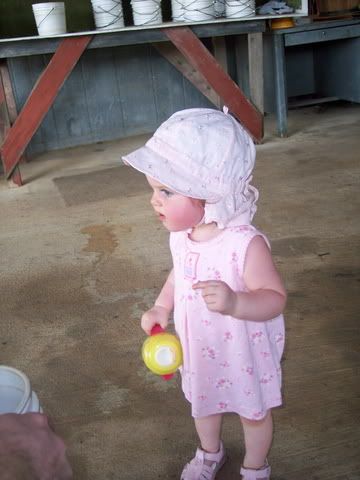 James even caught her picking up the shriveled ones from the dirt and eating those...silly baby.
Well, that was a blast. We also had two showings on the house on Saturday. It really urks me when they cancel the showing and don't bother to call us to let us know. One showing on Saturday didn't show up. I think it was the same realtor that didn't show up earlier last week either. Don't they realize that we have to pack up and leave everytime they call? They should have the curtesy to call and let us know they aren't coming so we don't have to go to all that trouble. And for those of you who don't think its so much trouble...try to imagine, packing up a cranky toddler (who is now going to miss her nap due to strange people in her house) and finding somewhere to go for 1-2 hours at a time. One or two times this is fine to browse Target or the Craft store...but this is also expensive. And Chloe doesn't like to sit still for very long. Option 2...the Park!!! While this can be fun for 15 minutes...when it is 99.5% outside and the humidity is like 98%...this quickly loses the excitement factor. So, I think these realtors need to show a little respect to those of us whose lives are being disrupted at their every whim.
Well, on Sunday we decided to go swimming. We even got some snapshots of Chloe and I in the wading pool. I love this wading pool. Chloe on the other hand, prefers the bathtub. I don't understand why she doesn't like pools. It must be a faze she is going through.
We did catch her smiling a time or two...or was she squinting from the sun??? hmmmm
Nope...that is a smile. I know it.
Well, Sunday evening I finished up a little something special for my Secret Pal. I sure hope she likes it.
I used this
Bourbon Rose Jug Cover
pattern that my friend
Debra
sent me the link to. This was one of the most fun projects I have done in a long time. First of all, I adore this color. Second of all, I used size 30 thread (pattern calls for size 40 but I don't have any of that on hand yet). Third of all, this pattern is written in English terms which meant I had to convert them to US terms. This was fun for me as it added just a hint of a challenge. Not a large one...just a small one as I had to make sure that when the pattern stated to double crochet, I was to single crochet. That's all. Pretty fun. I had an extremely hard time sending this off in the package to my secret pal yesterday. I wanted to keep it so badly. I will definately be making more of these in the future. The fourth reason this pattern was so much fun was the addition of the beads on the last round. This will hold the cover down over the jug or bowl or whatever you want to "cover". I adore this pattern. Thank you Debra for sharing it with me. Thank you to Lori for sending me the size 6 Clover Soft Touch hook I used to crochet it.
One of the joys of being Anna is that you get to find creative ways to mangle yourself. Many of you only wish you could be as clumsy as I am...it is quite a feat...one that not many will attain in this lifetime (nor in the next). Sunday evening I thought it would be great fun to jam my wrist into the corner of the kitchen island, and then ram my body against it so as to crush it into the corner even harder. Well, let me tell you a lesson I have learned. This is not fun. I repeat!!! This is NOT FUN!!! I would not recommend this for pleasure. My poor wrist is still a tad bit sore from this episode but I am sure in a couple of days it will fell 100% better and be ready for the next episode I have in store for it. (I don't know as yet what that will be...these things just sort of come up at the last minute)
James thinks I must be the most clumsy person on the face of the earth. On Saturday, while putting Chloe into her new fancy, schmancy car seat, I wacked my head against the door jam of the car. It hurt like the dickens and I hollered out in pain. Instantly I got a headache (which always occurs whenever I whack my head). Well, not more then 10 seconds later, I bent down to strap Chloe into the carseat and I whacked the back of my head (close to the neckline) on the same door jam. (the first time I whacked it, I hit my forehead). Well, needless to say, its Tuesday evening and I still have a faint headache from that episode. All in all, it was not a bad weekend though.
Monday was weird though. It hurt my wrist like the dickens to type (or use the mouse on the puter) but for some unknown and strange reason, I could crochet just fine. (my wrist is getting sore typing up this post so I better cut it here pretty quickly) So, I worked on my newest doily for my challenge and finished it.
Ta-Da!!!! I am pleased to announce to you Espresso from Patricia Kristofferson's pattern book "Coffee and Cream Doilies" sent to me by my very wonderful secret pal Lori. James loves this doily too. It was so fun to work up.
Monday's mail brought me some pleasant suprises. I got an RAOK from the ville and a Holiday in July gift from the ville. First the RAOK.
I got a dishcloth in some yummy varigated yarn. This yarn looks like starburst candy colors. I love it. So yummy. I also got a pattern booklet from Lion Brand for kids patterns (this will be fun to make some of these), some purple (my fave color) ribbon roses for embellishing Chloe's dresses (or whatever I feel like embellishing) and a wonderful little book for Chloe. You can never have too many books in my opinion. I loved reading this story to her about the Grasshopper who didn't plan for winter but the ant shared with him. She ohhhed and ahhhed over the bright colors in this book. I love it. So, if you read my blog, fairy godmother, thank you for such lovely things. I really appreciate your generosity and thoughtfulness. The world is a better place for people like you.
My second package came from my Holidays in July wishlist. It contained this Spiderweb Lace skirt pattern I have been drooling over for months. I am dying to make this skirt for myself as I absolutely adore it. It is sooo gorgeous. I have no idea what color to make it or anything but I am sure when the times comes, the right color will speak out to me in the store. I have many options since it is worked in worsted weight yarn. Hmmm...can't think of a good one...but it will come to me...it will come. Thank you, thank you, thank you for such a wonderful holiday. (I think this particular elf reads my blog...so thank you from the bottom of my heart) I am really grateful for the kindness you have shown to me.
Well, that is pretty much all I have for now. Today was spent typing up descriptions for my website which should be ready on Friday sometime!!!! Yay!!!! I am so excited I can hardly wait. This is such big news and a big step in reaching my dreams and goals. There will be much celebration when this site opens up around our house...it will be a day of joy!!!
So, good night everyone and I hope your weekends (and week beginnings) were as wonderful as mine. God bless you all!