The biggest news of the day is this. If you check out my sidebar, there are some new links to some great websites I love to visit. Two of the newest links are what has caused me to say I have big news, because for me...this is really big. I checked out a link to the Hobby Lobby website which I have visited before. They send you a weekly flyer in the email with thier specials for the next week. It is very handy...(and costly since I usually end up making a visit to the store which I probably would not have done if I had not seen the wonderful sales they have) But today I noticed something I had not seen before. They had a link on thier website to an affiliate of thiers called Crafts ETC who sells alot of the stuff that Hobby Lobby carries in their store.
Now many of you know that I am moving up north in less than two months (eeeekkk...yes, it really is getting that close...yikes!!) and they do not have the 8th wonder of the world, otherwise known as Hobby Lobby. (for those of you who are without...you have gotta see it to believe it...take Micheals...enlarge it times five...and you have Hobby Lobby. The yarn departement is 3 aisles and each aisle would probably be as long as the whole store of Micheals. (well...not quite THAT long but... hey...a girl can dream can't she??)
As many of you also know, my favorite yarn is Paton's Grace...which you can get anywhere by the way...yet it tends to be somewhat expensive for us cheap folk. $3.99 for 1.75 oz. Another yarn I love to use is Sinfonia...found only at Hobby Lobby...until today. I have searched for this yarn online before with no luck. Well, today...upon finding this site affiliated with Hobby Lobby and supposedly carrying alot of what Hobby Lobby carries, I ventured in to just see...I only wanted to see...and I saw and was in seventh heaven. THEY CARRY SINFONIA ONLINE and for the same price as you can get it for at Hobby Lobby. Talk about excited!!! This is the best news of the century...seeing as how I was going to start scrimping on groceries for the next two months so I could buy hundreds of skeins of this yarn for my time up north. And now I don't have to do so. Look and see for yourself. Here is my wonderful
Sinfonia
cotton yarn. See??? Isn't is lovely??? I really am excited about this...I even jumped up from my chair and gave a little shout upon seeing it...then I had to sit down and take a closer look to make sure this really was my beloved Sinfonia!!! Yay!!!!!!! It is...it truly is.
More big news...I finished my Freedom Belle set. I didn't get a decent picture of the outfit but I happened to get a super cute picture of Chloe in the outfit.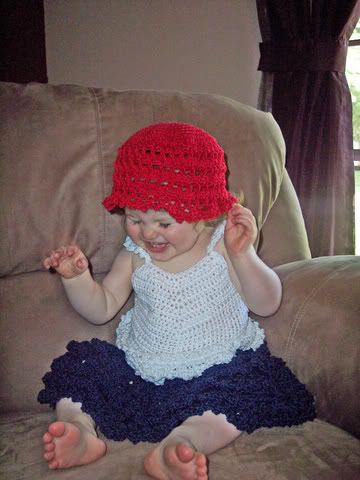 Now she really is laughing in this picture...which in turn makes me laugh. I really cracked her up about something...I don't know...but she starting waving her hands and squinting her eyes as she giggled. It was the cutest thing. Not the picture I was hoping for to show off the outfit though. It is getting extremely hard nowadays to get a decent photo of her...she no longer wants to be mama's model. She is up and down and into everything...hard to snap a picture of that...oh well...another photo shoot tomorrow. Maybe Daddy will help keep her corraled since he will be coming home tomorrow.
I also made a scarf on Friday for my secret pal. I used DMC Senso since I had some in my stash and didn't really have any plans for it...It took almost the whole ball to make this little scarf...not alot of bang for your buck in this one...and it felt kind of funny running through my fingers...maybe cause it isn't pre-shrunk or something, I don't know. I still like it though and would use it again...only for small projects like this though...
I had really wanted to do something with beads. I love crocheting with beads and wanted to incorporate some I had on hand...but I didn't want it to be like the traditional beaded fringe.
So here is my scarf.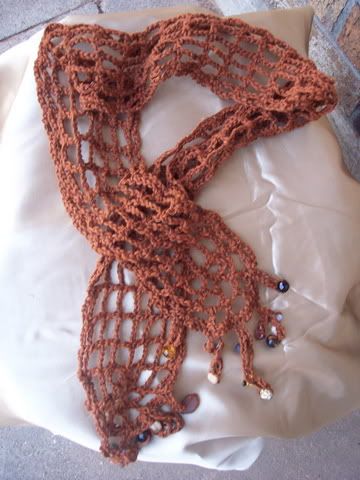 And here is my own, unique fringe. I have never seen anything like this before...and I love it. I think it is really unique and fresh. Here is a close-up of the edge of the scarf.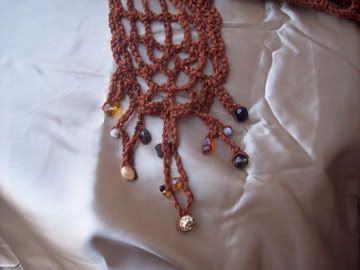 I haven't come up with a name for it yet...I am thinking something like Sunset Trellis or Midnight Trellis...with some help fom my testers, of course. They helped me come up with some ideas. I am also thinking about doing two more scarves and calling it a set...or a handbag and hat or something...we will see what I feel like.
Warning: abrupt change in topic...no transition...proceed with caution.
Many months ago, James gave me permission to buy Chloe one book each paycheck. You see, I am a big lover of books. I believe sincerely in reading...and that reading helps you in many aspects of your life. Vocabulary, imagination, grammer, spelling and many other ways that I am too lazy to think of right now. I read alot (ALOT) growing up and I always have known that books would be a part of my children's lives. I have read to Chloe everyday since the day she was born. Nowadays though, she won't sit still through the whole book. She has a couple of her favorites and she will pull all the other books off the shelf until she finds her favorites. Then she will bring it to me and after all that work for this book, she will sit and listen to two pages of it and then get down. Oh...but you must continue reading. Even if she walks out of the room. If you stop reading and put the book down, she will come back, climb onto your lap and demand that you read the book again...so you have to read the whole thing. I think she just likes to hear me talk. Our house can get pretty quiet at times so maybe she just likes the noise while she plays. I don't mind.
Anyway, that was a tad off the subject from where I was originally going when I started that paragraph. So, for a while I bought a book every time we got paid. Well, when Chloe and I moved up north...I stopped. Living out in the boonies with mom and pops kind of prevented a jog to the store whenever I wanted a new book...and then upon moving back down here...I never really got back into that habit.
Well, I went to Barnes and Noble today and have decided that I am going to start again. I have seen quite a few books I would like to purchase for Chloe and my reading pleasure. Here is what I bought today.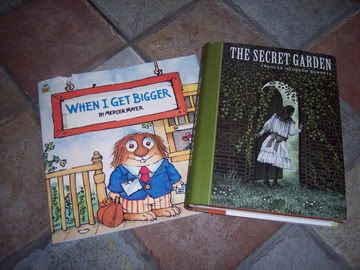 And that book did not come with those bite marks in it. Nor did a mouse nibble on it...for while we do have fleas in this house...there are no mice...not a single one. No, Chloe ate it. I made the mistake of letting her read the book in the car for the ride home and she ate it.
Now you may be wondering...what kind of boring mother am I that I would buy a 235 page book with no pictures for a 15 month old baby. Well, this is for later...I want to read it to her when she is older...so there. I got one for her for now...the one she ate. I love those Mercer Meyer books. They are so cute.
Anyways, I think next week we will be getting Dr. Suess's "Oh Say Can You Say"...it would be a fun book. There is also a couple of Cajun books there that I thought would be neat. Kind of like a memory of where we have lived that we can keep. There was on called A Cajun Night Before Christmas...which I would have to practice reading to myself a few times before I would read it to anyone else. They try to speak like ...well...like a cajun down south would. I don't know as that Chloe would enjoy it at this age...but babies don't stay babies forever and I won't be able to get this book up north...I highly doubt it.
My list of books I want to get her could be a mile long...so I will quit now. Why was I in Barnes and Noble??? Well, we had another viewing today. The fourth in over two weeks. I am hoping this will be the one...keeping my fingers crossed. I really want this house to sell for close to our asking price...because the more we make from this house...the better chance we have of being able to afford a house up north.
I have something else to show you. My secret pal Lori is the kindest and most generous person...I am really blown away by all she has done for me. She could have sent me just one of the packages that she sent me and I would have been excited. But no...she has gone above and beyond that. I will never be able to thank her enough for all her generosity.
I received from her in the mail today, this doily. Now this particular doily may look like any average doily to the untrained eye...but this doily is actually quite a special doily. For, you see, it bears my name. Anna. And not only does it bear my name, but it is in my favorite color of purple. And not only does it bear my name and is in my favorite color, but it is crocheted with vintage size 30 thread. Now you combine those three facts and this doily becomes a treasured heirloom. A prized possession. I will cherish this doily forever.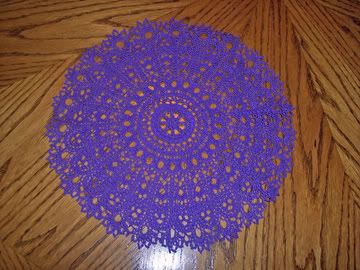 She also sent me some Rose scented candles. I love roses very much. I am looking forward to having a garden up north and in it...I will have roses. I have a miniature patio rose here and its cute...but I want climbing roses and hybrid roses and just all sorts of colors and styles of roses. I love all flowers but roses are just so romatic. I will have to tell you about some roses I have met in my lifetime in a Monday Memory sometime...it is quite unique, I think...maybe in the next couple of weeks.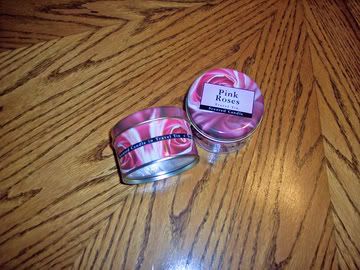 When I opened the package, I could already smell these candles. They are the most fragrant rose candle I have smelled. I am going to be lighting one tonight, making myself a cup of Cream Earl Grey tea that Lori sent me a while ago...and crocheting a new dress design I am working on...yes...another dress...and guess what!!! Its in size 10 thread. While my testers may not realize this, since they have been testing all my size 10 dresses recently, I have not crocheted a dress in size 10 thread for sometime now...and I have an itch to. You know??? Like a food craving??? Only this is a thread craving. I have done a couple of dresses and such in size 3 thread but its just not the same. Not the same at all...its more like yarn to me...I need some thread. And I have tried to pacify myself with crocheting a couple of doilies...I really need to do a dress. I have to...or my fingers will attack me.
James will be home from his fishing trip with his buddy tomorrow and guess what he told me he is bringing me. BLACKBERRIES!!!! Yes...my wonderful hubby has gone blackberry picking and claims he has enough for me to make blackberry cobbler. While I would prefer to make some blackberry jam, since he has done the work of picking the things, I will make the cobbler. (its just that the jam lasts longer...get more use out of it...and I can just taste it now...homemade blackberry jam) What I am really dreaming of, is maybe...just maybe...he has unknowingly picked enough for a cobbler and maybe one jar of jam...but that really is dreaming. Because who would can ONE jar of jam...silly. It would be silly. So, I am thankful for whatever I can get from these blackberries. I have to say that I am a tad more excited for the blackberries to come home than the 8 large fish he caught.
Earlier in this post, I mentioned the fleas in the house. Can you believe it??? We STILL have them. Even after all my attacks with flea powders and sprays and collars. I even paid $62 for this Frontline stuff. And we also paid $150 for the exterminator to come out. I would say that we have paid about $250-$275 for these buggers. And they are still here. The really gross part is the only place I see them is on Chloe. I will see one on her face or in her hair when I am changing her diaper. It usually is only in the morning too...but its soooooo gross. So, needless to say...the exterminator is coming back out tomorrow to re-do it. And it is for free...better be. And what makes it sort of funny is he actually asked James if I have been vacumning. For those of you who know me...you will know why this is funny...for those of you who don't know me...all it takes is one picture of my house to know that I vacumn almost everyday...lol...So, no...it is not my fault there are still fleas in this house.
Well, once again, it is getting late and I need to get some things done (namely crocheting) instead of spending my time sitting here, typing on the computer...fun as that may be. I don't get a lot accomplished while doing so.
Have a great evening everyone. Thanks for stopping by.