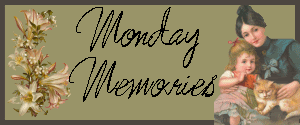 Have I ever told you about my Grandmother's Afghan?
My Grandmother was Mary Lavelle. She was a wonderful woman of God and an extraordinary person. I loved her very dearly. My grandmother was the very first person in my family whom I met. (outside of my sister...who is my birth sister)
You see, I was adopted. My family was on vacation when the call came that there were two little girls (my sister and I) in need of a home. My grandparents were the ones who came a got us so my parents could rush home from thier vacation. I have no memories of this time as I was only 2 years old and my sister was 9 months.
But I do remember sitting and listening to my grandparents telling me all the stories about that week we stayed with them. Wonderful stories. Funny stories. Stories full of love. My sister and I were loved very deeply. We are so fortunate and blessed.
Here is a picture of my grandparents.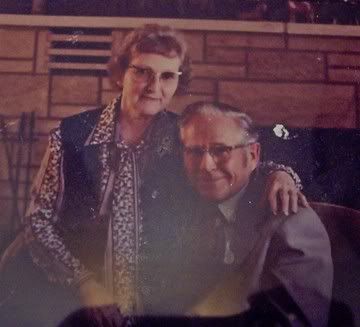 I am sorry that it doesn't look the best. It is a very old photograph and has seen better years. Oh, but how beautiful they look. And they were so in love. (I will tell you a love story next week for Monday Memories...tune in then)I remember so much about my grandparents and I miss them terribly. But I know I will see them again soon when I get to heaven.
Now I never learned to crochet from anyone and I wish I could say that someone taught me. My mother did teach me how to ch and single crochet (and now I teach her beyond that...lol...ironic, eh?). I wish I had memories of sitting at my grandmother's knee and learning from her, but I don't.
I do remember times I was at her house and she was crocheting though. One of my memories is of an afghan I remember in the latter days of her life that was always sitting in her living room on her sofa or hanging on her rocking chair that my grandfather made. (which I will inherit later if my mother remembers...hope she remembers)
My grandfather died when I was about 10 years old (I don't rememeber exactly when) and a few years later my grandmother came down with alzheimers disease. It was so sad to see such a strong minded woman get weaker and weaker and fade away. My grandmother passed away two years ago last December. When I moved from up there, my mother gave me this afghan that my grandmother had crocheted.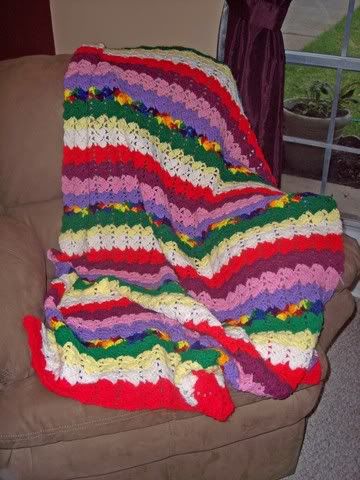 It is not the prettiest afghan she ever crocheted because her arthritis got worse and worse each year that I knew her and her stitches weren't as nice. But I cherish this afghan crocheted by my loving grandmother. It does not "match" my decor but very often you will see me sitting underneath it in the evenings while I crochet. (that happens even in summer when your DH insists that that ac be turned to icebox levels)
And I hope that although this afghan is not "prize worthy" my children will cherish is as well and will honor my grandmother by keeping it in thier homes.
Thank you for reading my memory today. This was a tough memory for me to write and I have shed a tear or two but I enjoyed sharing this with you and I hope you have enjoyed a little glimpse into the "real" me.
Links to other Monday Memories Players
(If you participate, leave your link in the comments and I'll post it below.
1. You're First!
Click here for the Monday Memories Code, Blogroll, Graphics, & Other Information

View More Monday Memories Participants
Trackbacks, pings, and comment links are accepted and encouraged!