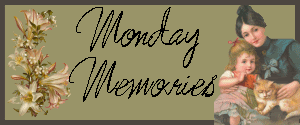 Have I ever told you about The Time I got Churched?
It was my wedding day. September 26 1998. My Aunt and Uncle brought my grandmother with them to attend the ceremony. It was becoming more and more difficult to take my grandmother any where due to her worsening condition of alzheimer's disease. She had a strong will and wanted you to take her to a certain place only she didn't rememeber the words to describe that place.
As her memory got worse, her use of nouns lessoned and lessoned until she only used the same three nouns for everything. Church, animal and car. Even these three were eventually downsized to just one...church. So, everything under the sun (and including the sun) became a church. She used the words that meant the most to her. Church survived the longest because that was the dearest thing to her heart. She loved Jesus with every fiber of her being and it was evident so strongly in her life...even with this dreadful disease.
So, she often told you to take her to church...only she didn't mean church. She may have meant the grocery store or the park. Outings were getting very very difficult and taxing for my aunt and uncle. Most of the time, it was just easier to stay home.
Well, when they decided to come to my wedding anyways (which was about a 4-5 hour drive) I was so happy. My grandmother didn't know who I was. She didn't even know who my mother was. (her own daughter) And while that was hard and sad to deal with, my grandmother was in such an unusal good mood, we forgot about the sadness of her disease.
It was clear that she understood she was at a wedding. She smiled the entire time.
Here are some pictures I have of her at the ceremony. This is one of my grandmother and my aunt with me.
My mother is in the middle of her two sisters (my aunts)with my grandmother.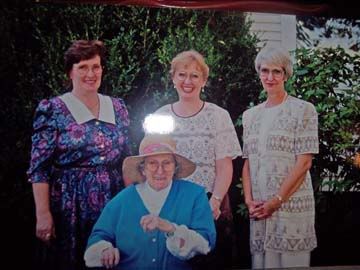 Here is my grandmother with one of my brothers.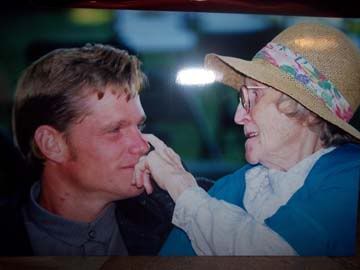 She was so much like a child that day. Just happy to be around everyone even though she didn't know who any of us were.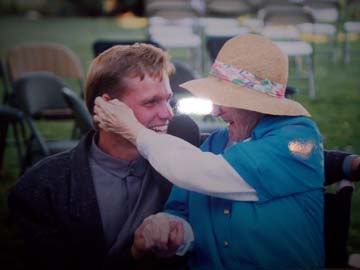 After James and I had opened our cards and had some cake, we went around and showed everyone our rings and greeted all the guests. I remember walking up to my grandmother and she was so excited to see me.
She grabbed both James and my ring hands and held them together in both of hers. She started swaying them back and forth and in a sing-song voice said, "You got churched. You got churched." Then she stopped and looked at us very serious. She looked into my eyes and said, "I remember when I got churched to my church. My church is in church now with Jesus but he is waiting for me to come be with him in church." These were the last words my grandmother every spoke to me and they will fovever be etched in my memory. The next time I saw my grandmother four years later, she could no longer speak. She could not feed herself or move herself.
I know that those last words spoken to me were about my grandfather. My grandmother was remembering when she got married to my grandfather and was telling me that he was in heaven with Jesus waiting for her. I will never forget her last words to me. My grandmother passed away December 12, 2003 to be with her dear husband and her Savior in heaven. She was an amazing woman of God who passed on a wonderful legacy behind her. I am honored to have such a wonderful heritage.