Well, once again Wednesday rolls around. I did manage to get out my tablecloth today and I crocheted one whole whopping motif. Ha...you thought I was going to say ROW...well, I didn't...I said Motif. I wish I could have spent more time on it but alas...today was errand day. What??? Isn't errand day on Thursday??? Why yes, it is. How observant you are. But I can explain.
Chloe had a dr appointment today. That went very well. Apparently her regular dr has cancer. This news saddened me deeply as I love her very much. She is a wonderful dr and has raised her children using the same methods I am raising mine. I do believe that she is a Christian as well although I have never gotten up the guts to ask her. So, she is out of the office for a few months dealing with this. I asked about her today and she is doing well. She should be back in a month or two.
So, Chloe got to see a different dr today. He was very nice as well and put my mind at ease about alot of concerns I have had recently regarding Chloe's weight. Basically, Chloe is tiny. Very very tiny...but she doesn't look tiny. That's the thing. She looks like a healthy baby...with a tiny amount of chubbiness to her...not a lot, granted...but some. Well, today I was expecting her to weigh at least 21-22 lbs. When she got on the scale, she weighed a whole 19 lbs. Man alive...that is tiny. Ah well...she is happy...I am happy...James is happy...we are okay. She is full of energy and joy so I am not worried.
So, this appointment was first thing in the morning and then we had to drive James to work. We had a viewing on the house today which meant after dropping James off at work, we had to find somewhere to bum around for about 1 1/2 hours. (this is starting to get on my nerves...I want this house to SELL!!!!)
Well, we decided (yes...Chloe did help) to visit Hobby Lobby, where I bought a few Susan Bates hooks to finish off my collection. I am only missing a "B" and a "N" hook now. I hope I can find those. I will have to look online. Anyone know where I can get one of those???
After that, we drove down the road to Barnes and Noble to get Chloe's book for this week. (will save me a trip tomorrow...and it killed about 20 minutes) So, here is Chloe's book for this weeks Book of the Week Club.
I haven't read it yet...but she will enjoy it when she is older. It looks very interesting, in my opinion.
So, guess what!!! I got a package on Monday from Handy Hands Tatting. Whooo hoooo...this made my day. I wasn't expecting it to come so soon. I ordered some lovely size 80 Majestic thread (and I can't remember what I thought I would make from it...so it is sitting here waiting for some inspiration) I also got some size 30 thread for Chloe's Winter Wonderland dress. And some pink size 30 thread. Don't remember what that was for but since I adore pink...I am positive I can find MANY uses for it.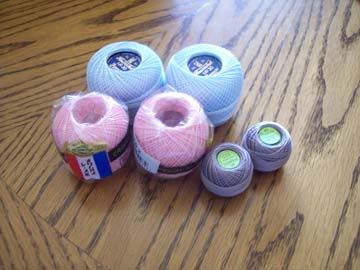 Am I crazy??? My mother sure thinks I am. As if I needed one more craft to clutter up my craft closet...or as if I needed one more thing to do...
I do though. I have been dying to learn how to tat for a long time. So, in addition to all my wonderful threads I ordered from handy hands, I figured I might as well order "tatting" supplies from the "tatting" supplier. So, I got this book for tatted Christmas ornaments cause they looked easy enough and also a size 5 tatting needle.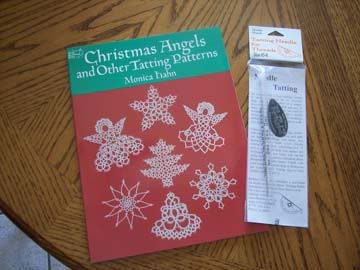 Okay...so now I am really anxious to start tatting. Ahhh...but alas...there are other things I must do before I can start a new hobby.
I finished another doily on Monday. This one is for my Doily Swap and so I am not going to post a picture of it until she recieves it. I am NOT!!! So, don't ask. I want it to be a surprise to her when she gets it. I don't know if she reads this blog or not but I am not going to take that chance. I know you are all just drooling with anticipation and anxiousness to see this thing but really...if I can wait to show you, then you can wait to see it.
My husband is sooooooo good to me. Guess what he bought me from the money he made selling his truck. A LAPTOP!!! I get my own laptop computer. This is soo cool. Now I can sit in the living room and be on the internet (we have a wireless router) and watch Chloe at the same time. Up til now, I could only get on the computer when Chloe was napping, since it is in the back bedroom/office. Ahhh...not any more. I can take this thing into bed with me if I so desire. This will be great. I can set it on my
handy dandy coffee table
(that James bought me for my birthday)and I can type up patterns while I crochet and design them. (ya right...like I would do that) But you never know...this could save me a step or two in the process. It could wind up saving me a lot of time.
Also, I needed something to take with us when we move up north next month. (yes...it is 5 weeks and 2 days until we drive away)This is perfect. I can have access to my website and I can send patterns to people who buy them and I can keep up with my testing forum. How cool is that??? Ohhh...its very cool.
Speaking of which...James had to go to the UPS place to pick up the laptop tonight (since I wasn't home when they tried to deliver it) and he just walked in the door with it. So, I am going to go look this thing over and pet it a bit. Yay!!! I am so excited. Maybe my next post will be from my new puter. :)