Yes. I did it! And I am very proud of myself for it. I spent most of the free time I had today working on a wip!! And this particular wip is exactly what it sounds like. a WORK IN PROGRESS!!! And it has spent a lot of time on a shelf behind stuff NOT progressing until recently when I started a CAL (crochet-along) to help inspire me to finish this thing. What am I talking about??? My tablecloth. Started when I was 19 years old and newly married. I started it after I finished my first doily in thread. I thought, "Wow!!! I did a doily...the next thing to do is...not another doily...but a Tablecloth!!!" And two months later I was burnt out not even 1/4 of the way done. Silly me. Will I ever learn??? (I can see my mother laughing to herself and shaking her head as she reads this last statement)
So, here is the progress I made today on my tablecloth. 23 fill-in motifs to be exact. (fill-ins are the ones in between the main motifs...quick and easy and mindless to do)
And just so you can see how much this fills my table...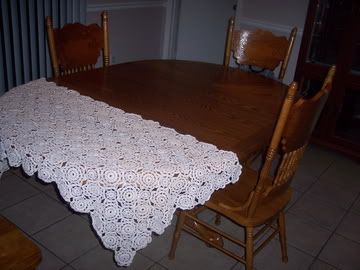 As you can see...I have a ways to go. But I am happy to announce that I am 32% of the way done. If you look very closly, you might not be able to see little ends of thread that have not been woven in on one end of the tablecloth. The other end (most of the finished part) you will not see any little thread ends no matter how hard you look. They are not there. Now, funny thing is...I have no clue what happened to them. Well, actually, I do have a clue but it is not a pleasant thought. Let me explain.
I already mentioned that this was my second thread project back when I was 19. Most of my crocheting knowledge came to me through books and such over the years. No one ever taught me the basics like weaving in ends and such. I didn't learn how to weave in and end, nor the importance of such a thing until the summer of 2002. Since that time, I have weaved in so many ends I do now wish to count. But before this time,my fear is that I simply snipped the ends close to where I ended. This fear haunts me as I work on this tablecloth. That is the only logical explaination to the missing ends that I KNOW did NOT get woven in. (Heck...I would remember such a duanting task, being that I detest weaving in ends.)So, what is going to happen to my masterpiece??? Only time will tell. There is not much I can do about it now. But the rest of this tablecloth will be in good shape since those ends you see WILL get woven in nice and proper like.
Now earlier I said that most of the day was spent working on this tablecloth. What did I do with the other part of the day besides chasing a toddler and eating and cleaning? I designed a scarf. This is the third scarf in my Funk Rock Scarf Collection. It turned out a little more "frilly" than I was going for but I like it none-the-less.
I am calling this Sunset Trellis. A different sort of name. I will design scarf #3 tomorrow (already started the first row today) and it will be called Ocean Wave Trellis. But you will know no more until I am done.
So, my little crumb-bum has taken to climbing. Today she learned how to climb onto the couch. Well, actually, she did it the other day but I wasn't really paying attention so I didn't know how she accomplished such a feat. Well, she cheats really. Here...I will show you.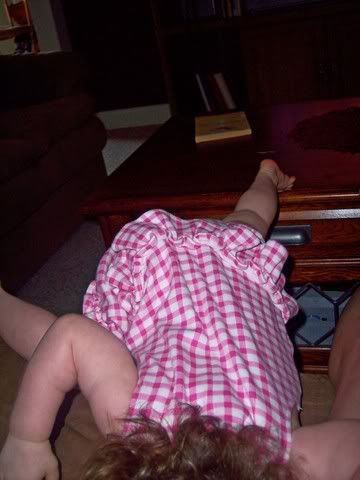 See how she stratigically places her legs onto the coffee table and then brings her torso up to the couch? She then grabs on for dear life as far ahead as her little arms can reach (usually onto my leg or clothing) and brings one of her legs up to the couch. She uses her knee as leverage and her toe of the "coffee table" foot as support and she pulls herself up. What a gal!!!! She will never stop amazing me. This toddler thing sure is a lot of fun. I love watching a miniature human learn how to be a human. She cracks me up.
Guess what!!! I got another Holiday in July gift. This makes two wonderful little elfs who have stopped by my mailbox to leave me a little something. This is so much fun. I need to get to work on some things to send other people. I know what I am going to do too...so cute.
Look what I got!!
Coasters that match my living room. How did this elf know that they would match??? I don't know. Elves are tricky that way. Very sneaky. Could have come in the middle of the night. You don't know with this things
This elf also is married and sent me a keychain from the FDNY (Fire Department New York). This is so neat since James is from New York City and I love anything New York. That will be one of the nice things about living up north is we will be close to the city and so we can take trips up there all the time. How fun!!
Well, I am done talking for a while. I will write more when something else happens.(or when nothing since sometimes I have been known to talk about nothing...)Good morning, Good day...or good night to ya.