But sadly, this one was not for me. I had a hard time parting with this doily, but it was made with someone in mind. The pattern was chosen for her and the thread as well. Well, actually, it wasn't so much chosen...more like it jumped at me and said "Make me!!! Make me for Katecrochets!!!!" So, being of the sort that listens to patterns and threads, I made it. Here she is.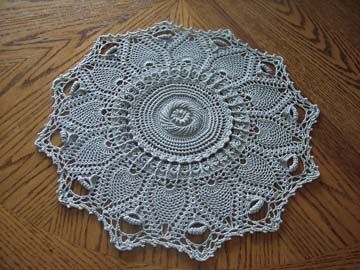 And once again, the details are hard to see from this angle. So, I took my fun shot of this doily and wow!!! It is stunning.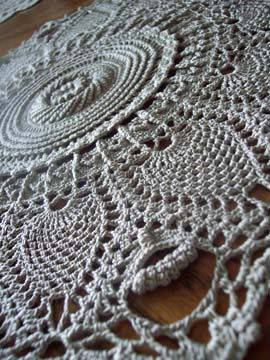 I adore this doily...absolutely adore it. It is gorgeous. Let's just say that I had to wrap this thing immediately after blocking and then hand the package to my dear husband to mail before I changed my mind and kept it. Oh, that was hard to say goodbye to such a lovely doily, but I know that she is in a good home where she will loved and cherished.
Her name is Tala from PK's book "Doilies with a Twist". Oh how I love this book. Recently, I have had quite a few requests to design a doily or two. I just laughed under my breath and muttered, "No way!!! I am nowhere near that talented." But the funny thing is...it got the wheels in my head turning. Now I have an idea of sorts for a doily. It will be nowhere near the level of beauty and awe of a PK doily, but I CAN add my own twist and that would be to use a teeny tiny thread. So, I am contemplating using my new size 80 thread to make a doily. Be on the lookout for such a thing in the near future because it is calling my name loudly. In fact, I have been holding and petting the little ball just to let it speak to me for a bit. I know beyond a shadow of a doubt that it wants to be a doily designed by me. So, I just need to find the time. (which I am hoping will be found this next week as I am anxious to try it)
So, I am off now. I will chat again another time. Thanks for stopping by.