This is your fair warning. This post will be filled to the max with photos. I have found that with my new (well...sort of new...been doing it for a year) love of blogging, I now take useless photos of useless things to share with strangers. What fun!!! And its not like anyone cares really, but its still fun.
This weekend has been extremely busy and tiresome and I am ready for it to be over...which it is...so THANK GOODNESS!!! Hubby is on this new kick of "getting things done" which in turn means I am to be getting things done right along with him. And crocheting DOES NOT COUNT...nor does any craft for that matter. No, this means climbing in attics, dragging boxes around, sorting through stuff and ending up with piles and piles of garbage. This is what I did this weekend.
It all started Saturday morning when James decided that we needed to get everything down from the attic. Well, amongst the things he brought down was my barrel of wool yarn I recieved a few years ago from a friend of my mother's. She donated it to me since I love all things yarn. Well, it has sat in this barrel for over three years simply because I did not know what to do with it. Why??? Well, its wool...and on top of that...its scraps. There were five half finished afghans in this barrel. Now a normal person would have suggested to finish these afghans and give them away. But I am NOT normal. (I think anyone who has read this blog for long enough could tell you that fact) Plus, there was no more wool of those color too finish these afghans.
Well, after three years of toting this yarn all over creation, I finally came up with a solution. FROG!!!!! Yes, I spent the better half of this weekend frogging these afghans.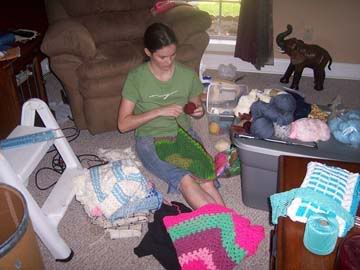 It took me most of the day on Saturday and half of the day on Sunday to frog and wind these afghans into usable balls. My inspiration for doing this came from
crochetville
. You see, in joining this forum almost a year ago, my knowledge has increased ten-fold and now I have all sorts of ideas of what to do with things. Oh...I love crochetville. If you are not a memeber and you crochet (or want to crochet) then you are truly missing out. This is the BEST place for all things crochet.
Anyways, I frogged these baby afghans (three to be exact...and two granny square afghans) and here is the pile they left.
What a mess!! I even watched on of my favorite movies (Riddick) Saturday night so I would be motivated to continue this awful task of frogging and ball winding. I can say that I have a new found respect for those old timers without center-pull skeins. they did this EVERY time they wished to crochet since all skeins needed to be wound. I thought I was a patient and tedious-loving person until this task.
But I finished!!!! I did it and I am pleased.
That is a lot of balls of yarn and that is a LOT of WINDING!!!! (and frogging) James kept giving me dirty looks the whole time I was frogging these afghans. He said that it was someones hard work and love that I was heartlessly tearing out. I gently reminded him that if it were someones "love" they would have finished them and not given me half finished afghans with no more wool to complete them. He relented to a dirty look every couple of hours instead of every five minutes.
While sorting out the boxes in the attic, I found something I wish I had found before Chloe was born. I guess this is the consequences of having TOO MUCH JUNK!!!
Check out this bonnet.
It is in desperate need of a washing and this picture does not do it justice. It is a darling little bonnet. I think it was made with Jamie Baby yarn which is one of my least favorite yarns since it is so scratchy. I would never make anything for my own baby in this but it is cute, none-the-less.
And some baby booties. These are blue and white varigated (not a fan of varigated yarns) but they are cute anyways. I don't think I would put them on a boy though. The pattern is too lacy for a boy in my opinion.
Here is some of the other yarn I uncovered in my sort out yesterday.
If you can see that creamy colored yarn in a bag on the floor...that is going to be a shawl. It is a mohair-type acrylic yarn I got at a thrift store in England and never knew what to make with it. There is plenty of it. Well, now I need to find a pattern. I don't know whether I should crochet one or knit it. I am loving this knitting thing but I don't think I have the expertise yet to knit a shawl. I started knitting on my sampler afghan last night, my first square, and there is a mistake that I now have to figure out where it came from. Thank goodness it is only on the row before so I only have to frog one row. But still...I have never frogged knitting before unless I just tear the whole thing out and start over. I don't want to do that this time since I have put about 2 hours into this already. (knitting is soooo much slower than crochet for me...but then, hey!! I am a beginner...I need some slack cut for me here.)
Why on earth did I start knitting this afghan??? Why do I bring these things upon myself???? Well, I will tell you why. I decided on Friday that I wanted to design a doily. Alot of people have mentioned to me that I should do this...and it seemed like a good idea. I even have an idea in my head for something pretty simply that I know I can do. Well, as if that weren't enough for me...I decided that it would be a marvelous idea to design it using size 80 thread. Yes....size 80!! That is not a typo. I have never used thread that small, nor have I ever designed a doily. But for some unknown reason, I though this would be a peice of cake. Wanna see how far I got before I gave up???
Okay, before you all croak...that IS 4 rounds of my doily. Problem is, I can't really see what I am doing so I don't know if it looks good. I gave up and decided that when I feel like designing a doily again, I will be starting with size 10 thread. But my brilliant ideas didn't end there. (as you read earlier) And that is when I pulled out the Knitted afghan sampler pattern and stared that saga. Boy, do I get smarter or what??? I thought it was smarter, but I could be wrong. I think I am getting just plain silly.
So, it started with a size 80 thread doily, then a knitted sqauare for an afghan and when neither one of those worked, that is when I pulled out those afghans to frog. And, as you can see, the third choice (crazy as it was) is the one that worked and I got it done.
Amongst all that wool was the tool that made the three baby afghans. I have no clue what it is. (well, I have a little clue but I don't want to show everyone how stupid I really am...wait...I already did that...size 80 thread) I think it might be a hairpin lace tool. Do you know what this is??? And if so, where can I get instructions how to use it??? I think it made some beautiful afghans...just too wooly and scratchy for a baby.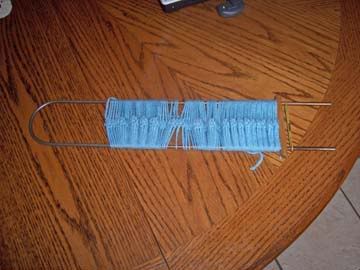 And after tiring of the winding (which I DID finish first) I went shopping to see if I could find any good deals on afghans so I could do some more frogging. (see??? What did I tell you??? Silly!!) So, Sunday afternoon was spent at the Goodwill. Let me tell you that the thrift stores in my area are horrible. Simply horrible!!!! They had a hideous little grannyh square afghan (one giant granny square) that was probably two feet by two feet in a puke green color combined with Halloween orange. Can you guess how much they wanted for it??? $3.99. (no typo there either) I about walked out the store at that very moment. I could not believe it. It was made with gross RH super saver yarn (I can recognize that stuff anywhere) and this thing was the ugliest thing you have ever seen. The yarn wasn't even that salvagable. Do you know how much RH supersaver yarn you can get for 4 bucks??? About 5 times the amount used in this hideous thing. I do wish I had my camera with me to take a picture of it so you all could get the idea of this thing. My goodness.
Anyways, that was not the only thing that was way overpriced in this store. I ventured into the back to look at the crafting supplies. They had bags of threads. About 6 balls per bag. Most of these balls were just remnants. Think PK doily, then think leftover ball of thread from PK doily and that is what they were selling. (now I mean that you can see the cardboard tube these threads are wrapped on...that is what remnant means...not half used...mostly used.) Okay, now that you have an idea of what I am talking about, let me get you a price for these bags of threads. $3.00. That's right!!! $3.00 I can get a whole lot more thread for new at Hobby Lobby for that price. (especially when it goes on sale for $.99 a ball) What are these people thinking??? And the sad thing is that some poor soul will come in there with no money and buy this stuff because they think they are getting a deal and don't feel comfortable going in somewhere as "expensive" as Hobby Lobby.
I grabbed the best bag of the bunch though because I just CANNOT pass up thread...even if it is overpriced. The one I chose though, has most of the threads left on most of the balls...so I am thinking that maybe I got a good deal.
But the deal that I am really proud of is my new doily. It was $.49 which is not that big of a deal but I loved it and had to have it. Since I went shopping, I needed to buy something to make my time worth it.
Here it is before blocking.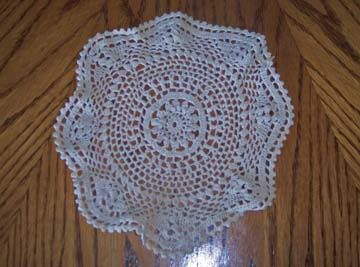 And then here it is after I blocked it.
Stark contrast, isn't there. I am now in love with blocking. I don't think I will ever crochet another doily and not block it. It makes such a huge difference in the appearance of the doily. And here is my "fun shot" that I love taking of doilies.
I got another doily yesterday but this one is in some dire need of TLC.
I haven't blocked it yet as I am waiting for a board big enough. I tried washing it and it has a stain that won't come out so I may do some research on this type of thing. I loved the uniqueness of this doily.
Since my Goodwill shopping trip didn't turn up much, I decided to venture next door to Joann's to see what they had to offer. I found a crochet magazine that I simply HAD to have.
Why??? See that jacket on the cover?? That is to die for...I adore it. (the zippered front scares me a bit though.) But the REAL reason I splurged on myself and bought this magazine was this.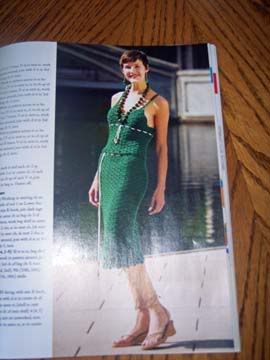 Now they say that a picture is worth a thousand words...but in this case...my picture is horrible and so its not even worth one word. I will tell you, this skirt and tank top is stunning and I MUST have it. I must!!!! It is getting shot up to the top of my WIM list.
Joann's had a sale yesterday on boxes and containers. So, I got me one.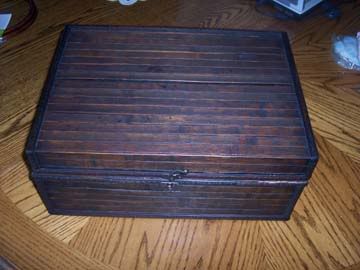 This will be for all my little threads I will be buying in the future. (and all the ones I already have) I need more storage for when I get up north into a rinky dink house and so this was perfect. I love it.
These things were not my main reason for stopping by Joann's. No, I did have a purpose, and while I veered from that purpose for a time, I remembered and quickly got myself back on track. I needed fabric. And not just any fabric. Lining for an old trunk of mine. So, I found the perfect fabric.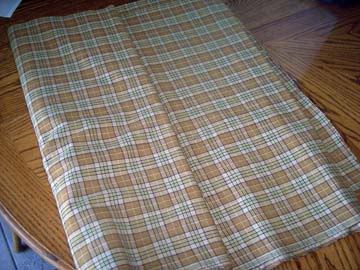 Now the trunk that this fabric is going to line is a story in and of itself. I will be posting on that later today for my Monday Memory. Check back in later to see it. Right now, I have a toddler in need of some attention. She is currently climbing in and out of my curio cabinent. What fun!!!
On top of all this I did over the course of the weekend, I needed something else. The satisfaction of a completed project. So,last night I browsed
Crochet Pattern Central
for some doily patterns. I found one that I liked and I crocehted it last night before bed. Here it is.
And, of course, my fun shot.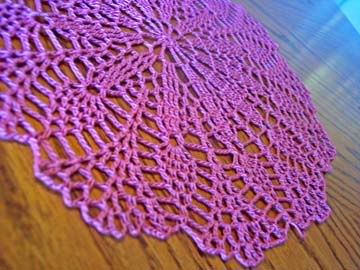 This pattern is called
Pink Blush Doily
and was made with size 10 thread. She will be added to my
Anne of Green Gables Challange
along with the other two doilies I bought that the thrift store.