Where have I been lately??? I don't even know. I have been here and there and nowhere. All at the same time, mind you. I think I am about to go crazy!!! This house showing stuff is for the birds...that is a definate. Man alive, I am telling you...
So, we lowered the price of the house drastically so we would sell it quicker. Now we have viewings coming out our ears. For the past three days, we have had three viewings a day. I am not kidding. And since we sold our truck, this means that I am stuck at home with Chloe and no transportation. So, I have to walk outside during the viewings. Some of them are nice enough to tell me I can stay inside which I quickly jump onto that idea. Of course, my own realtor is the stickler to the "leaving the house" rule and so if it is her showing it, I must drag my baby outside for half an hour in 100 degree heat. Not the funnest thing on earth to do. And then my lovely realtor will go out in the backyard with the clients and stay out there for most of the time chatting with them and not even let me back into my own house.
The good news is, we got an offer on the house. The bad news is, it was laughable..so much so that I wanted to rip the paper into shreds and send it back. Well, we made a counter offer instead and they accepted. Now they have til tomorrow afternoon to submit the paperwork or they forfeit their offer. Will we get to keep the earnest money??? Oh no...our realtor informed us that there are so many loopholes they can get out of anything. Well, these particular people are making a hissy fit over the size of the house. The last two times it was sold, it measured at a certain sq. footage. Well, our realtors claimed, after measuring it, that is was a tad bit larger. These people came today and measured it and claim that neither one is correct. Only problem is they already accepted the counter offer. So, our realtor thinks they are going to come back saying they didn't get approved for the loan amount. That's the loophole. They can go willy nilly, all over town making ludicris offers and not have to stick by any of them because of the loopholes. What on earth is this earnest money for then??? Beats me.
Oh well, we are ready to sell this thing anyways. We two and a half weeks until we are packing up and moving out. We will be staying in a hotel for a couple of weeks until we actually drive out. It just hit me two nights ago that I am really, indeed moving. Wow!! It will be an adventure...that is for sure. A toddler and a cat in a car for four - five days...we have never done either before...let alone both at the same time. I have NO idea how this will work. We will be investing in Baby Einstein stock for the new laptop and that should take care of the toddler. The cat, on the other hand, could care less about Baby Einstein...so...I am thinking...catnip??? Might work...
So, I have been working hard at so much behind the scenes stuff. There is so much more work involved in this designing thing than alot of people realize, I think. Its not just about sitting around crocheting all day. I find that now, with the website up and patterns in testing and such, I have less time to crochet than ever before.
Ahhh...bet there are no complaints here. I am in love with it. I have created a timeline of sorts for my dreams and goals and now I have deadlines for things. I thrive off this kind of thing. I think this is what my life was lacking before. I am not the kind of person that likes to work outside the home...in fact, it just makes me plain miserable...but I DO love deadlines and challenges. So, now I have created them for myself. And I am loving it.
This weekend I worked on getting my latest patterns ready for sale on the site. I will show you pics because it has been so many months since I completed these that many of you might not remember them. This weekend I worked on bloomers to finish up these sets.
First is my Angel Whispers Ensemble. This was the very first dress I ever designed. Simple and sweet.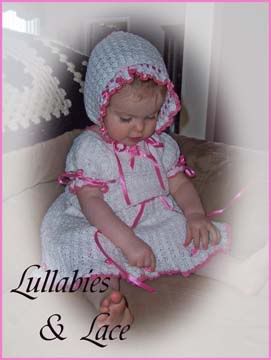 And the back of it.
And now the bloomers. Aren't they darling??
These bloomers are one of my favorite designs ever. They are so old-fashioned looking...like old panteloons or something. I adore them.
And here is the Angel Kisses Ensemble I crocheted for my sister's baby last winter. The second dress I designed.
And here is another picture just cause I love pictures.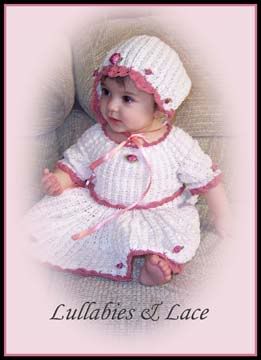 And the bonnet. I just love the details on this bonnet. It took me awhile to be able to resize this bonnet into the different sizes and get it to fit and work properly. But I did it and I am extremely proud of it. It was well worth the effort I think. This pattern will be a very nice pattern to sell.
And here are the bloomers for this dress.
You may notice that these are the same bloomers as the Angel Whispers bloomers and that is because they basically are. I altered them a tad and added the different trim to them but they are pretty much the same. It saved me time from having to re-crochet different bloomers a billion times for all my different dresses. I am thinking of doing a standard diaper cover to sell for cheap too that can be used with all my thread dresses. This might be easier on me in the long run. We will see.
I just finished up some other bloomers tonight for my Easter's Song dress but it is too dark to try to get a decent picture of them so I will do that in the morning. All of these patterns are now available for purchase on my website. www.lullabiesandlace.com
I mentioned it before but I will mention it again, you should go sign up for my email subscriptions. I will send out a little announcement once a month with my new patterns, upcoming patterns and maybe in the future I will offer special discounts. I cant promise this though as I don't know quite how it would work out or even if it would work out. My goal is to also send out a newsletter four times a year with a little information about me, some tips or something and some other interesting stuff that pertains to crochet.
Well, it is late here and I should really try to get some sleep. I can't sleep tonight and that is because I was waylaid with a terrible migraine on Tuesday which in turn, caused me to sleep the day away. Hubby was nice enough to get take off work and watch the crumb-bum so I could rest. I lost vision in my left eye for about 15-20 minutes and then my equilibrium went out and I had to lie down immediately. Then the headache hit me. I was in bed for the rest of the afternnon, until we had a showing for the house during which hubby packed me, my bucket (which I did use...and not to clean the car out) and my blanket into the car. It was not the most pleasurable car ride of my life...let's put it that way.
Today, I am paying for the extra sleep though by not sleeping. I don't understand my body at all. I guess I am getting old...lol.
Have a great day everyone.