I don't even know where to start. It has been almost two weeks since I have posted here. I am sure you have all figured I dropped off the end of the earth. I feel like I have too...but I climbed back on and hope to not fall off again. No promises though. I have learned this past week that NOTHING goes as planned. We have seen so many ups and downs. If I were to tell of all of them, I would be up all night typing and I don't really feel like doing that so I will touch on some major things.
Number 1 ~ We almost didn't close on our house. That was a fiasco in and of itself. We were supposed to close on it last Wednesday but the brilliant realtor who was the buying agent, couldn't get her act together in time and it was pushed to Thursday and then Friday. We got a call Friday afternoon with the news that their loan was not approved. Boy were were ALL hot to trot. (including our own reator) Come to find out...it was the other realtor who was buying the house and the reason for her not getting her loan was something on her credit report. Now let me explain something to you for those of you not familiar with the house buying routine. When something is on your credit report...it shows up much sooner during the home buying process than three days AFTER you are due to close on a house. This is something that comes up while doing a pre-qaul...and being that she was a realtor that was buying the house, she knows the procedures. Well, our realtor ended up paying HER bill for her so we could close on the house. She was going to walk away from this deal for a $500 bill that she was not willing to pay...can you believe it??? What an idiot. I can't believe that our realtor paid it for her.
But that is not all...oh no...that is NOT all. The buying realtor than made a stink about the fan in the bathroom not working. It is a $50 fan. She caused us an extra week of interest for not being ready to close on time which equals close to $350, plus the $500 bill our realtor paid for her and then she made a stink about $50. SHE WAS GOING TO WALK AWAY FROM THE DEAL!!!! All because of a $50 fan!!!! OH MY GOSH!!!! I cannot believe it. Had I been in the room, I would have spoken my mind to her and walked away. She would not be in my house. She literally threw her pen onto the table and closed up her checkbook and was preparing to walk away.
Well, James and I were NOT there. We were already driving up north. So, our realtor and friend said they would pay for it out of our profit check. That appeased her and so we have a done deal. Our house is finally sold!!!
That is all I have to say about that. I could go on and on about the idotic things this lady has done but I don't feel like it. It is over. Its a done deal. We have our money and no house and that is what we wanted.
Number 2 ~ We decided to leave town late Sunday night instead of Monday morning. Two reasons for that...one...Chloe would sleep since it was at night. And two...it would give us a head start for day one which would make day one (which was then day two)a shorter drive.
Our friends Ashlie and Nathan came to visit us before we left Sunday night.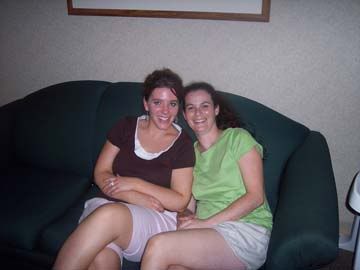 Isn't Ashlie gorgeous??? She is beautiful both inside and out. I will miss her so much. She is a great friend who loves me for who I am. She doesn't judge me, but she does tell me things as they are. If it needs to be said, she has the courage to say it. I admire that so much about her.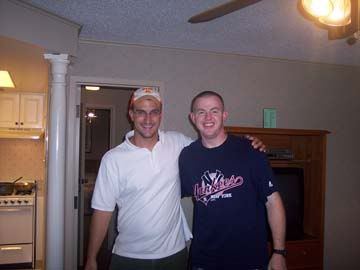 James is going to miss Nathan. Those two are like little kids when they get together. They both wear ear to ear grins the whole time they are together. It really is contagious. They have so much fun together. I think we will be having a little trip south in June of next year for a noodling trip. (that is catfish mating season...prime time for noodling.)
Speaking of "fish"...here is one of Nathan's catch from Sunday night.
Ha ha...Chloe was actually playing with Nathan. So, Nathan picked her up. When I got ready to shoot a picture, he held her like a fish...what a man!!! Always thinking about fishing.
Can you believe this??? I packed up some yarn and threads and such for the trip. (this was a while ago, since it has been over a week since I left my house) Here is my pile of what I have with me.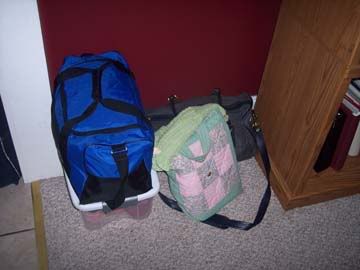 Now James has started complaining about how much that is. WHAT???? Okay, so he claims that it is only in jest...but I wonder. I tried explaining to him that this is NOT alot. It isn't even a quarter of what I own. And I seriously think I will use at least half of it. (okay...maybe a quarter of it...but I need it for inspiration, right??? RIGHT????)
So,our first night of driving we stayed in Jackson Mississippi. Our second night (last night) we stayed in Anniston Georgia. We found a lovely hotel there. How did we find it??? James, being the wonderful husband he is, bought us a GPS system for our car. One of the really cool features to this device is that it will pull up a list of hotels for the area you want. It also pulls up a telephone number so we can call ahead of time to make sure they allow cats and have intenet access and first floor rooms. This is so neat. I don't know how we would do this trip without it. It is great.
Anyways, I was planning on taking pictures of our hotel last night but I forgot. It was gorgeous. The name of it was The Victoria Inn. The buildings were gorgeous. It was like a huge Victorian mansion. Ohhh...I wish I had pictures. Anyway, we swam outside in the pool last night. We had fun.
So, today we drove to Savannah Georgia. A little out of the way...but I was dying to come here. I figure if we need to drive so far...we might as well stop along the way at places I want to see. Why waste the whole drive just driving, eh?
So, now I have pictures.
We ate at the Crab Shack for dinner tonight. This place was neat.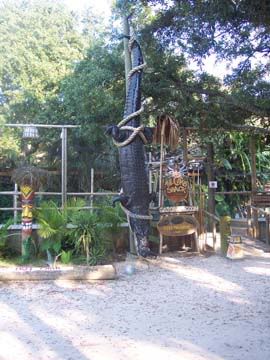 If you can't see very well, that is a giant alligator outside of the restaurant. This place had real live alligators.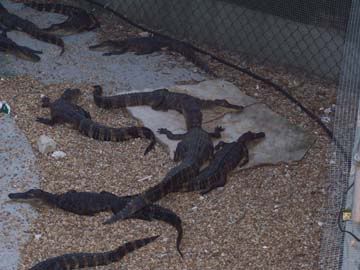 Aren't they neat??? These are probably about a year old. (I learned that while living in Louisiana.)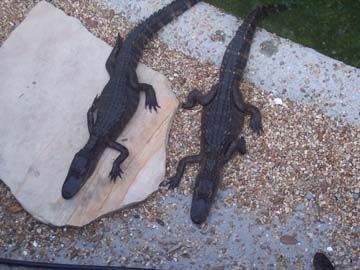 Poor Chloe was so tired when we got there that she didn't get to see the alligators on the way in. We showed them to her on the way out though.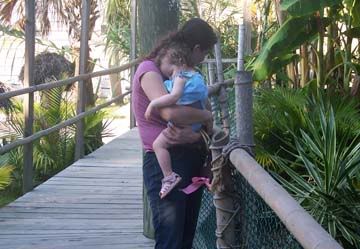 We ordered the Seafood Sampler for 2. It was sooooo yummy.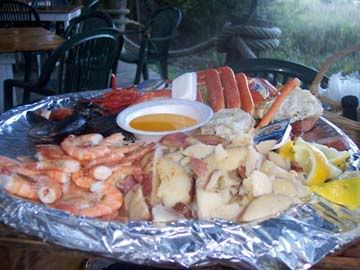 One thing I am going to miss down here in the south are the annual mudbugs. (crawfish) These things are sooo good. I like James to open them for me though since they usually have eyes on them. These eyes are beady and stick out from the head...gross...sick...but the tails taste so good. What a great husband to open them for me and give me the meat.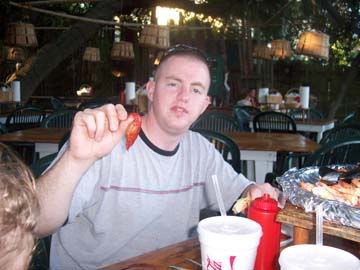 After dinner we went to the beach.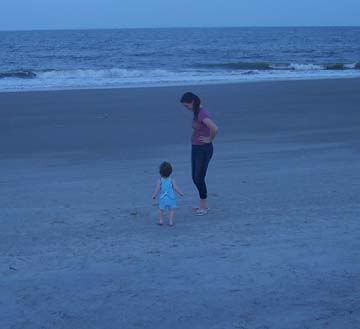 I saw the biggest boat I have ever seen in my life. James thought is was nothing...but to me...it was HUGE!!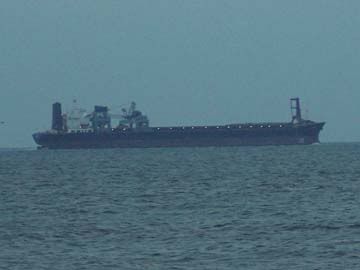 You have to understand...this boat is far out on the ocean in this picture. It really is quite large.
A girl ran up to us as we approached the water's edge and informed us that jelly fish were stinging tonight. She then showed us her belly and her legs which were covered in hige welts. That was too bad. We were so ready to go swimming. It would have been my first time swimming in the Atlantic ocean. (Chloe's too) So, we just stood at the edge and got our feet wet.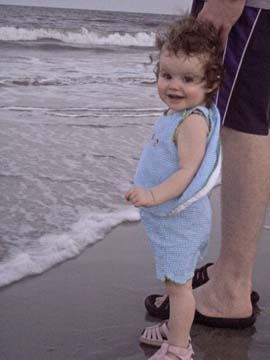 Chloe had so much fun. She smiled and grinned the entire time. I don't know whether she was happy to be at the beach...or just happy to be out of her car seat. Poor dear...strapped into a seat for hours on end. She can't even touch her knees while in the thing...I feel so sorry for her. Tomorrow will only be about 1 1/2 hours in the car though...so that will be much better.
She sure enjoyed parading around the beach though. She had a blast. We also saw a lighthouse. We will be going back tomorrow morning to go up it. They were closed today.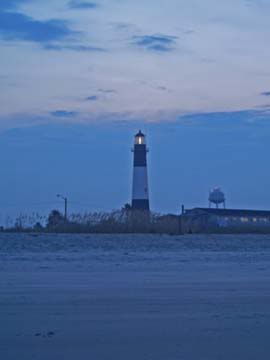 I have never been to a lighthouse before so I am pretty excited. This will be fun.
Do I have any crochet news??? Not much I am afraid. I crocheted a doily for my friend Debra before I left home. This was to say thank you for all the hard work she did for the makeover of
my site
. Go check it out. She did a fabulous job. I am very very VERY pleased with how the site looks now. It is completely me and reflects my style and personality. I think it is gorgeous. Anyways, here is the doily I made her.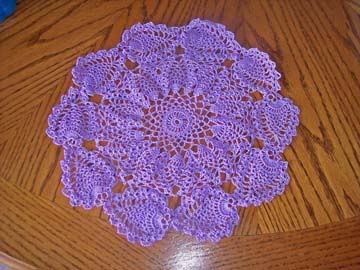 And a fun shot of it.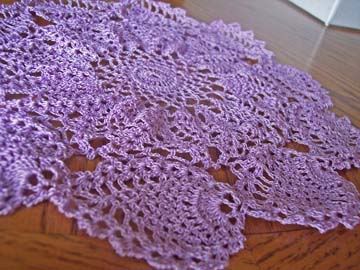 This doily was unique in that the pineapples are crocheted in a ring. Then you crochet the center of the doily and attach it to the ring of pineapples on the last round...pretty cool effect. I sure hope she likes it. I did it in her favorite color purple. (my fave as well)
While sorting through my boxes from the attic before the packers came, I found a doily in my Christmas things. This doily will be added to my Anne of Green Gables 37 doily challange gallery. It was a doily crocheted by my Sister-in-law Susan for my wedding. Isn't it beautiful??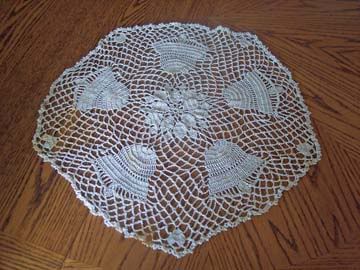 I am so upset that it has some stains on it. I tried and tried to get them out. I managed to fade it a bit but it didn't come out. How disappointing. They are so noticeable too...but there isn't anything I can do. It is still a beautiful doily. I will add it to my gallery when I get settled in up north.
And the last thing I have to show you is a purse/tote bag I designed for my Fall Purse/tote swap. I had so much fun with this design. In fact, I am planning on making one for myself now. I love it so much.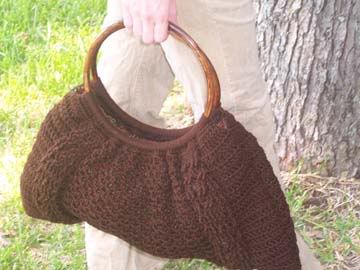 I really do love it...LOVE it. It was hard to part with it...but I knew I could easily make myself another one. So, I will. I am calling it Autumn Cables Carpet Bag. It is another one of my purses that features my crocheted lining. Takes a while for a tote this size but I love the effect it gives. (and I have been blessed with incredible amounts of patience when it comes to things like this)
Well, that is all I have for tonight. I need to get to bed so we can get started on our touristy sort of things early. We have a full day planned for tomorrow. All of which I hope to get pictures of to share with all of you.
A bit of bad news for everyone. It seems that I am unable to send emails while in transit. We can't figure out why they are not sending. So, if you have emailed me and are waiting for a response, please know that I have not dropped off the planet again. I am here...just unable to respond. Hopefully James can get this thing figured out before too long.
Have a great evening everyone!!!