Time sure does fly when you are having fun. Or else when you are super busy. And time has been flying for me. I cannot believe we are already almost halfway through August and I have barely begun my list of things to accomplish this month. But this is the way I like it.
The cause of my recent lack of postings??? I am a keeper of the home...but someone in my household is feeling a bit neglected due to my new business and all the computer time that entails. The biggest neglection (is that a word???)......the laundry. It seems that with my new business (website, testing forum and all that these entail)my memory is slipping on other important thing. Namely laundry. Last week, for example, I did the laundry on Mondays like I always do...but I forgot the last load. Well, Tuesday morning, it stunk to high heavens so I restarted the washer...and since it was NOT laundry day (which is Monday, but I already told you that) I forgot to transfer the clothes to the dryer. This same thing happened on Wednesday, Thursday, Friday and the weekend. Well this week, on Monday, I had an unplanned shopping trip with a friend and so the laundry did not get done. So, with one week of laundry still in the washer and another week worth in the hamper, my dear husband was out of clothes. So he now claims I am neglectful and things need to change.
The first thing to go is my internet surfing and browsing of blogs and websites and patterns. I just can't fit it all into my day like I wish I could. I need more sleep, not less and I have a family to take care of. So, I will not have as much time to spend online as I used to. But that is okay, because maybe this will mean more time for designing. (instead of dreaming of crocheting other patterns thus increasing my WIM list.
I mentioned about the shopping trip with my girlfriend ealier...and so I will show you what I got. (not like any of you care what I got but I like to show off anyways.)
I needed some things for Chloe and our trip up north is sneaking up on me. We will have two weeks in a hotel on this side...and then 5 8-hour days in the car with a 17 month old toddler (who can't sit still for 2 minutes) and a cat...and then two weeks in a hotel up north before we move into our house. Now my main concern is the trip up there. 5 days in a car with a child who loves to run and climb. And its not just a toddler in a car...its everything else we need to take with us too...cat box, clothes, food, stroller, playpen and other neccessities you need when moving.
My idea is this...have a bunch of new toys that Chloe has never seen before and pray that these will occupy her for a long period of time. Wanna see what I got her???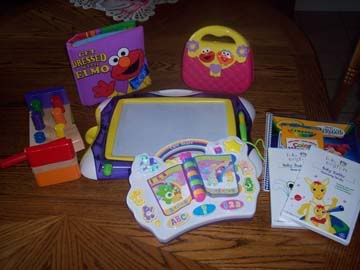 The coolest thing I got her is that plastic purse you see there...the sesame street one. It is filled with plastic keys, lipstick, a coin purse, cell phone and a comb. Chloe loves going through my purse and taking everything out so I am hoping that this will entice her to go through it over and over. We will see.
Now, I spent the whole day shopping for the little crumb-bum and so I needed to get something for myself. Ahhhhh...the love of tea...I got two new teas to try out. They are not new per-se but new to me.
I can say that I have tried them both and they are delicious. Every heard of Watermelon/kiwi tea??? I haven't but it is yummy...really really yummy.
Last week I forgot to post Chloe's book I got her for the book of the week club. Here it is...this was one of my favorites growing up...I adored it.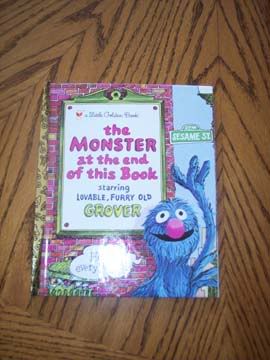 And now for something crochet related. I have finished a new purse design. I love this one. It is different from anything I have done before. I was going for something less frilly and lacy than I have done in the past and while this has "holes" I don't think it can be considered "LACE". I think I did accomplish my mission. What do you think???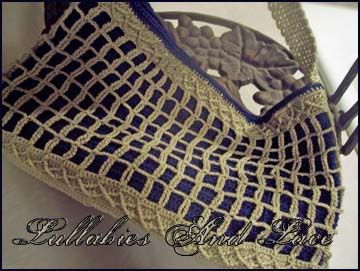 This purse has my trademark crocheted lining in it. I am petrified of sewing in a fabric one...so all my designs have a crocheted lining in them. An idea I am proud of.
I was working on part of this purse while watching "My Big Fat Greek Wedding" and so this might be why there is some Greek architecture influence on the purse. I love it though. (the purse and the movie)
Well, we have an inspection of the house tonight so I need to go get the bathroom cleaned up. I had to paint the ceiling this morning and now there are leaves and debris over the entire floor. Not from the ceiling but from the plastic I put down to cover everything. Appartantly James used it for an outdoor project and failed to clean it before storing it. And then I have some shopping to do. Hobby Lobby, Micheals, Bass Pro Shop, and many other really fun places that are not worth mentioning. (grocery store and such)
Have a great evening everyone. Thanks for stopping by.