Let's start at the top...A Party. It was my best friends birthday Wednesday and so Tuesday night we all went to Cracker Barrel to celebrate. She loves to eat. Her family loves to eat. We all love to eat and so it was a perfect party.
Here I am with my best friend Ashlie and her sister Laura. Don't we make a lovely group??? They are so glamorous and girly. I can only aspire to be like them. LOL...just kidding, I am very happy with myself. I do not have half the "sparkle" they have but just to honor Ashlie that day, I painted my toenails bright pink. They are cute and the perfect color for summer.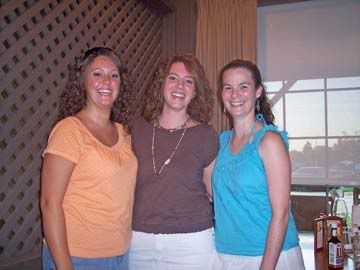 We very rarely have our picture taken as a whole family. I think the last time this happened was at Chloe's first birthday party. (ummm...5 months ago???) Time before that would have been Christmas. We really need to get more photos of us together. Anyways, since we were all in the picture taking mood that night...here is a my little family.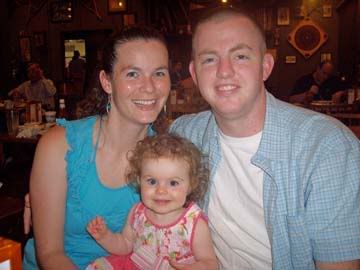 I am sorry for the major red eye factor but I have a new photo editer and I am trying to learn this thing. Its alot simplier than my last one. Its supposed to be more "user-friendly" but I am not liking it. I can't figure out how to do anything with it. I am used to my old one and I miss it.
Anyways, here is a picture of James with his best friend Nathan. They are two of the greatest guys you will ever meet. (and the goofiest too.)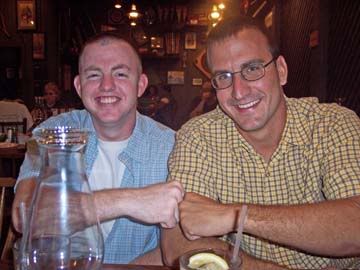 And for the record...he is taken girls. No requests!!!! And that's FINAL!!! He started dating my best friend Ashlie. Isn't that wonderful??? I sure hope they get married soon. I always knew they were perfect for each other. They are two of the sweetest people you will ever meet. They never judge anyone. That is a quality I love about them. And they are both loyal.
So, here they are together. My first picture of them together as a couple. Ahhhhhhh...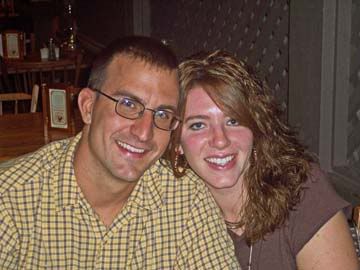 Now on to the Present, since it was Ashlie's birthday party and all. Well, the really sad thing is, I didn't have it done by Tuesday. In fact, I didn't even have the yarn for it or anything on Tuesday. What an awful friend!!!!!
I finally finished the thing today. I copied my Greek Colomns purse only I did it in yarn. Now, as I mentioned earlier, Ashlie is a "sparkly" type person. You must add sparkles and shine to anything you give her. (unless is comes with it already) So, I present to you...Greece Gone Glam!!! My newest purse design.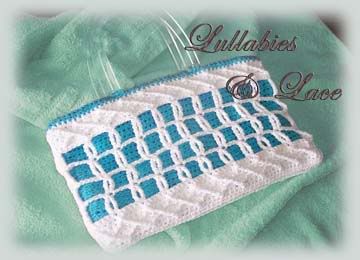 Think it fits the bill??? I have yet to give it to her so I have no idea if she likes it or not. I really REALLY hope she does. I bought her some pink nail polish and some pink lip gloss and some dangly (and sparkly) earrings to put in the purse just in case the purse is a flop.
A package!!! Yes, I got a package in the mail today. I ordered some MORE thread from Handy Hands Tatting. I am in love...simply in love. Lori, you have created a snob of me!!! I adore being a thread snob though. So what did I get this time??? I mean, sheesh...I haven't even used what I got last time with my GC from Lori.
That pink is going to be something special for a special someone. That is all I am going to say...no hints and no previews. You will have to wait and see. I will say that it is size 80 Manuela thread. I have yet to try a thread this size but I have the perfect plan for it. (again, I repeat...no hints)
Now that orange one...is not really what I thought I was getting. I wanted a darker, more fall like color. It said burnt orange. In this photo it turned out more halloweeny orange. Now this might not matter to most until I reveal what my plans are for this thread and then you will have a heart attack. I was planning a dress for Chloe. And not a halloweeny dress...we don't celebrate halloween. It was going to be her Thanksgiving dress. I still will use it and hope that my plans will take away from the oranginess that is this thread. Think I can pull it off??? We will see. Maybe I should have stuck with brown. It seemed so boring at the time...but now it is seeming more what I need. Hmmm...what to do...what to do... Designers quandry.
And now the COOKIE!!!!! What news I have for you today!!! Big news. This should hit all the papers across the country by midnight!!! Chloe had her first cookie today!!! Her very first one!!! And since that is such a momentous occasion in the life of a toddler, I photographed it for the record. I DO feed my child sugar. (just not very often...you can tell since she is almost 17 months old and this is her first cookie.)
Before...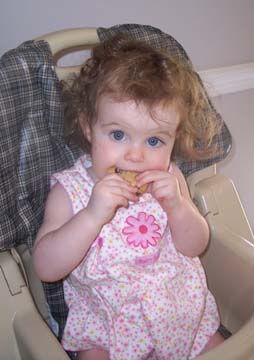 ...and After.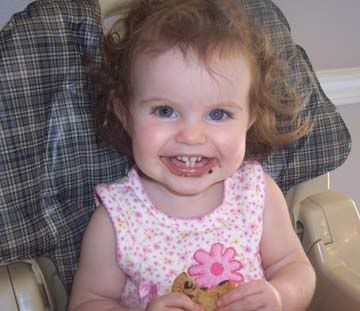 Think she likes it???
Well, I need to get dinner going. I have no idea what to make. I was supposed to put a chicken in the routisseri but I forgot...got carried away on the computer again. (could this be the neglect my hubby is talking about??? Very well could be) So, I may just make some pasta. I am going to try a new kind of pasta. (well, new to me that is) It is Orzo pasta and looks like little grains of rice. I am just using the recipe off the package this round. Sounds interesting enough. We shall see what James rates it. He is a steak man. Give him a 12 oz ribeye and some Kraft mac and cheese and he is happy as a clam. Me, on the other hand??? I do not get any cooking satisfaction sprinkling a little Tony's and garlic on a piece of steak and throwing it on the gril. No...cooking for me, must take longer than half an hour to constitute cooking. (and even then, sometimes it isn't cooking) So, we will see what James says!!! Should be interesting.
And tomorrow I will have a picture of Chloe's book for this week. I really like this book and you will soon see why. A wonderful book by a wonderful author. (ahhh...how I love surprises...can you tell???)