Yes, I went shopping today. ALL DAY!!! I left first thing after breakfast...took James to work and then went shopping until 3:30 in the afternoon. Talk about a long day. So, now I have a headache. Massive one too. It has been worse...about two hours ago I thought it was going to be a migraine, but I got lucky. No migraine. It will probably get better when I sleep. (fingers crossed)
One neat thing that I am proud of is my newest teapot. I joined the Tea Cozy Swap over at the
Ville
and so I decided that I NEEDED a new teapot to put into my new cozy I am to recieve. Isn't it lovely???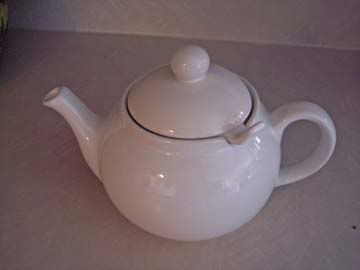 Actually, NO!! Its pretty boring and plain. But that, dear friends, is exactly what I was going for. I have a teapot...a very cute teapot (sorry, forgot to take a pic of it...maybe tomorrow) and you would not want to cover it with a cozy. You wouldn't be able to view its cuteness. (just wait til you see this thing...pretty durn cute)
So, I also decided to practice making a cozy until I hear back from my swap partner as to the exact dimensions of her teapot. (don't want to get this wrong and have a naked teapot running around cause his clothes didn't fit) Here is half of my new tea cozy. (made to fit my new PLAIN teapot.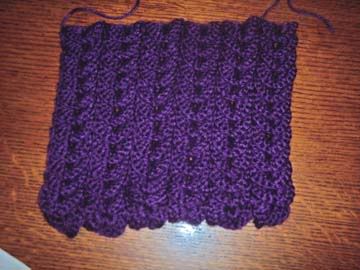 You can't see it very well in the picture because I just finished it like 10 minutes ago...and well...its nightime. And you all know what that means in my house. NO LIGHTING!!! Better pic tomorrow when I complete the whole cozy. If it doesn't work for my swap partner than I think I will mail it to my best friend in England who just bought a house. I was going to knit her some dishcloths as a housewarming gift but I just don't see that happening anytime soon.
Wanna see why???
This....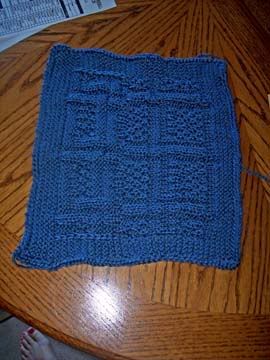 That is my horrible attemtp at knitting a square for my Sampler afghan. Square number 1 done...19 more to go. If you were to look closely (please DON'T look closely...I only said "IF" you WERE to) you would see that I somehow mixed up the rows and so half the sqaure is done on the wrong side. I must have missed a row somewhere. The funny thing is, I kind of like the "back" side better than the front. If only I had done both halves the same...arrgggggg.
Also, you will notice that it is NOT square, but kind of funkly shaped. I am kind of hoping that I can block it somehow and when I sew all the blocks together, it will magically right itself. (I can dream big sometimes, can't I???) But for my first sqaure...its not so bad. I am a beginner knitter after all. (I did find baby sweaters alot easier to knit than a simply square, but then I am wierd that way. Easy things are hard for me and hard things come naturally. Go figure!!!)
More about my shopping trip. I got Chloe her book for her Book of the Week club. (Well, I got her two books...cause I just love books.)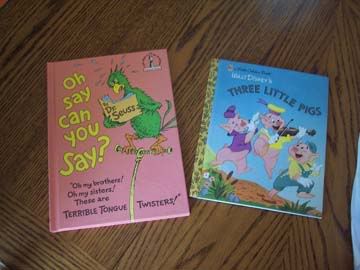 I love Dr. Suess' book "Fox in Socks" and so I thought this "Oh Say Can You Say" would be fun. I have yet to read it though...Chloe won't sit still that long. I can't figure out for the life of me why she thinks "wiggly sat on a figgly piggly for a giggly good time" boring...she's weird. (okay, note here...that is NOT in the book. Remember that I said I have yet to READ it.)
I also got some supplies for our upcoming drive. (which is going to be quite an experience...I don't know whether to be excited about five 8-hour days in a car with a 17 month old baby and a over 10 year old cat or to be petrified solid. That remains to be seen.)
One thing I decided might be a good idea is a little bed of some sort for Pattycakes to ride in. She would yowl the entire time if I put her in the cat kennel. (she hates that thing...and for good reason. Long plane rides and such...I wouldn't like it either)
Now, as some background information, I feel it important to share with you a little story back in our early marriage. We were into spoiling the cat very much. She didn't really care. She doesn't eat cat treats or play with cat toys. (unless it is catnip...then she goes a little bonkers for a few minutes) We found a wonderful little cat bed that claimed to attract cat hair as the cat slept. This would then, of course, leave less hair flurries floating around the house. (and our first house was linoleum the whole way through which meant we have a lot of cat hair flurries.)
Well, Pattycakes didn't take to her new bed and so James decided that maybe she would like it better if he placed it on top of her and trapped her in it. (sometimes he is just genius...this was NOT one of those times.) Needless to say, she never touched the thing again.
So, it was with great trepidation that I bought a cat bed for Pattycakes today. Memories of past horrors flooded my brain and I thought "What am I about to do to my poor cat???"
I sat in my recliner and placed Pattycakes on my lap. I then placed the cat bed right next to her while she laid on my chest...her bottom touching the edge of the cat bed. She didn't go anywhere so that was a good sign. I sat there for about 15 minutes just loving on her. (and stroking her hair into the cat bed with the intention of creating a "cat smell" that she would recognize as her own and then LIKE the bed.)
I then, gradually, moved the bed further and further up her body until she was half way in it. She was still content so I did the deed. I got up and placed her IN the cat bed and I walked away. Here she stayed for about an hour.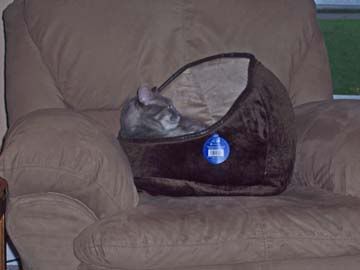 Ahh...job well done. She likes it!!! I hope it works for the trip. Now I just have to teach James how to gently introduce cat beds to cats, since his torture method clearly did NOT work.
And now I leave you with the sweetest pictures you will ever see in your entire life.
Chloe and her Daddy!!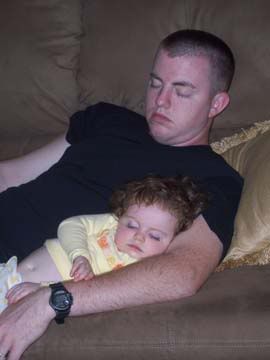 Good night and sweet sweet dreams.