I don't even know where to start. I am usually much better than this at update and posting but with the whole move and the drive and all...well, I hope you all will forgive my neglect. Pretty Please????? I'll give you cherries on top....(well not really, but its the thought that counts, right?)
So, where to begin??? I will begin somewhere in the middle of my story since that is the point at which I last left you. We were somewhere in Georgia, I believe, en route to Savannah. Or maybe we had just arrived in Savannah? Yes...if I do recall, we had just arrived for the night in Savannah Georgia and were getting ready for touring the sites the next day. So, this seems as good a place as any to pick up this tale.
I do have to say, Savannah is not NEARLY as beautiful as my mind told me it was. You see, this is the dilemma one encounters when they have any sort of an imagination. I have read a few books set in Savannah and in my imagination it was truly a gorgeous place. Hence my reason for wanting to visit.
Well, upong arriving, I soon found out that while it has history (oh, so much more than the west coast) it is not near as romantic as I had envisioned it to be. Maybe we just didn't go to the right places but time was not for us on this trip.
Here are some shots I got of the surroundings closest to us. We ventured down a street from the hotel to the old street they call the "river walk". It was fascinating.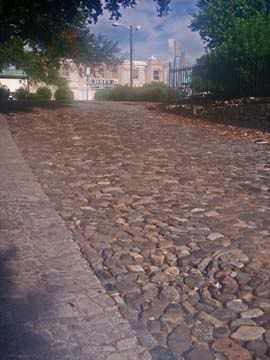 The old streets of rock which I guess would be classified as cobblestone since they are made of stone. Where I come from (out west, in the uncivilised part of the country) our cobblestone streets are merely brick. These here, to me, are TRUE cobblestone and I adored walking on them. Of course, it was quite a chore to push the stoller with Chloe in it along these streets...
Ahhh...an old building. OLD...NOT PRETTY...but intriguing, none-the-less. I love anything old...
...and old-fashioned. This horse-drawn carriage is certainly old-fashioned. I highly doubt it is old though.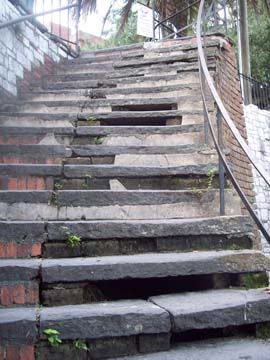 These steep stairs were a challenge to walk down. I sent James on to the hotel so I could walk down them by myself. (can you imagine trying to haul that stoller down these things???)
And another street just so you can get the full effect. What was quite humerous to me was to gaze at these ancient streets of cobblestone and then to quickly jump out of the way of the BMW's and Surburban's. They kind of took away from the effect, but that's the world we live in, eh?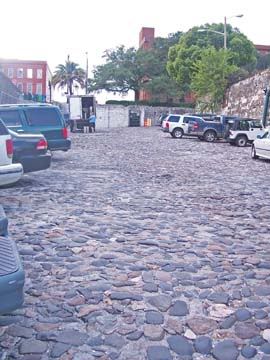 So, that is all we did in the morning. James bought me a souvenier. I love to have a piece to remind me of each place I have visited and I don't like those spoons or such things since they are just clutter that I will want to throw away in 5 years. So, on this adventure, we found a cookbook. A southern cookbook to remind me of the south. i choose a cookbook that featured recipes I can and WILL actually cook. So many of the choices feature things like grouse or turtle dove and I just don't think that Super 1 Foods will carry such an item.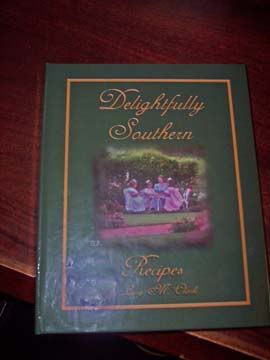 Since we were in Savannah, we decided it would be cool to visit the restaurant "A Lady and Two Sons". In case you are unfamiliar with this restaurant, it is the restaurant of Paula Deen. And just in case you are unfamiliar with Paula Deen, she is a big time cook on the food channel who uses more butter and lard than she does "real" food. Ohhhh...but it is delicious that way. Cholesterol??? Heart Disease??? Bring it on!!!!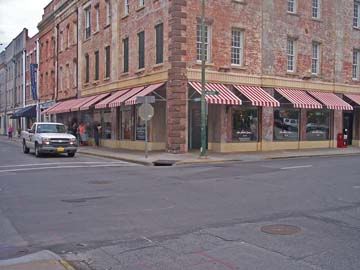 It was a simple restaurant on the corner. Not a big time place like you would think.
We arrived at the restaurant at 10:30 in the morning to put our name on the waiting list for when they opened at 11:00. They started writing down names at 9:30 in the morning and you could only get in with those reservations. They told us to wait across the street once it was time and they would start calling out names.
So, we had half an hour to wait. We decided to walk around instead of standing there in the stiffling heat. We found a shaded park in the middle of the city about two or three blocks over.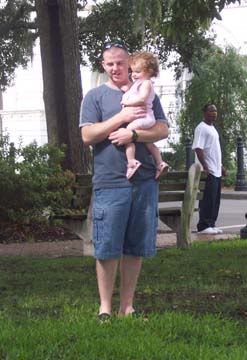 James put Chloe down and she started chasing the birds around the park.
She had a blast. She ran here...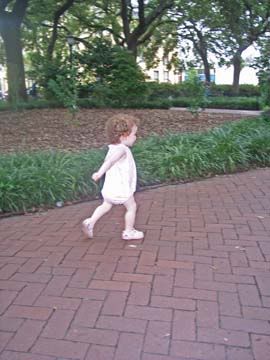 ...and there...
...and then she spotted me taking pictures and decided that the camera was something she had a better chance of getting her hands on than the birds. They were too fast for her.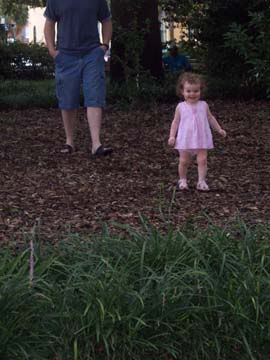 When it was time, we walked back to the restaurant. Boy was there a line. Just look at it.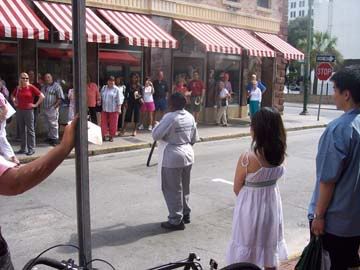 Then the cook came out and rang her dinner bell and yelled "Come and Get it". Then finally called our name and handed us a card to get into the restaurant. We were seated on the third floor and they handed each of us a garlic cheese biscuit and a hotcake made with cornmeal. These were delicious and alone were worth the wait. I could have left at the point and been very happy. We ordered the lunch buffet which was delicious.
After lunch, it was time to leave town. We were heading up to Charleston, South Carolina. James packed up the car and for some unknown reason I turned on the weather channel in the hotel room. I don't know why I did this, but as I did, I saw that a hurricane had hit Florida that morning as a tropical storm and had headed back out the the gulf to gather up stregth and was due to hit Charleston the next day. (the day we were to sightsee) So, needless to say, we decided against that trip. I was sad but that's the way life goes.
Well, we are now at our desination and will be looking for a house this week. We were going to stay in base housing but we drove by it the other day and it was horrible. Neither one of us likes it in the least. So, we have a few prospects on the horizen for rentals. We will see how that goes this week. At this point, anything is better than that base house. I actually cried when I saw it...it was nasty.
In crochet news, I still haven't done much. I brought all that stuff and haven't even finished one thing. This moving thing is for the birds. Anyways, the news is that I frogged the skirt if the newest dress I am working on. I didn't like the way it was working up so it is gone. I played around with some techniques yesterday and I found something I think I like. I just need to work on it for a few inches to see if it will work for the whole skirt. I hope to have this outfit done this week. I am getting way behind schedule.
Well, I will have to tell you all about our trip to the zoo tomorrow. I wrote a book today and don't want to bore you to tears. So, check back another day to see some of the gorgeous animals we saw. Have a happy labor day everyone!!! Sit back and relax.