Just a few things to share with you all today. I told you the other day about some packages I recieved in the mail??? Well inside one of those packages was a surprise. yes...a surprise. I didn't even realize it until yesterday evening. Let me tell you the whole story from the beginning.
A package came to me from Tween over at the
Ville
. This was my doily package for the doily swap I was participating in. I even told you about the books and pattern leaflets that she so generously included.
Okay, well a few days ago (more like a few weeks ago) I got the idea that I would like to start a hope chest for little Chloe. I also thought it would be cute to do something for her every year on her birthday. You all know those little porcelain figurines? The ones that start out with a baby and go up to age 18? I had always wanted to get my children one of those each year when they were born. Well, the only problem with that is I had decided long before I had kids that I would not start something with one child that I would not be able to continue if I had 10 kids. And those figurines are not cheap. Can you imagine haveing to buy 10 of them every year??? Could get pretty pricey. So, that idea was out.
I got to thinking the other day...wouldn't it be neat to crochet her a doily every year for her birthday??? She could have a little hope chest that we keep them all in and she would be able to start out her new home with these doilies as a reminder of her mommy's love for her. Well, I am two years behind. So, I thought about doing a couple of small doilies for her first two years. (the year she was born and the year she turned one) Well, I was THIS close to buying PK's book "99 Mini Doilies" but I didn't. I issued a little self-control and pleased my husband very much.
Well, I remembered seeing a coaster book among the leaflets that Tween sent me along with my three doilies. I thought that they might make a nice little doily for Chloe's first birthday. I started looking at the coasters in this leaflet and the stitches looked very familar to me. I thought, man...those look like PK stitches...I wonder who designed these doilies. I turned the leaflet over and lo, and behold!!! Whose name do I see on the front??? You guessed it!!! Patricia Kristofferson!!! I jumped for joy and immediately decided that this indeed must be Chloe's first doily.
So, I made one last night.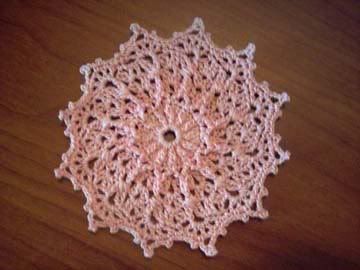 Isn't it darling??? Perfect for Chloe's first doily. It only took me about 30-40 minutes to complete. I do think that her next doily will be a bit larger though. While this is fine for her first doily, they are kind of on the small side. After all...they ARE coasters.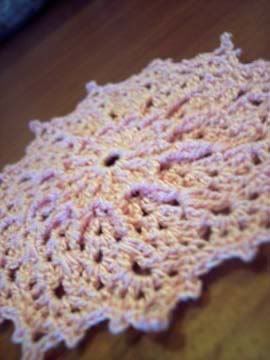 So, I will be making a post called Chloe's Hope Chest and including the link in my sidebar over there so you can see her hope chest grow over the years. I do want to add more things than just a yearly doily to it. I want to make her a tablecloth (if I could ever finish my own) and other things. Also, when she gets older, I would like her to make her own things for this hope chest.
Well, I finally got around to steaming the bookmark I made for my secret pal. Here it is. Again I am sorry for the horrible picture. It seems that I pull the camera away before it is finished taking the picture. I gotta quit that.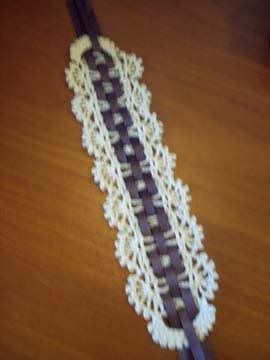 - FUG UPDATE -
It seems that the Fug has really taken to Chloe. I don't know why...maybe its thier common interest in chewing on things metal. (for Chloe it would just be chewing on things period...) But I guess they have found a common bond.
Here is a picture of the two of them watching cartoons this morning. Fug was particularly intrigued seeing as how we were watching Handy Manny on the Disney channel with all sorts of tools and other metal like objects. (another common bond???)
Anyway, he still won't speak much with me...I think he is still getting over the whole "two weeks in a traveling crate" episode...but we are going to a picnic today and he will be going along with us. Maybe being around tons of people and getting all that attention will bring him out of this "mood".
And last of all today is Chloe's book for this week.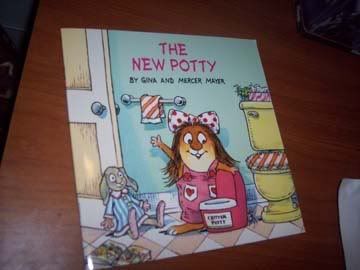 I love these books for her. They are short and funny and totally from a kids perspective. They are great.
Well, I am off to rescue the kid from the big bad playpen and then to knit on my second square for my sampler afghan. I have about 8 1/2" done and only 3 1/2" left to go. I hope I can get it done today. Wish me luck!!