So, anyone who knows me well knows that I am a Yankees fan. I love baseball, but more importantly, I ADORE the Yankees. Now, my dear husband promised me that with a move to a huge city, there would be plenty for us to do. One of which was to attend a Yankees baseball game.
Well, we have been here one week and two days and sure enough, my darling husband has already kept his promise. (I am sure it helps that he ADORES the Yankees as well.)
It wasn't home turf but it was still my very first Yankee game. And my two favorite players were playing tonight. Derek Jeter and Bernie Williams. Yay!!! Bernie was supposed to be DHing this year but he has had a ton of starts due to some injuries in the Yankee lineup.
You will never believe where we got tickets to. First, let me say that we were late arriving to the game. Construction got the best of us...took us 45 minutes to get 1 1/2 miles down the freeway. So we arrived at the bottom of the 4th. Which meant that we got to see the top of the lineup at the fifth though...which, for those of you who don't know much about baseball...or the Yankees...is where Derek Jeter bats. He was third tonight.
Back to the tickets. We got to the ticket booth expecting nose bleed seats and that is what he said was left. But, with the luck that James and I have...some seats came open right as we were standing there trying to figure out where the nosebleed seats were. The new seats were out over center field about five rows up from the field. Talk about lucky. So, guess who I got a picture of??? You got it!!!!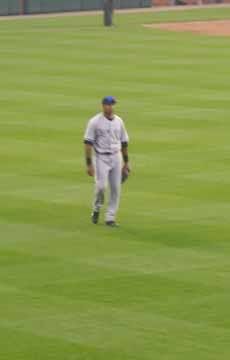 Bernie Baby!!!
And another shot of Bernie with Melky Cabera and Bobby Abreu. We were so close to them.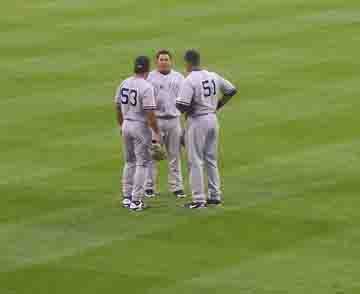 What amazed me most about my first Yankee baseball game was how many Yankee fans there were at the Oriole's ball park. Technically we were supposed to be rooting for the Orioles. But more than half the people there were Yankee fans. The cheering for the Yankees was louder on a hit than was the cheering for the Orioles. Is that sad??? Well, not for me...made me happy. But I am sure it didn't make the Oriole players ecstatic...ya know?
And I have to show you a picture of my favorite of all favorites...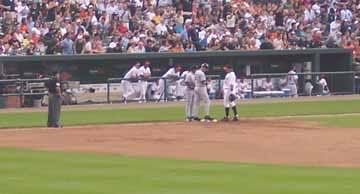 DEREK JETER!!! You can't really tell in this picture who it is...but rest assured...it is HIM!!! Yay!! He got a base hit. Ohhh...it was a fun night. We even ate ball park hot dogs...which are not your normal hot dogs. These things are huge and they are juicy and they are delicious. Ummmm...not normally a hot dog person but everytime I watch the Yankees play baseball, I crave a ball park hot dog. (how I can crave something I have never had before is beyond me...don't ask me how it happens...it just does.) Chloe was an angel the entire time. We found out that she loves to drink water from a water bottle. She sat there, quietly spilling water down her chest, for about an hour. A miracle. I wonder if this would work in church.
Oh, I forgot to mention one little thing...they WON!!! My first Yankee game and they won. 3-2. It was great! Thanks James. Your the best.
Well, that is all I have for today. I am working on a doily for myself. I needed a break from designing for a while so I picked out a doily pattern for myself. I may have it finished tomorrow or Monday at the latest. I am about halfway done. It is gorgeous too. Not a PK doily...but it is still gorgeous, none-the-less.
Have a wonderful Saturday night everyone!!