I have a few exciting things to show you today. But nothing can compare to the news I have to share with you first. Many of you know that Chloe has been saying little words like Hi, Bye, and Cat. Those are her three favorites...and she uses them quite frequently. Bye being her latest craze. She says it to everything. The bed, the car, the fruit at the grocery store. It is very rare for her to say it to an actual person though.
Today though, I was talking to her and in a sentence I mentioned her name...she then copied me. I didn't think I heard it right so I said her name again. She said it again. I looked at her...she looked at me...we just looked at each other for a couple of seconds. Then, just to see if it was for reals...I said her name very slowly. I watched her gaze intently at my lips as I said it and she then said it back to me, slowly. I called to James from the other room and he shouted back "I heard it...she said her name". I even got her to say it three more times just for fun. She really did truly say her name. Chloe is not the easist word for an 18 month old to try to say. She left out the l and maybe the h. Her c sounded more like a g with a faint k after it...but the oe was there as clear as day.
So, this was my little mother moment that I just had to share with the world. What else do I have to share??? Something that made me smile from ear to ear. Well, two things really. (and not Dr. Suess' two kinds of things) These things were more along the lines of packages. Two wonderfully filled-to-the-brim packages. What a day this was for me.
Package #1. This was a package from my purse swap partner from
crochetville
.
Look at everything she sent me. Not only did she make me a gorgeous tote/purse...but she sent me tons (and I do mean TONS) of other little trinkets and tidbits and crocheted things and just plain fun!!! A box full of fun...that's what this was.
This purse is a gorgeous red color and there is some stitch details that this photo just does no good at picking up on. I love the little two tone flower on the corner. A very trendy touch that I must say really adds to the purse. Gives it that finishing touch.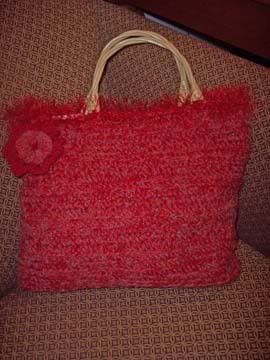 Now a purse such as this one has no need for stuffing in the box to cushion it, but my lovely swap partner added some just in case. And boy...what stuffing!! Check it out.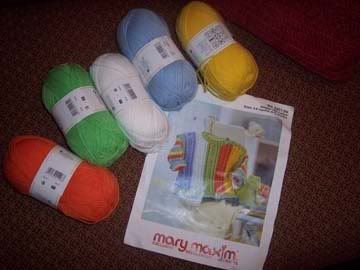 I TOLD you this box contained FUN!! Look at those brightly colored skeins of yarn just waiting to be a sweater. That was my first thought as I started grabbing them out of the box one by one..."this would make the cutest sweater for Chloe" and then what did I pull out next??? A pattern for a cabled knit sweater for a 12 month size. Imagine the odds of that??? I need to learn a bit more about knitting first before I attempt this sweater...it looks a tad bit above my skill level at this point. (knit, purl, knit, purl, yarn over)
But my wonderful swap partner did not stop there. Oh no...that was not enough for her. no, she stuffed the purse to the brim with goodies...this thing was bulging at the seams. (okay...not really. It was pretty darn full though)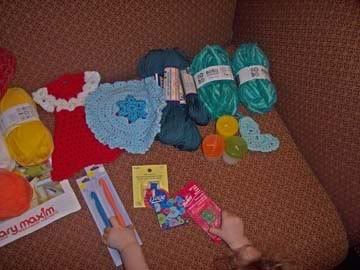 What you are looking at in this picture is tons of FUN!!! There are two kitchen potholders/dishcloths, two hooks (wonderful...I need these big sizes..."M" and "P"),3 fun colored candles (that match the fun yarn), some stitch markers, knit row counters, a crocheted heart and more yarn. Even some wool yarn which will be perfect for my scrap wool afghan I am dreaming of making with all my wool scraps.
One of the coolest things in this package was a little retractable tape measure. I bought one about 4 years ago while living in England. This thing was my pride and joy...I carried it everywhere. Everywhere, that is, untill it disappeared. I have been filled with remorse for the past two months since I cannot find it anywhere.
My swap partner sent me a new one. She did not know of my loss...which is what makes this so amazing. LOL. Chloe loved it too. It was her favorite thing in the package. (besides trying to lug around three votives in two hands...quite a feat for an 18 month old.)
Package #2. A delicious surpise package. I actually knew it was coming but was not expecting it until Thursday. So, to have it come today was heavenly. It was from my secret pal over at the
ville
for the Autumn round of Secret Pals.
My secret pal doesn't give herself enough credit. This package was very well thought out and I adore it. She sewed me a tote bag which I adore. She tells me this tote bag will be perfect for taking to baseball games with me. (isn't she the BEST!!! BASEBALL!! Anyone who condones my love of baseball is someone to be cherished.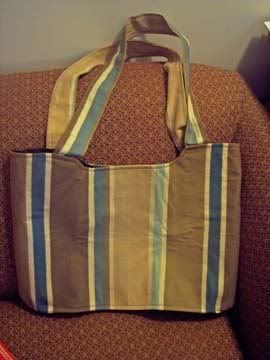 Isn't that the neatest tote bag??? I love the colors. It is wonderful and will get much MUCH use. Now the part that totally blew me away. My secret pal sent Chloe a miniature matching tote bag.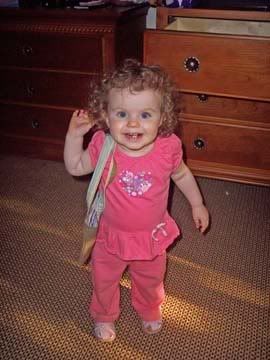 (okay, here is where you say "Ahhhh...that's soooo sweet")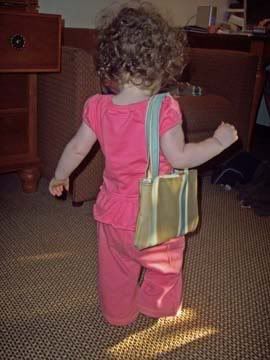 Chloe loves her new tote bag. She loves to carry it around the room.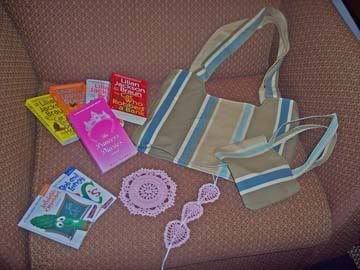 Not only did my secret pal send me a wonderful tote bag...but she sent me some great books. She is truly spoiling me. She sent me not one, not two, not three but FOUR Cat Who books. I love this series...it is so easy to read and relaxes me. They are clean books that do not require you to read them in one sitting (as many many books do...at least for me they do...which can get a wife in deep trouble when dinner is STILL not ready by midnight.)She also sent me "the Princess Diaries" book, since she knows that I love that movie. I can't wait to read it. She also sent me a bookmark to put in my new books. The theme of this package was "Falling into a Good Book". Isn't she clever??? I can't think of good ideas like that. It was great. I can't wait to see what she has in store for me next. I am very curious as she says it has to do with the same theme.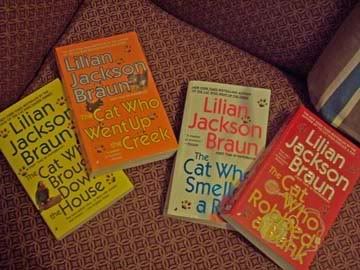 Chloe liked the princess one best...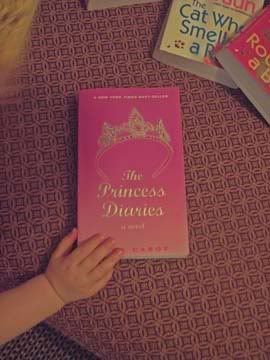 And to top it off, she crocheted me a PK Doily. A PK DOILY!!! She has really taken the time to get to know what I love...she really has. (and yes...secret pal...this counts as a FULL doily, size does not matter.)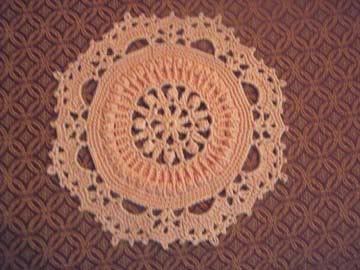 And a fun shot so you can see the stitch details. (cause it IS a PK doily after all)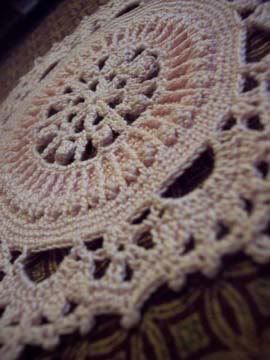 So, as you can see...it has been a wonderful day for me.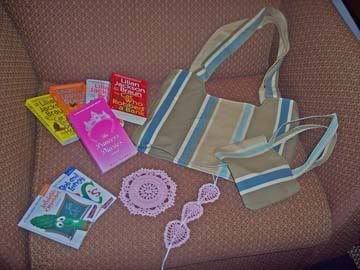 Yesterday, I mentioned that I might finish a doily today. Well, I am pleased to announce that she is done. Complete. So, if you look at my
Anne of Green Gables gallery
, you will TWO new additions today. Here is the one I crocheted.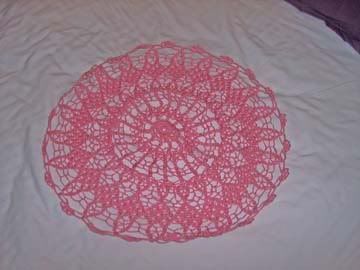 This doily is called Brocade and was crocheted with size 30 thread and a size 10 crochet hook. I have yet to block her. Come on now...I only just finished her this afternoon and I have nothing to block with in this hotel room. So sadly to say, she will not be blocked until we get settled in to our new house.
But, I can assure you that she will be gorgeous when she is blocked. I am a tad bit worried though as she puckers up something awful. I hope this can be blcoked out. It must since I was very careful to keep the same gauge the whole way through.
Speaking of my new house, I seem to remember promising some pictures of it yesterday. Do you want to see it??? You do??? Okay...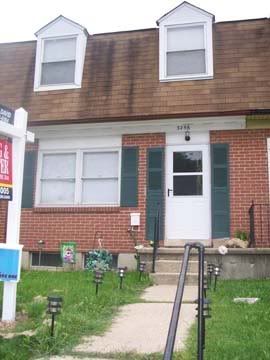 This one is pretty self-explanitory...the FRONT!!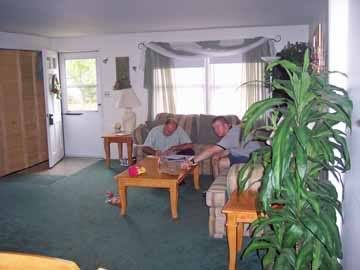 And the living room...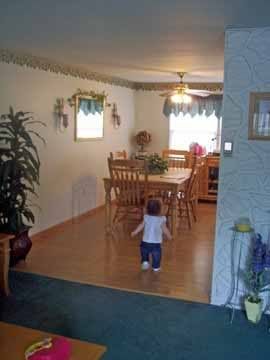 ...and the dining room...
...and...huh??? what is that??? oh yeah...I believe its the kitchen...yup...that's what it is.
Anyways, that is the main part of the house. Maybe I will do a little before and after shot for each room as we lay carpet and paint them. Wouldn't that be fun???
Well, I am off to crochet a bit before bed. I might actually just go to bed. I didn't realize it was 10:00 at night...whoa...past my bedtime. Have a great evening everyone.