Thirteen Things That Made My Anniversary Special



I thought I would share with you all about 13 things that happened on Tuesday that made my 8th anniversary special.

1. When James walked in the door after work he brought in these...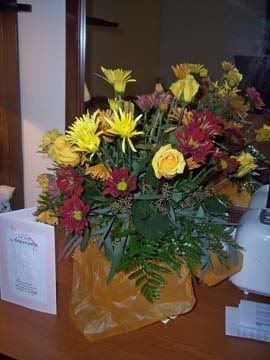 This is the first time I have ever recieved flowers on my anniversary. It was really special. And if you were here, you would be able to count and see that there are 8 roses in the bouquet. How romantic!! (I am still unsure as to whether this was James idea or the florists...I think I will leave that one alone and enjoy the romanticism of it.)

2. I got tons of well wishes from all of you, my dear readers of this silly blog. I do enjoy blogging so much although I don't really know what the purpose of it in the grand theme of things...but it sure is fun!!! Thank you all for the happy wishes. I appreciated them very much.

3. It was a big mail call...and when I say bit...I mean BIG!!! Gargantuous!!! Humongous!!!!!

4. And number four is a package...each package gets listed by itself since each one was different and each one brought another smile to my face. My first package was this...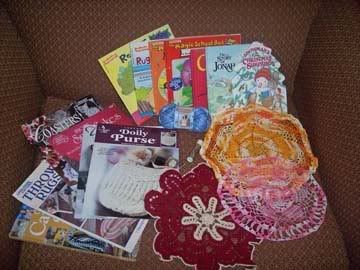 ...and from the looks of it...you would never know that this was my package from the doily swap over at the Ville. Well,that is what it is. Tween sent me tons of books...pattern books for me and wonderful little Chloe sized book for Chloe. What a sweetheart. Thank you so much Tween. This was really a special package.

5. Each doily that tween sent me deserves to be counted seperately. The requirements for the swap was one doily...but she sent me three. The first doily is extra special...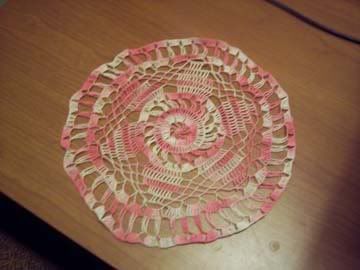 ...the reason being is that this is the first doily she ever made. I am so proud to have someones first attempt. I will cherish this forever. I don't think I could ever part with my first doily. For two reasons...ONE...that it was my first doily...and TWO...that is was my first doily. (and those are different reasons...they just sound the same.)I am honored that tween thought enough of me to send me her first.

6. Now tween told me that she was nervous to send me these doilies after she read my blog and saw my PK doilies. (yes...they can be intimidating) But let me tell you...I am glad she did. I know the kind of work and love that goes into a doily and I am very thankful that she would do this for me. Here is the second doily she made me. (excuse the horrible shot on this one...my batteries are going dead and I am trying to get as many pictures out of this camera as I can...I have a week and four days left until I get to move into my house and possibly retrieve the charger from amongst the boxes...so I didn't want to retake the picture once I realized it was bad...I hope you understand.)




7. And the third doily is beautiful. I love the colors on this one. It is so unique too.




Thank you tween for the lovely package. I appreciated everything so much. You really are a dear. (and Chloe loves her new books and would say thank you if she knew how.)

8. THE FUG IS HERE!!!! That's right!! Mr. Fugly T. Booger arrived on Tuesday. I am so happy to finally meet this little guy. To learn more about him you can read here. When he first arrived, Chloe immediately grabbed him and proceeded to chew on his dog tags. It seems that she snacks on the same sort of things Fug likes. (metal...you really should read this topic...I betcha you'll laugh a few times...even out loud)Once I pried him loose from her grasp...I placed him on this chair and he immediately went for the corner and sulked the rest of the night.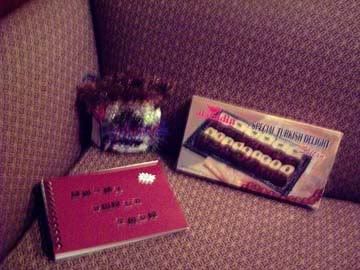 Those things you see in the picture with him are his traveling scrapbook (to which I hope to add a few pictures too) and some Turkish delights all the way from Turkey. Fug has been some pretty cool places already. Now he is stuck in a hotel room on a military base...poor guy.

Anyways, I would like to say that the Fug-man has cooled off a bit after having been stuck in his traveling box for who knows how long. (since we only get a mail delivery about once a week he could have been in that box for two weeks...poor guy)I did relent and give him one of my steel crochet hooks...that seemed to cheer him up. I didn't give him one of my good ones though...don't worry...just a duplicate. He was happy with it.

9. James took me to Copelands for our anniversary meal. We love Copelands. They have the BEST steaks in the world. (and seeing as how we have eaten in many places in the worl...we can say that...)He even splurged and let me get the GIANT size piece of chocolate fudge cake. There is nothing like it in the world...wait...yes there is...the Volcano desert at the Stratosphere in Las Vegas...nothing can beat that...(but Copelands chocolate cake sure comes close)

10. I got a suprise package from a dear tester of mine. This is supposed to be a sort of housewarming gift...but it arrived on my anniversary so I am including it in this list.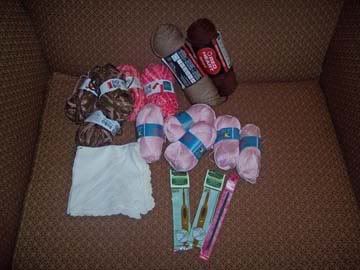 I don't know if sfgwife (the lady who sent me this package) reads my blog and knows all about my little quirks (she sure knows about the ones on my testing forum though) but she sure seems to know me well. I collect Clover Soft touch hooks ever since my Summer Secret Pal Lori sent me some. Now I am in love and can't get enough. Well, sfgwife sent me two more. Wonderful!! My collection grows.

She also must know about my love...my true love...Patons Grace yarn. She didn't send me THAT yarn but she sent me some that is similar. It is called Aliseo and is 100% cotton. (my favorite to work with) This is an Italian yarn and I am already in love, even though I have yet to work with it. But soon...real soon...I mean, this stuff is not calling to me...its YELLING!! It is wound tightly too...much more tighter than Paton's Grace. I may have a new favorite.

11. Anyways, there was so much more in this package too. Yarn galore and another hook and stuff. She also sent me these...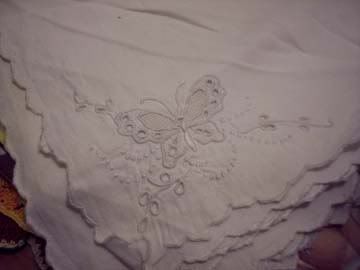 Little hankerchiefs she found at an estate sale and thought of me. The amazing thing here is that I have been thinking about buying some hankies to crochet edgings around. I love hankies. They are so dainty and feminine. Thank you sfgwife...you are really a dear for thinking of me.


12. I also got the yarn I ordered from Crafts Etc. I ran out of the Sinfonia I was using to make Chloe's Thanksgiving dress...so I ordered some online.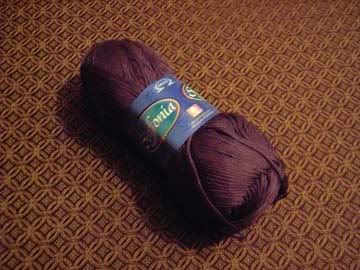 Well, Tuesday night I was working on her outfit again and I reached way down deep into my bag and what do you know??? There in the bottom of my bag was ANOTHER skein of Sinfonia. (how silly of me) So, now I have two skeins of it...so I am making a hat to match the outfit. (can't let good yarn go to waste)


14. James bought me a blender for our anniversary. He is also going to buy me a deep fryer but we can't find one we like. So, today we will be going on a hunt. Yay!!! (I will just have to buy myself the perfume at a later date.)I have already used the blender and it is wonderful. I love smoothies. (yummy)

And I will leave you with a tidbit about my husband and what makes me love him. We were searching on Tuesday for my deep fryer and we couldn't find one we liked so I asked if we could go to a different store. He said NO!! But do you wanna know why he said no??? "We need to save that for another day...one outing each day so you don't have to be stuck in that hotel room." Now THAT is romantic...well if not romantic, than very, VERY thoughtful. Isn't he a dear?? I love him. These last 8 years have been good.

Have a great day everyone!!!





Links to other Thursday Thirteens!
1. (leave your link in comments, I'll add you here!)


Get the Thursday Thirteen code here!


The purpose of the meme is to get to know everyone who participates a little bit better every Thursday. I will link to everyone who participates and leaves a link to their 13 things. Trackbacks, pings, comment links accepted!

View More Thursday Thirteen Participants