First, before I get to the zoo pictures (which I promised and am keeping my promise...only its four days late. Ahhh...but you WILL get pictures.) let me tell you a bit about our new house.
It all started last week when we drove by what was going to be our house here on "post". (I have learned that since this is an ARMY base...it is to be called a post and not a base...so there you have it.) Upon first sight of this army house, I knew in my heart that we could not live there. No one, in fact, should have to live in this house. It was horrible.
We spoke with our realtor and decided that we would start looking at rental properties. I was anxious to begin. There is nothing like staying in a one room hotel with a husband who snores and a baby who won't go to sleep til midnight if there is anything going on around her.
But alas...it was a holiday weekend last weekend and I suppose the realtors wanted some time off as well. We let them off the hook this once. (but they better not do it again.)
We had a list of houses to look at and we drove to each one and picked out the one we wanted to see the inside of. When we finally did meet up with our realtor, he showed us a few houses in our price range to buy and asked us if we were dead set against buying. James told him no, but that we wouldn't buy if it wasn't in our price range. So, yesterday we went a looking...and we found a townhouse that we felt was the right one for us. We made an offer last night. Within 1 1/2 hours, they made a counter offer which we accepted. So, we now have a house of our own. We don't move in til the 6th of October though. This means another whole month in this little dinky hotel room...but it will be worth it once we move into our very own house that will be ours for the next 3 years. (the longest we will have lived anywhere.)
So, now we are getting the plans into action to replace all the carpet in the house and next spring we will remodel the kitchen. Yay!! I love it. I am so excited about this house. We will get to pour our hearts into it and make it our own. Our last house was beautiful and immaculate but it was not our own stamp. It was someone else's. Now we get to make our own stamp...and it will be a fun journey.
So, now I will show you the pictures from our trip to the zoo. We had a wonderful time. I think the animals were out and about due to the recent rain. We saw every single animal and not just lying in the corner. No!! They were out and walking (swimming) around and looking at all of us crazy people.
My favorite was the polar bear. I have never seen a real live polar bear before. This was neat.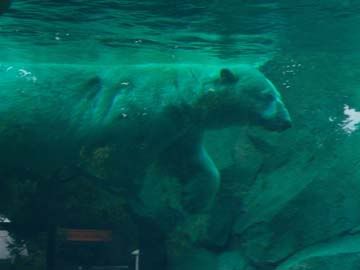 He was swimming around the pool and we watched him for a while. Chloe was more interested in the chattering kids next to us though. Ahhh well...maybe when she gets older she will take more of an interest in the swimming polar bears.
He would climb up halfway out of the water on this rock and then flip onto his back and swim on his back out into the middle. Then he would slowly roll over frontwise to swim forward on his stomach. What made it so neat was that while swimming forward, his head was completely under water. Here he is, flipping over to his front.
Now my favorite things to see at zoos has always been the cats. I adore cats. Cats of all sizes. When I am old, I will be a cat lady with a billion cats. But I will not SMELL of cats since I hate the smell of pets...oh...no...that is why God made Febreeze!!!
Alas, this zoo did not have my favorite cats...the TIGERS!! What??? What kind of zoo doesn't have tigers?? This one obviously. (so seeing my first polar bear kind of made up for that omission...I guess I can forgive them this once)Thank goodness they had other cats though. I love leapords and cheetahs too.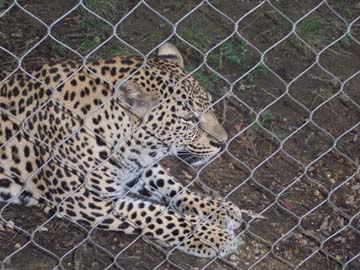 Isn't he beautiful??? I don't think he thought the same of us though.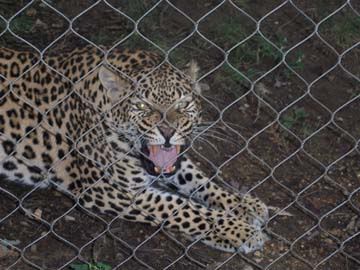 He kept turning his head and hissing at us...just like a giant Pattycakes.
Of course, every zoo must have some elephants...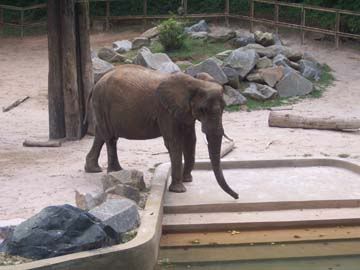 ...and some lions...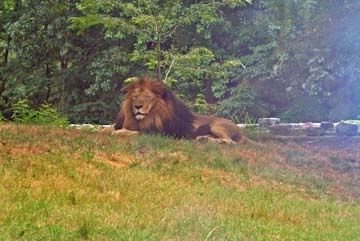 ...and a zebra or two...
...but I have never seen an ostrich in a zoo before. Or maybe there were just sleeping in all the zoos I have been to before, I don't know.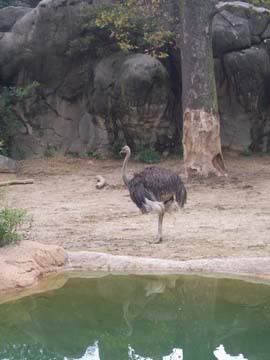 James favorite, though, was the rhino.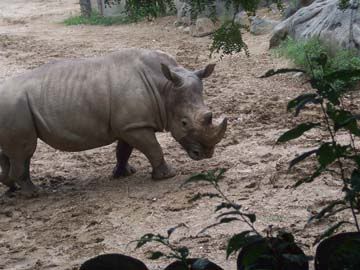 It was amazing to stand there and marvel at his size and what it would be like to lug around with 3-5 tons of body weight. That is about 3 times the weight of our CAR!!
Chloe did have some fun at the zoo. She enjoyed getting down and climbing on this tortoise.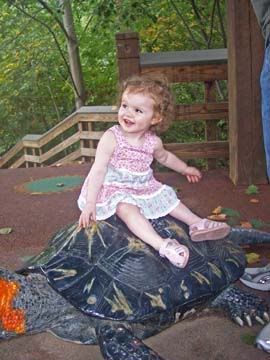 Good thing it was metal...she could have gotten bit.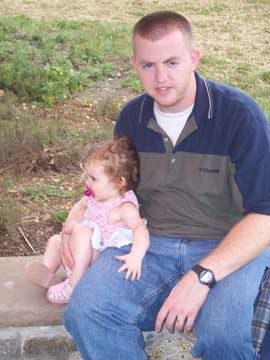 We had a great time. It was a nice welcome to a new city. It rained again this week though. The past two or three days have been nice and sunny though. Perfect weather for house shopping. Today we will be going and doing some other kind of shopping. (window shopping...maybe looking for an LYS or something along those lines)
Well, I have a very cranky baby here demanding my attention. She has changed into a little...ummmm....something...during this trip. I think she needs some major "mommy-time" to help make up for some of this. So, I am off to play with markers (the nifty kind that only write on this special paper...how neat is that??? The things these people come up with.)
Check out my site...it had a makeover recently and it looks gorgeous. Thanks to my wonderful friend Debra for all the work she puts into it. I also have released four new patterns this week for sale. The Sweet Decadence Shrug Set in children's sizes, my Freedom Belle set in both baby and children's sizes and also my Funk Rock Scarf Collection. Go check it out. I also have a sale this month on my purse patterns so be sure to check those out as well.
Have a wonderful day everyone. I will.