Lately I have been struggling with myself. I don't recommend this to anyone. It gets kind of confusing when you get in an argument with yourself...Who spoke last??? Who hit who??? What did I say??? As you can see...it is not the intelligent way to go about things. Needless to say...I have been arguing with myself. Fighting myself, if you will. (and I've got a black eye to prove it, although I am not sure who threw that punch.)
My main problem is...Who am I??? Yesterday, I spoke with my dear sister and she mentioned about my mother's birthday party the night before and how my dear brother and sister-in-law were the kindest people she has ever come across. They are so positive and encouraging and uplifting to be around. Well, this did NOT make me happy. It really upset me. Why on earth would hearing something so neat upset me??? What is wrong with me??
Well, it upset me because that is what I strive to be like...and it doesn't work. I am not like them...no matter how hard I try. I want to be a quiet person...but uplifting. I want to be a joy to be around...instead of my controlling, critical self. I dream...I plan...and yet, when reality hits...I just can't do it.
So, last night, I went to my room (dear James watched Chloe for me at my request) and I poured my heart out to the Lord. I cried many tears. I wept before the Lord.
After a time of laying at Jesus feet, He lifted me up and lead me to one of my favorite passages in scripture. Psalms 139. I adore this passage. When I feel useless and unloved...when I hate myself...God shows me just how special and unique I am.
O Lord, you have searched me
and you know me.
You know when I sit and when I
rise;
you perceive my thoughts from
afar.
You discern my going out and my
lying down;
you are familar with all my
ways.
Before a word is on my tongue
you know it completely, O Lord.
This was as far as I was able to get yesterday before breaking down into tears again. God knows me...He knows me inside and out. He knows me so well because He made me. He made me just the way He wants me...weird personality and all.
So, last night, I came to terms with this. I realize that God is working on me...He is not finished with me yet...but I cannot change my makeup, the chemistry that makes me ME!!! He knows me deep down inside...the parts of me that no one else knows. And the most amazing thing is...
HE LOVES ME ANYWAY!!!!!
Joy and Peace that I could never explain filled my heart last night. This morning I awoke early to spend time with my Lord. After last night's soul cleansing, my heart was ready for the news He wanted to give me today. News that has me so excited I can hardly contain it.
He first showed me that I need to grow in Him. (2 Peter 3:18) Then he showed me what I need to grow in Him. (1 Peter 2:2) But then He rebuked me. Take a look...
We have much to say about this, but it is hard to explain because you are slow to learn. (I felt like God was speaking directly to me at this point...what conviction!!!!)
In fact, though by this time you ought to be teachers, you need someone to teach you the elementary truths of God's word all over again.
You need milk, not solid food!


This is me. This is what I have been struggling with, only I didn't know it. I got hit in the face with it this morning. But I recieved a treasure this morning. God showed me what He would bless me with if I grew in Him. If I tended to my growth and disciplined myself to read His Word and walk with Him.


...when they see the purity and reverence of your lives. You beauty should not come from outward adornment, such as braided hair and the wearing of gold jewelry and fine clothes.
Instead, it should be that of your inner self, the unfading beauty of a gently and quiet spirit, which is of great worth in God's sight.


When I accepted the position in which God has placed me...funky personality and all...it was then that God showed me who He created me to be. He created me to have a gentle and quiet spirit. The only way I can train my spirit to be this way though, is to grow in the Lord. As I spend time with Him, read His Word and obey Him, I will be blessed with that spirit I long for.
WIP Wednesday
I have been working hard this week to get my November update for the
website
underway. I didn't release any patterns for October and so I have double the amount of work this month. And on top of that, I created an
About Me
page for the site. Go check it out...it was fun. I will need to change it every so often as my family grows and things change. I thought it would be nice for customers to get to know me a bit better without having to come read my wandering thoughts here on this blog. (I do have the tendancy to ramble a bit)
So, on in the midst of all the updating work I have to do, I am going to whip out my WIP tablecloth today and hopefully get another 1% done. (or at least .5% since I am 34.5% done and would like to be 35% done) We will see how quick I can crochet today.
I was a naughty girl last week. Instead of working on my mother's birthday gift (her birthday was Monday) I crocheted a doily for Chloe's hope chest. (the present is currently done...but sitting on my coffee table. It WILL be mailed tomorrow) I bought a book the other night from AC Moore and 3/4 of the designs in it were Patricia Kristofferson. I made one of the three that weren't hers.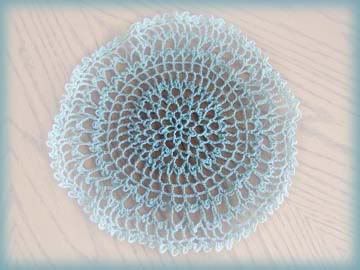 And...you all know what is coming next...I don't even need to say it. The FUN shot...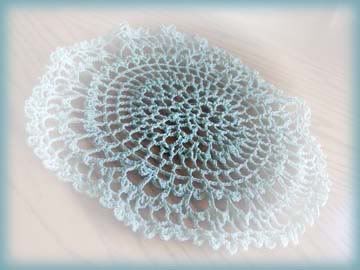 Of course neither my top shot nor my "fun shot" look any good right now since the doily is not blocked yet. I am awaiting starch and detergent so I can wash and block it. Should be here tomorrow and then I will get some decent pictures of some BLOCKED doilies.
Chloe's Book of the Week
Here is Chloe's book for last week. I have yet to photograph her book for this week...will try to get that one up tomorrow.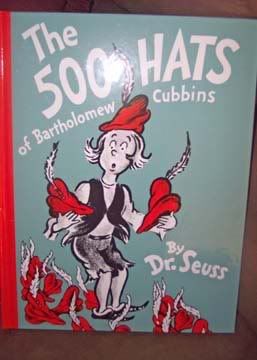 I tried reading this book to her the other day and I think it was a bit beyond her comprehension...so I read it to myself. It made for a very interesting read. I can't wait until Chloe starts picking books like this out of her shelf for me to read. (a few years down the road, I am sure)
While shopping for this book, I came across the most beautiful slippers I have ever seen. What makes them so special??? They are PINK!!!!!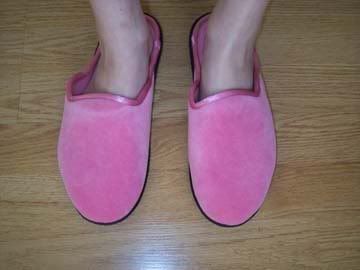 I just HAD to get them. It seems to me that with all this breast cancer awareness going on...everything is turning pink. This is wonderful. I am all for breast cancer awareness...and now with all the pink I see everywhere, I am reminded of it even more. Pink toasters, pink blenders, pink bathroom rugs, pink slippers...you name it...they are coming out with it. I was at Bed, Bath and Beyond the other day and saw a whole selection of pink appliances. And the proceeds go to Breast Cancer Awareness...Fight for the Cure!! I am thinking I need a pink blender. Too bad I didn't see it before hubby bought me my black one for our anniversary last month. Oh well!!!
I started my garden today. I planted some bulbs and now I am excited to see them come up next spring.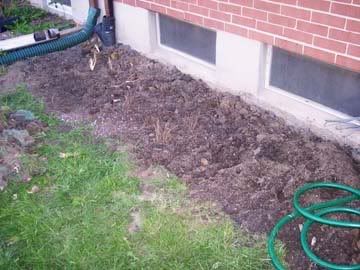 I've got some Hyacinths, Bearded Iris and Daylilies in there...oh it will be beautiful. On the other side of this garden, I am planning on putting a gardenia bush and some patio roses and maybe some dusty millers and little things like that...we will have to wait til spring and see what it around the garden centers. I can hardly wait. I love dirt!!!!
Well, I am off to work on my tablecloth. Wish me speed with flying hooks today. (and pray I don't stab myself somewhere unpleasant like my eye...or my ear...or somewhere equally painful!!)