Watch closely and you will see her disappear from her hotel room and then suddenly, quite by magic (since she has such wonderful magical skills) she will reappear over two weeks later in a new house. If anyone is wondering where she was during that two weeks, read on and you will see. Oh yes…she was not gone from the face of the earth, it only SEEMED as though she were gone. (and she did miss posting to her blog ever so much)
So, from the gist of the above, I suppose you all have surmised on your own that I am indeed in my new house. (you all are so brilliant…I am sure it took you no time at all to come to that conclusion.)
We closed on our new house about 1 ½ weeks ago. "Come on" you say…"it has been longer than that since you posted, Anna!!!" Well, I know!! I was busy before that trying to get some patterns into testing and some changes made to my testing forum before I made my disappearing act. I have three new patterns in testing right now…and you will all get to see them once they are ready for sale. I have decided that with all the pattern theft going on with other designers recently, I better protect myself here on this blog and only post photos of my designs once they are for sale. I am sorry to all my readers who are not here to steal my designs. I am sure you all will understand though. I must protect myself. I have been struggling with this decision for some time (months actually) and have finally decided that I need that protection.
The patterns are in testing and my forum is running smoothly. I implemented some new things around there to help me with the work load. I have two new administrators to help me with things like deleting trolls and unproductive members and to help me keep track of things in testing. These are all time-consuming jobs and although they are pretty easy, they keep me from doing that which I love most…designing. So, I split them up between my two administrators. They are fairly simple for them to do but it frees up so much more time for me. Ahhh…if only I could hire someone to sit next to me and type what I am doing as I am crocheting…that would be designing heaven. I would never have to type up another pattern again. I could just speak what I was crocheting and they would do the work for me. (of course they would have to do the math for the re-sizing too…and that is the tricky part)
One thing I have decided recently is that my patterns lack something other patterns I have crocheted have. It took me a while to figure out what that was but I think I finally got it. I lack the finishing touches on the designs that make them stand out above the rest. Those little details that add a sense of quality to the pattern. So, the last three patterns I have come out with in testing are my new and improved patterns. I added those special details. This takes time. More time than I was inputting before…but I believe the outcome will be much more satisfactory. Now, I smile and am proud of the designs. Its not the my old designs are sub-par or anything. They were my best at that point in time. I put every effort forth to design great patterns. Its just that now, I have learned more and have in turn, put what I have learned into my new patterns and my best is now better than it was. Does this make sense or am I just rambling???
You all want to hear about the house…don't ya??? And here I am talking about the internal affairs of pattern writing. How boring!!! Its like the difference between a history lecture and home economics. I will get to the good stuff. What you all are dying to know.
My new house. I already mentioned that we closed on it. Well, we then spent the next three days painting. I must be honest here…I (capitol "I" in bold and italized) spent the next three day painting. I painted almost every inch of wall space in this house. (the inches of wall space I did not paint are still waiting to be painted…didn't want you to think that "someone else" painted them…that would be terrible) While painting, I came to realize just how FILTHY this house was. My goodness gracious…how can ANYONE live like that!!! It was just plain nasty. I was so thankful when Saturday (a week and one day ago Saturday) came around and the new carpet was installed. It really made a huge difference in the smell of the house. Yes, the house had a smell. I have a thing about smells. (and floors but that is something else entirely…we won't got there) Anyways, houses have to smell clean. I don't mind a little clutter (well, in OTHER peoples houses I don't mind clutter…I don't like it in mine) but if it SMELLS dirty…that is unacceptable. And boy did this house smell horrible. I spent three days cleaning and painting. Now it is starting to look like a home. (and smell like one too.) I don't think these people opened their windows in the four years they lived in this house. You should have seen the window sills…two inches of dust and dirt and cobwebs and dead flies and just gross junk. I still have yet to go outside and wash the outside of the windows so I can see out of them…but the window sills are now "touchable".
Here are some "before" and "halfway done" pictures of the house. I will get the after pictures for you all after we get the chair rails, baseboards and crown moldings up. (oh…and curtains too.)
First here is the wall in the living room/dining room. This is the biggest wall in the house. It was white (er...I mean speckled brown and yellow) and had a ivy wallpaper border around the top.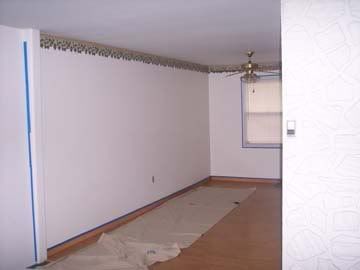 We took down the border (which was a blast) and painted it ivory on top and taupe on the bottom. We are planning on putting up a chair rail so that is whyfore the blue line around room in the middle of the wall. (we thought it really added character to the house but since we had previously decided on a white chair rail, I am afraid that the blue line has to go.)
On the stairs is where you will get the full effect of what new carpet can do to improve your abode. Horrible, dirty, old, nasty bright green carpet.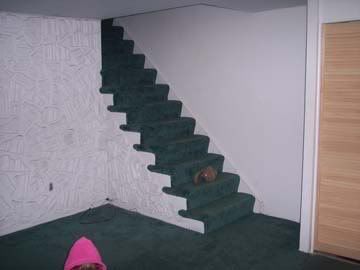 So, in that picture it doesn't look so "bright" and "terrible" but trust me!!! IT WAS!! Ahhhh...this is much better.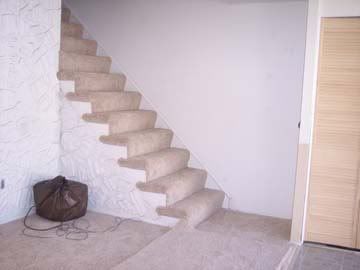 Did you happen to catch a glimpse of that beautiful rock wall we have next to the stairs??? Isn't it gorgeous??? We thought so. The wonderful thing about neutral colored carpet is that it made this out of date "thing" a little less noticable, don'tcha think?
In the master bedroom, they had this dark olive green carpet on the floor and the wall and closet painted the same awful dark olive green. The whole room was completely dark because of it.
See???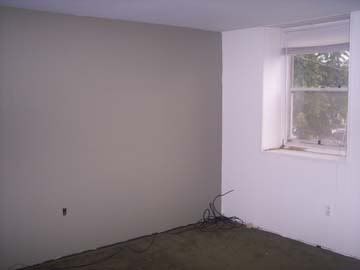 Well, the lighting in this picture is too good. (where is the good lighting when I am taking a picture of my designs, I wonder!!?!!?) Anyways...this one is a bit more like the color...but you can't really see how dark it was. (it was pretty dark green)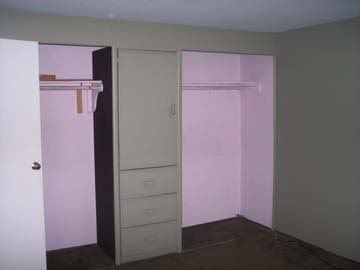 And now...the improved wall.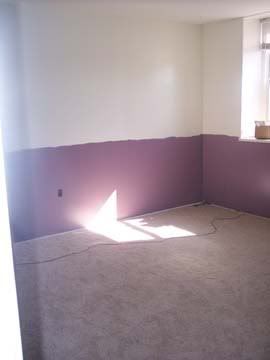 (and yes...that is the same wall!!!)
And the new closet (to which we need to buy some doors. I hate...no. I detest looking at my clothes out in the open like that)
So, aside from the dark olive green wall in the master bedroom (and a bright yellow wall in the bathroom which has yet to be rescued from poor color taste) all the walls in the house were white. (er...I mean brown and yellow speckled) What really strikes me funny (or weird actually) is that while they liked white walls, obviously, they tended to paint the closets in bright colors. Weird, huh??? The closet in the master bedroom was light lilac. (hmmm....VERY stylish with the dark olive green, I do say...) Well, check out the window sill and the closet in my little sewing room.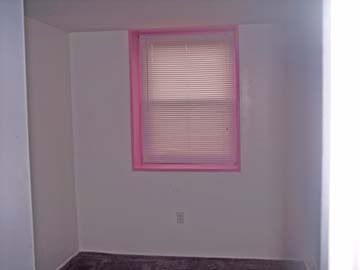 (window sill..in case you couldn't tell)
(and closet because that one IS a little hard to tell...its so tiny...)
See what I mean??? Weird!!!
And here is the color I choose to paint it. Light pink on bottom and ivory on top. Delicious. (very inspirational.)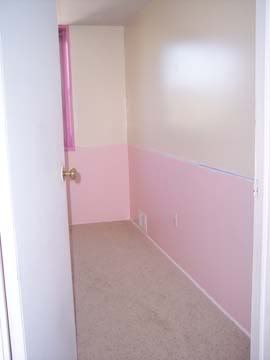 And as you can see on the side of that picture...I have yet to prime and paint that window or the closet white. (which is what I am going to do...I think it would be the "normal" thing to do.)
But it didn't end there...the girl's bedroom was tastefully decorated. (I must say it was the only room in the house I considered leaving as was...but again...it had speckles of brown and yellow all over the walls. (remember the topic a few paragrahps ago??? About the cleanliness of the house??? That would explain the brown and yellow speckled walls...and it was on every wall in every room. GROSS!!!!)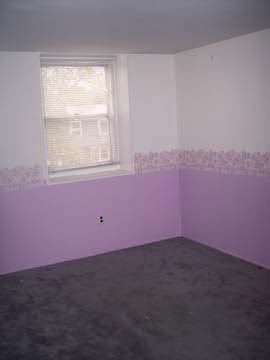 So, cute room (aside from the dirty walls) but check this closet out!!!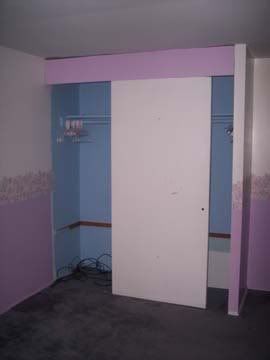 Again I say that is weird. WEIRD!!
And I just adore sage green for little girls rooms. (and it matches Chloe's bedroom set since her last room was sage green.) So, I painted her room the same color as her old bedroom. (thought the transition into a new house might go a little more smoothly too...but I don't think it made that much of a difference..I have a very adaptable little girl.)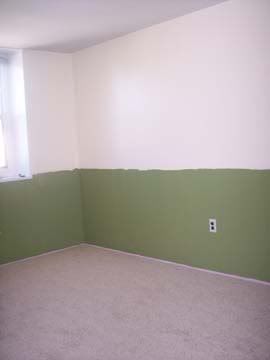 And a much better closet.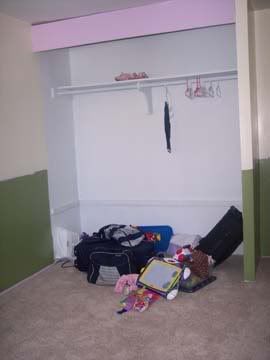 Now to say that I did not have any help at all during the painting would be wrong of me. I DID have help. But not from whom you would guess it was. Oh no...the help I received was from none other than Little Fug!!. Yes...he is here...he is alive...and he had a blast helping me to paint. (he actually adored the wallpaper removing tools the best of all.)
And then when the furniture arrived, he helped me to unpack some boxes. What a great little guy this Fug is!!!! When everyone else in the house was lounging around or making messes (that COULD be interpreted to read James and Chloe...but you didn't hear that from me...YOU could interpret it that way if you wish) anyways...when all else failed me...Fugman came through.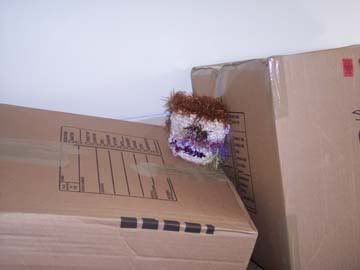 He enjoyed eating through the cardboard to help me open each box. He was then able to tell me whether that box contained anything metal or sharp in it. (what a blessed help!!)
Well, by the end of the day...the little guy was just, plain POOPED!! He relaxed on the recliner. (Don't ask me how he got it into the recline position without any arms or legs...we will leave THAT one alone.)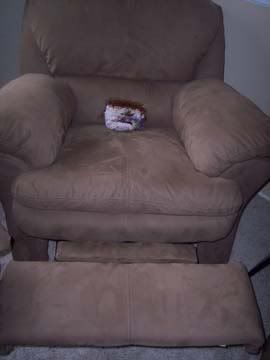 So, want to know whats been going on in crafting news??? Not much of anything. I did finish something a couple of weeks ago. Here is goes….
This is the square that never ends.
Yes it goes on and on my friends…..
At least that is what it felt like when I was knitting up this square for my knitted sampler afghan. It was like I was knitting in the twilight zone. For reals!!!! I would stop and measure the square and it would be 10". (trying to get to 12" here). I would knit for another hour and measure again and it would then measure 9". Huh????? Knit for another 20 minutes and measure again at 11". What on earth???? Knit another hour and measure at 10". Okay…this is when it started getting spooky. So, I put it down and went to sleep. I spent a few hours knitting on it the next day before I measured again and it was 11.75". So, I knitted four more rows and didn't even bother to measure it but did my bind off and called it good. (come on…would you have measured it???? I DON'T THINK SO!!!!. It would have measure at 7" or something like that.)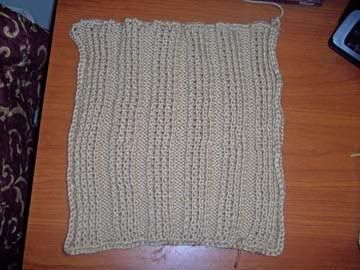 So, here is it. My second square. A tad bit better than the first one. At least all my stitches are on the same side. (I don't think by "sampler" afghan they meant "beginner" afghan. It DID say "easy to knit stitches combine to create this sampler afghan". I had read the word "easy" and interpreted that to mean "easy". Little did I know that when you add the word "combine" to that sentence, it kicks it up a couple of notches (as Emeril would say) to "superbly advanced". More than half of the squares in the afghan I choose to make call for this thing called a cable needle. Gosh…as if TWO knitting needles weren't enough…now I need to add a third one. This could get dangerous. (I better wait to attempt those when Chloe goes to bed or there might be some eyeballs rolling around my "clean" floors)
Well, I don't have much else to talk about tonight. I hope that I will be able to post this sometime soon. I am typing it in word right now because ever since we had our internet installed (last TUESDAY!!!!!) it has been acting up. We have already had someone out to look at it for us and they didn't really fix it. They only "pretended" to fix it. (meaning they patched it up and made it work so they could walk out the door…only to have it go back down a few hours later.) So, now we have someone else coming out again tomorrow to look at it again. I really hope James is home this time. I don't have a clue what they are doing or talking about. I DO know that what they are saying is wrong but I don't know enough to tell them why or how or what to do. James does…so I just hope he is here.
Have a wonderful evening everyone. (or whatever time of day it is for you when you are reading this.)