Ahhh...when something beautiful starts as a dream in your heart...travels up to the mind to work out all the "logisitcs" of the dream...and then forms its wings and soars, that is when you know you have creativity. Just see how my creativity flows....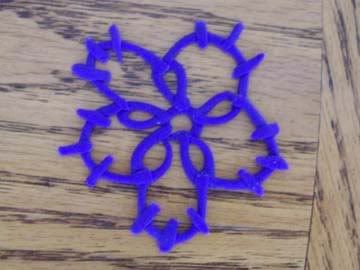 What???? You don't know what that is??? Why, that is the second in my series of sculptures. Yes, that is a snowflake. I know its kind of hard to tell...and being in person doesn't make it any easier, but it is indeed a snowflake. It is made from the fine medium of.........playdoh........a brilliant thing. Whoever invented playdoh should either recieve an award for ingeniousness, or else be sued for all the carpet stians. I don't which yet. But Chloe and I always have fun on Fridays. (the day we bring out the play doh and make something unique) I had a problem with this particular sculpture though. It seems that when rolled into teeny tiny little rolls, playdoh dries out more quickly than a large blob would. So, not only did I have to dodge little fingers grabbing my dainty rolls, but I had to work quickly so they would actually roll instead of break. I do think the end effect is rather nice though.
Okay, on to more serious matters. Life is NOT all about playing in playdoh with a 20 month old. No...its about CROCHETING too!!!! We have release 6 new patterns on
my site
now. You have seen most of these new patterns before since I used to be in the habit of showing you things BEFORE they were released. But due to a rise in "copyright theft" I have deemed it neccessary to wait until AFTER I release patterns to show you all.
So, check out this cute sweater set I designed. This set was designed for my friend
Debra
. (or...her son actually.)It was made with Sugar and Cream cotton yarn.
I adored this set so much, I made one for Chloe in what other color than purple?? Gotta have purple.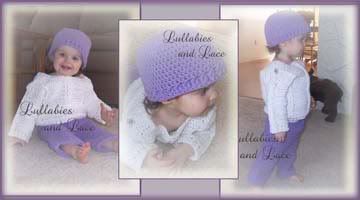 This set is so adorable and works up rather quickly too. It is perfect for either a little girl or a little boy depending on the colors you choose. The sweater and pants have simple cables running down them and the hat has a cabled trim on it.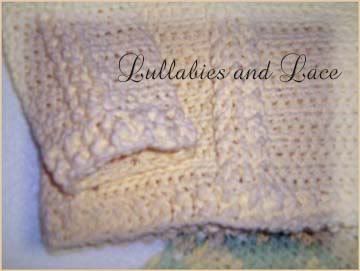 It was a delight to design these. I think I will be making up some more of them to sell on my site. They really are easy and cute. Check the pattern out on
my site
.
With my "new" management binder (not really new...just changed the name from "control journal") I am really trying to get my life back into routine. I thrive on routine. I live on routine. Without routine my life would be chaos. (and we wouldn't want that) So, I am now keeping up with my "to-do" list in my "management binder". In doing so, I did something yesterday that I have been putting off for a couple of months. That would be blocking the doily I made for my SIL's wedding gift. (she got married in AUGUST!!!! Shame on me) Anyways...here are the two pictures of the doily after they were blocked.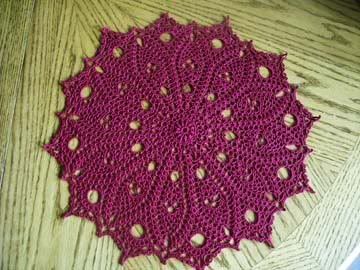 And you all know whats next....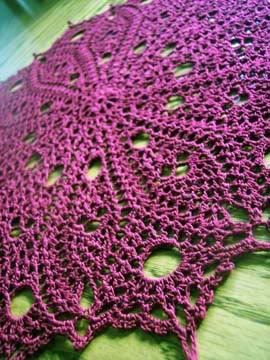 The fun shot. As you all may very well know...I have a "thing" for anything designed by PK...and this doily was one of those. I am going to have a hard time sending this one off. I wrapped it in pretty paper though so it will be less tempting for me.
I mentioned before that I signed up for the Holiday Swap over at the ville. Well, I sent my pal a little package containing some little snowflakes to help bring on the "winter spirit". If she hasn't gotten any snow yet in real life...at least she will have some to hang on her tree.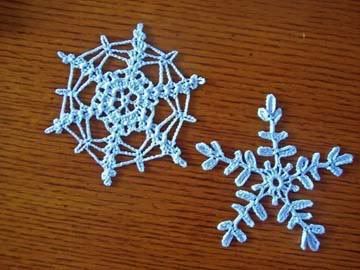 And it seems that no matter what I do lately, I have little fingers and hands trying to help. (or steal...can't figure out which yet.)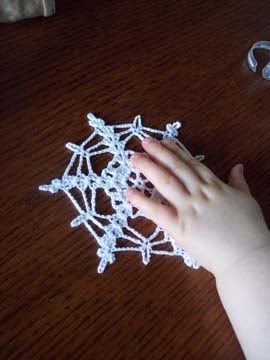 Okay...so what else is going on? Got some new designs in testing and some other ones I am working on designing. This winter should be a treat with the things I have up my sleeve. You will just have to wait and see. Thank you for stopping by and reading. I hope you enjoyed your visit today. Have a great day everyone!!!