I really hit the jackpot today. As many of you know...today is errand day for us. This means we get ready the night before to leave as soon as we can after breakfast so we can trudge all over town and make it home before the little peep falls asleep. If she falls asleep in the car...even if its only for 5 minutes...she thinks this was a suffcient nap and then refuses to sleep the rest of the afternoon. This makes for a rough evening. So, we hurry and get everything done we need as soon as possible. Today we only had to run to the Commissary and get the food. So, we had a few hours to kill before naptime.
Well, as part of my planning last night, I decided to find a local used bookstore and venture there to see what there was to see. I thought I might be able to find a used book for Chloe this week instead of spending $15 at Barnes and Noble for a single "new" book.
Well, before I could even MAKE it to the "kids" section somehting wonderful and delightful caught my eye. (never mind that I asked specifically where it was as soon as I walked in the door...that point is moot and one I would frankly like you to forget I even mentioned) The CRAFT section. Ah yes. You know this was coming, didn't you. Hahahaha...well, it was sort of on the way to the kids section. It was down one aisle and the kids section was one aisle over...in exactly the same spot, so there you have it. It was meant to be. Look what I found!!!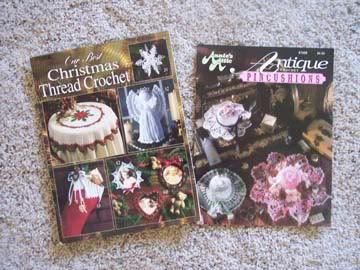 I already have plans to make some of these things for myself and for gifts for people. I can just see one or two of those antique pincushions in my new sewing room. Gorgeous.
And look what Chloe found next to the craft section...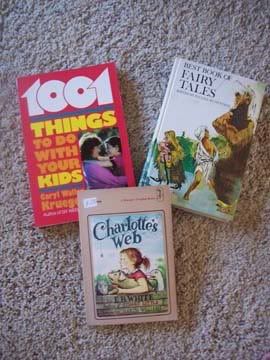 Well, she didn't actually find ALL those books there. Just the one with the title "1001 things to do with your kids". I thought this might come in handy pretty soon when I am at a loss for ideas of what to do with Chloe in the evening time. I will at least have fun thumbing through it.
Well, we finally made it to the kids section. I didn't find one book for Chloe. I found seven. Well, I found a ton more but I wanted to be alive when my husband returns home from work so I stopped myself at 7. They were cheap though so I can see myself getting a few more next week.
I think I am collecting quite a few Little Golden Books. I think they are so darling. I just love them. These were some older ones that I think will be pretty neat.
And then, guess what I found. This was the real jackpot for me. I finally got more books for my Anne of Green Gables collection. When I was a teenager, my mother bought me the first three books in the series which I adore and have read many times. Well, they had the rest of the books...at least 4-8 and I got them. Yay!!!!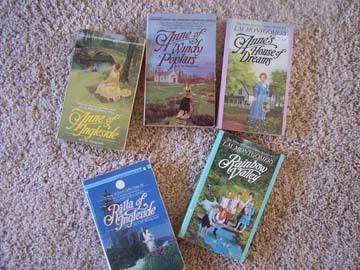 I can see many hours of tea and afghans and books in the near future...ahhhh...and with the cold winter weather coming in, these books will be perfect.
Just for the fun of it, I snapped a picture for you all to show you how much of a goofball my kid is. She really is a goofball...and a clown.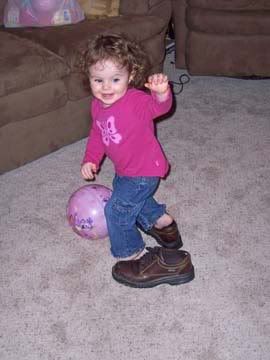 You can't really tell what she is doing here since she happened to not "see" the camera but "hear" the camera turning on and instantly knew what it was and that it was way more interesting then what she was doing. And what was she doing??? She had put on my shoes and was kicking her ball around the living room. This kid cracks me up...she really does. She is a hoot.
Guess what I found out...that ball she has is a DORA ball. I learned the other day that DORA is something that must be had. I guess this is a television show for kids. We don't watch much television outside of sports and so I am unfamiliar with this. It is pretty similar to Blue's Clues from what I am told. So, now Chloe is styling with her Dora ball and we didn't even know it.
Onto crochet news. I made a doily while in the hotel room last month and I even showed it to you all. It was a gorgeous pattern but I was a bit concerned with how much it rippled. I worried that even a great blocking job wouldn't be able to fix it. Well, I am pleased to announce that I was plumb wrong. See???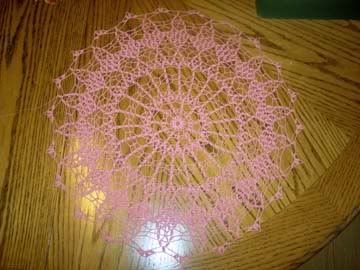 And...of course...the fun shot (which I think turned out better than the "head" shot, quite frankly)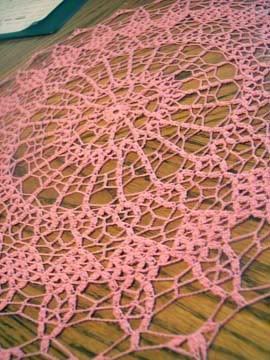 This doily embodies what I love about doilies...Lace, lace and more lace. I adore lace.
Today I searched and searched the internet through and through for a "mug cozy" pattern to make for my Holiday Swap partner over at the
ville
to no avail. Nothing could be found that fit my standards. I did try two patterns but one was written so horribly I would have had to redesign it and rewrite it and that just seemed like too much work for something I wasn't even sure if I liked anyways. The second one I tried was just too simple and boring. So, I then decided to design my own. The easiest option, I think. Here is what I came up with. I think it will be a free pattern on my site in the next couple of days.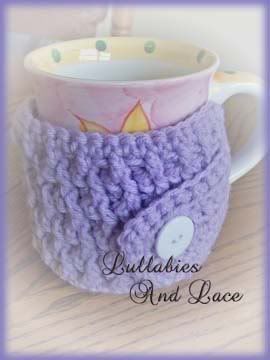 Or I might design a tea pot cozy to match and sell it as a set...haven't decided yet. What do you think??? I am calling it Cabled Mug Cozy. Very original. I don't think I can get enough of cables right now. Everything I have been designing lately has them. Hope other people like them as well...
Have a great day everyone.