God is so good to me. He blesses me beyond comprehension. Today I will attempt to explain just how He blessed me this morning. As many of you know, it is my heart's desire to have children. Many children. I dream of a brood of children for me to raise up for the Lord. I dream of full-filled evenings on the living room floor playing yahtzee. I dream of huge 15 passenger vans. (Yes!!! I WANT one of those...but only if its full) I just yearn for lots of kids...my heart surrounded with love.
We have one. Little Chloe. My pride and joy. My gift from heaven above. I wouldn't trade her for a million kids. She is my precious angel. But, as many of you don't know (and a few of you do) James and I have been trying for a few months to have another baby. 10 months to be exact. 4 months of not "trying to not" get pregnant and 6 months of "active" trying. I just knew that this would be the month. I mean, we got pregnant our first try with Chloe. 10 months seems like a very long time to be trying.
Well, last night we found out that we are not pregnant. For the first time in 10 months of trying, it hurt. I cried. My heart broke and my soul cried out. James came in and hugged me and reminded me that God is in control and He has a plan for our lives. While I knew this was TRUTH, my heart was still crushed into a million pieces and in pain. I cried myself to sleep.
This morning, I woke up at my usual time of 6:00 am and went the motions of my quiet time with the Lord. I knew that needed that quiet time with my Savior and best friend. I needed His comforting arms to wrap me in His Love. As I read His Word, he again reminded me of what James had told me the night before. God has a plan for my life. While I do know that He is the one who created me to be a mother and I know He is the one who put this desire in my heart to be that mother...I also know that it might not be His Will to be a mother of a multitude of children. I have to accept this. He showed me this morning that this is good. His Will is Perfect. Its perfect. What more can be said of it. His Will is pleasing to Him and its good and perfect. How I can I ask for anything less than perfection? I can't. So, I trust Him. I trust Him that His Plan for my life is good and perfect...even if I never have another baby.
When I came to this realization and gave my heart over to His Will, a peace that I can never explain enveloped my heart and soul. I rested in God's comfort and warm embrace. I felt much better after this.
I got up and opened my bedroom door to beging the rest of my morning routine and outside the door to my bedroom I saw a package on the floor. I knew immediately that this was a gift to me from God above. I grabbed it up with tears of joy in my eyes and took in it my bedroom and closed the door.
The name on the package was LadySnow. My good friend and one of my admin team on my pattern testing forum. But even though the name said Lady Snow...I knew in my heart it was from God. Lady Snow is a child of God and He used her to bless me with a gift from Him when I needed it most.
Each item I picked up brought a new tear to my eye as I was wrapped in the center of God's love.
This is everyting in the box. Let me explain a little bit about what all these things are. Lady Snow sent me the cutest aprons. One for me and one for Chloe. I have been wanting an apron for Chloe. I have one apron that my mother made for my 19th brithday and it is HUGE on Chloe but I wrap it up and tie it on her. Well, now she has one the perfect size for her. And I have a matching one.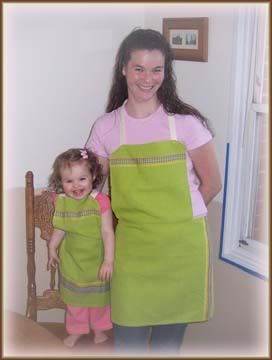 Now Lady Snow knows how much I love unique purses. I design some that are different from the "normal" type of purse. I love purses (as I am sure most women do...its how we were created. You know...carrying everything around with us everywhere we go. We are the ones who have what you need when you need it no matter where you are.) Here is a new purse to add to my collection. Isn't it the cutest??? I don't have one like this yet. I love it!!!!
She also sent me a hair tie, face cloths and a skein of Moda Dea Tutu yarn. (which is perfect since I already have a couple of skeins of this color and I can now make a fluffilicious shawl with it...yay!!)
Lady Snow, thank you from the bottom of my heart. I know God used you to show me how much He loves me at a time when I needed it most. Thank you for allowing Him to use you. You are a dear friend and I love you.
James was out of town this weekend with his brother and it was pouring down rain for two days straight. What can you do with a toddler under such conditions??? Why, make her a playhouse. What a wonderful idea!! But with what??? A cardboard box is a great idea. See???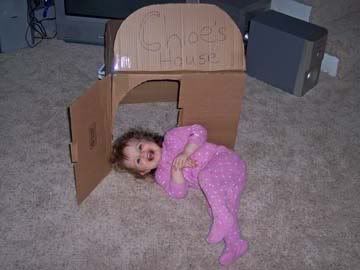 The cool thing is...she really loves this. She climbs in and out of it. Her favorite thing to do it to crawl inside and close the door and say "Bye!" very "matter of factly".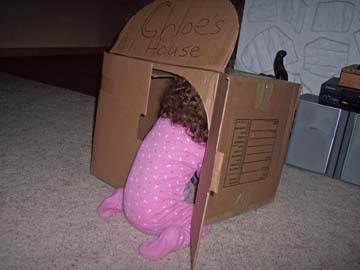 So, if you have a rainy day with nothing to do and a spare box lying around, you can have fun for hours...and days (she STILL plays in that thing) So, I may not have loads of kids...but I have a precious little girl who I am thrilled to play with. SO, I need to get off this computer and grab my darling, give her a big mommy kind of kiss and go shopping!!!
Grab your children today and give them a sqeeze and let them know just how precious they are to you.