Have you ever had one of those days??? The kind spent in pajamas until noon? The kind of day you are too tired to get out of bed but too awake to sleep? This was my morning today. While I have a ton of things I COULD be doing...nothing suited my fancy more than lying in my big bed with my daughter next to me reading stories, solving puzzles and hiding underneath the blankets.
This is the sort of day when you allow the lazy, warm sunshine to wake you up and you lie there drinking in the golden rays with delight. It is the sort of day when you listen to the song of the bird outside your window as if he were singing for you and you alone. It is the sort of day when nothing happens but what exists in your imagination. My imagination is full of delightful and wonderful things today. Fancy and frilly things...lacy and dainty things...things of pink perfection and romantic blue... of green simplicity and purist white. Things to fill my house with. I dream of love and laughter...hope and joy.
But I know that life must move forward. You see, I am a bit of romantic. I see everything with rose-colored glasses. Everything in the past that is. But after my morning of daydreaming of eras long past, I realized that in those eras there was much work. They did not sit around in their pajamas all day waiting for dreams to come true. No, for dreams to come true, one must work...and work hard. So, I got up and finished my laundry left undone from yesterday and took my shower and made myself a cup of tea. So, I am ready to begin my work now. (crochet type work that is.)
Before I start "work" though...I have a few things I would like to show you. I got a lovely package last week and I have been late in telling you all the delights found withen.
I have been feeling down again lately about my designing and patterns and such. It has been a very slow month and when no one buys my patterns, it makes me feel like a failure. Nevermind the fact that last month was a record month for me...that doesn't count when one is feeling down about oneself.
Anyways, I came home from our Thanksgiving trip to find a rather large package on my doorstep. My dear friend and tester of my patterns (and one of the admin on my board) mom4x had told me before that she had a package that she was sending to me. Isn't she a dear?? This is what I thought...but I had no idea of what lay in store for me until I got the package. Let's just say that when I saw the box on my front porch and noticed the size of it, that is when I was first blown away. (to cloud nine, that is) I couldn't believe that she sent me such a large box.
I opened it and lo, and behold I saw before me a multitude of little packages...one of which said read and open first. Well, I broke that rule and gave a package with Chloe's name on it to her first. She loves recieving things in the mail and so I let her do the honors.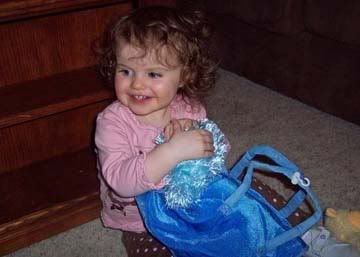 You can't tell from that picture but its a blue puppy dog (a poodle to be precise) in a blue purse type bag. Too cute. She loves that thing. It was one of the choosen toys to be on our bed of daydreams this morning.
Next in the package, I opened what I was told to open first. The card stated that this was a housewarming package not from Mom4x alone but from many members of my testing forum. MANY members...I was blown away yet again...and this time tears welled up in my eyes as I realized just how much my testers care about me. And if they care this much...then they must think I have something to offer in the world of crochet. Right???
Here is what Mom4x sent me in the first of many packages.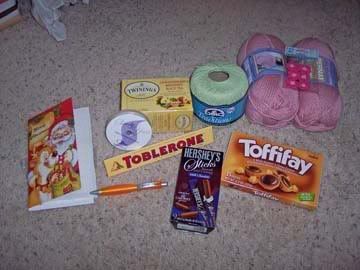 Tea (which is yummy) and chocolate (which was yummy too...and almost gone) and ribbon and thread and yarn and embellishments and a pen with my name on it. (how cool is that??? I can write my patterns now with my own special pen)
She also sent me a Christmas ornament...so delicate and gorgeous.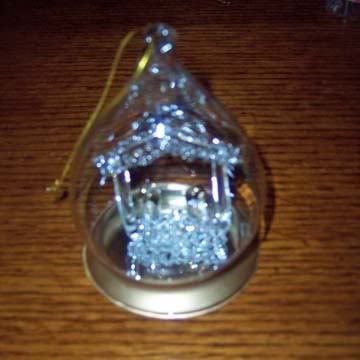 The picture does not do it justice at all. It would seem that through my tears that night, I was unable to take a decent picture for many of the pictures I am going to show you are blurry like that. Its as if my tears entered into the camera and blurred each photograph.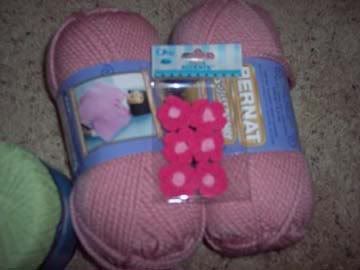 Here is a close-up of the yarn and embellishments she sent me. I can see a little poncho for Chloe with this yarn and those embellishments match it perfectly so you can be assured they will be placed somewhere on it.
The next little package I opened was from Angeleyes70. Another dear and faithful tester.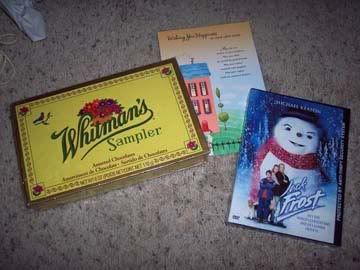 When we first started our snowflake swap on the forum (and when angeleyes was a new tester) we had discussed frost and snow and the title of this movie came up. I mentioned that I don't think I have seen the whole thing and what I remember seeing (if its the right movie) was on television some years ago. So, as a little housewarming gift she sent me this movie and a box of chocolate. I can see myself now, cuddled up on a chilly autumn night with my chocolates watching this movie. I will have to talk James into this for date night sometime. (Let's hope all the chocolates have nuts in them so I don't have to share...just kidding. I love sharing with him. He doesn't eat very many anyways.)
And then I opened another package. This one from Around74. A very dear tester and a great friend.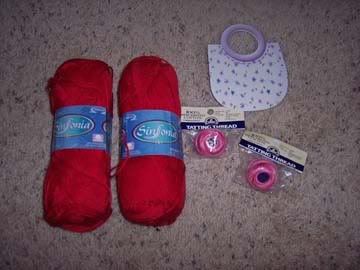 My favorite, favorite, favorite yarn...Sinfonia. (favorite besides Paton's Grace, that is) Sinfonia is about half the price of Paton's Grace so it is quite more affordable and one that I use quite frequently. I love it. (I guess that is because I am partial to cotton yarn) Also in this package is two little balls of size 80 thread in a dlightful pink varigated color. Ohhh...this was part of my daydreams this morning. What should I do with this treasure??? Edging on hankies?? Edging on pillowcases?? A teeny tiny doily? I don't know. It will come to me as all good things do.
The next package contained treasures from nannycrochets. Another great tester of mine. Oh...the delights in this package started with a little something that Chloe decided was hers the minute she saw it.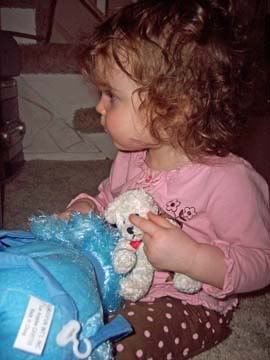 A little white teddy bear. Here you can see here watching a movie and clutching her new teddie in her arms with her new poodle puppy purse in her lap.
I also recieved three skiens of baby yarn, more thread, two steel crochet hooks (one is a silverlite which I think I may start collecting next after I finish my regular Susan Bates collection), some nylon thread and an angel ceramic. She is so pretty and is holding a little child in her arms. I wondered as I opened this if I was supposed to be that angel watching over my little blessing Chloe.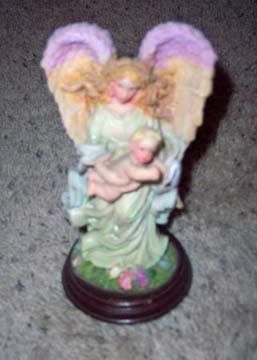 I got a picture of just the angel but again...tears must have seeped into the camera for this picture is blurred as well.
The next package I opened was from Kisha29. A wonderfully devoted tester who has been with me since the day I started my forum.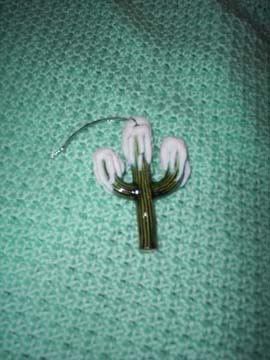 In it was a poncho in a yummy color and a gorgeous stitch with such nice texture. She also sent me a Christmas ornament. This ornament is not your ordinary ornament. It was handmade somewhere in Arizona. I don't think she knows this about me, but I used to live in Arizona. Once when I was a girl and again a few years ago when James and I were stationed there. I LOVE Arizona. A part of my heart will always be there. And another thing I don't think Kisha29 knows is that I adore sauraros. They are my favorite cactus ever. (and can only be found in Arizona with a couple in New Mexico and south Utah. NOT in Texas like the old "western" movies claim.) So, this Christmas ornament is a cactus with snow on it. Ahh...the gasp that crept from my lips and the tears that flowed when I opened up that cactus. In an instant I flew back to five years ago when I was "home" in Arizona with my dear friends there.
At this point in time, I was thinking (as I am sure you are too by now) "What else could there be in this box???" I was so filled with love that I didn't think I could contain any more. There was one package left in my box from Sue and so I opened it.
Patterns, patterns and more patterns. Golly gee....and they are all thread!!!!! These patterns were the source of many the daydreams floating through my head this morning. Tablecloths, doilies and dresses for Chloe. Bathrobes, booties and even a matching bed jacket for Chloe and I. I have poured over these magazines each day since then...dreaming of everything I would like to make.
Not only that but she also gave me Amethyst. Who is Amythyst? Why she is a dainty little bear done in the softest thread. (kind of a mix between thread and yarn) Sue knows of my love for anything purple and so she gave me this purple beauty. I can't get over it. She is fully movable and yet she is tiny. You can see in the picture above that Chloe decided she liked her too...but after Emilia (the poodle puppy purse) and Snowflurry (the white teddy) I decided Amythyst was to be mine. She can stand on her own even.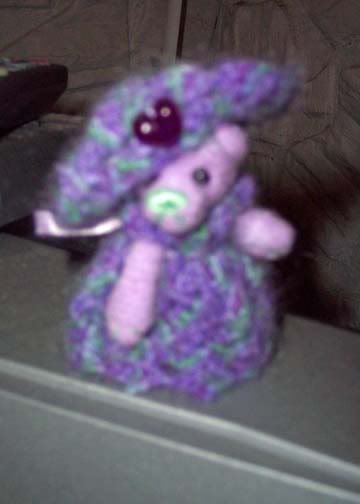 Again you can see the blurriness of tears as I was crying. I was filled to the brim with love that evening. Thank you to ALL my testers. You guys are what keeps me going when I feel like giving up. You are the reason I can do this designing thing. If it weren't for you, I would not have patterns to sell, nor the motivation to design them. You all have been my gift from God and I treasure each and everyone of you.
In light of this I would like to add that I will continue designing. It is in my blood. It is so much a part of me that to quit would be to take away the air that I breath. I will say this though, I will be designing things that speak to me. I don't think I can "churn out" as many designs as I have in the past. For one, the quality goes down when I do that and for two, my family is my first priority. I cannot spend my days crocheting if my family needs me.
So, while I was supposed to be working I wrote this post instead. And now darling Chloe is awake from her slumber and I must tend to her. We have a tea date with Rachel and Samantha. (our dolls) Have a wonderful day everyone and may you have yourself a pajama day someday soon.