The preperations have begun. I have yet to add the post for the Christmas Gifts gallery to the blog so maybe I will work on that today or tomorrow. I have another doily done for another Christmas gift but I won't show you that until I have it blocked. Do you think I will get that done today??? It has yet to be decided. Just be happy that I am blogging in the morning today instead of saving it for tonight. I have been remiss in my blogging attempts lately due to the fact that when I postpone it until the family is settled in for the evning, it would seem that I settle in too. Thus, blogging is forgotten as I sink into sweet slumber. I will now make an effort to blog in the A.M. in hopes that I can keep up with all that goes on in my life. Not that anything very interesting goes on by comparision. I just like to chatter.
But back to the topic of the post. Prepping for Christmas. Now that Thanksgiving is complete for the year, I can now focus my attention on Christmas. I am one of those who has a hard time seeing all the Christmas "stuff" out before Thanksgiving. We live in such a materialistic world and it sickens me. It really does. Why do we have to spend so much money we don't have? Why do we feel that we HAVE to buy everyone gifts? It should be a thing of love. This is what I believe. I give people gifts from the love withen my heart...not because a commercial on television told me that every woman needs this diamond necklace to make them smile. Every kiss does NOT begin with Kay!!!! If they had taken kindergarden (which is a fairly common class to take) they would know that it begins with "K" which is a letter. I am sorry, but my husband kisses me quite often and I don't have a diamond necklace or ring with which to begin these kisses. And, mind you, they are filled with more love than I could ever dream for.
But again, I have drifted from the topic at hand...prepping for Christmas. What am I doing to prep for Christmas?? Well, I made some ornaments for the Ornament Swap over at the
ville
.
These were alot of fun to make. I got them out of that Christmas Thread pattern book I found in the used bookstore a couple of weeks ago. (I love that place) I fudged on these ornaments a bit though. They are supposed to be sachets filled with lovely smelling potpourri. Ummm...wouldn't that be delicious? Walking in the house and smelling the fragrance of cinnamon apple or mulberry spice wafting from the Christmas tree? But you see...I have a fear of sewing. And I didn't have any toule on hand either. (and you all know me and driving...)So, I just attached the backs of the ornaments to the fronts with nothing in the middle and I think they turned out just fine. What do you think?
Now I had two people to make ornaments for and there are three in the picture above. What was that third ornament for? Or who? I actually gave that to James' Aunt Evelyn when we saw her for Thanksgiving. I will tell you more about that adventure another day.
Anyways, I hope everyone truly liked these ornaments. I think they are so pretty.
Well now...let me see. I did recieve my ornaments for that same swap. I only have a picture of one of them. I will have to get a decent photo of the other one. (for some reason lately I have been unable to get decent photos of anything. Could it be that taking them in the dark is a bad idea????)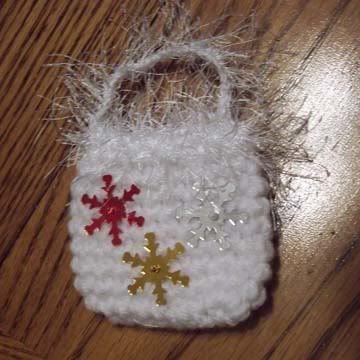 Isn't that darling? I love purses so this is really cute. A little white purse ornament. (and a great way to use that Fun Fur.) Thank you kelly g. I really appreciate your kindness. I will hang this on my tree and cherish it forever.
James laughs at me because each year at Christmastime, I sit him down and torture him with each ornament's story as I place it gingerly on my tree. I know where and when I got each ornament...whether it was given to me or if I bought it. Each one has a history and it has become my tradition to share it with James (and now Chloe) every year. He complains but the funny thing is...each year I ask him about the ornaments and he can't remember thier stories. So, I feel that I must continue until he can. (don't tell him I said this though...I kind of like it when he can't remember. It means I have another year to tell the stories.)
Well, it would seem that housework needs to be done EVERY day. (especially with a 20 month old tornado in the midst of it all) This means it is time for me to get off my duff and get to work. Have a wonderful day everyone. May you take time to remember the Reason for the Christmas season and delight yourself in the thrill of such a Love.