I guess that really wouldn't work though. Insomnia itself implies the condition of "trying" to sleep and in my case...well...I didn't even try to sleep. Sunday night I stayed up all night to get some things done. I didn't go to bed until last night at about 8:00 in the evening. I have done this before but not by choice. Sunday night I delegated as an all nighter...and boy am I glad I did. I didn't realize that what I was working on was going to take that long. But it did. And I finished it.
So, this is a post to show you all that I have done from Sunday until now. First, I made this stole for my Holiday Swap partner over at the
Ville
. More about this pattern will be coming shortly. (in a couple of days or thereabouts)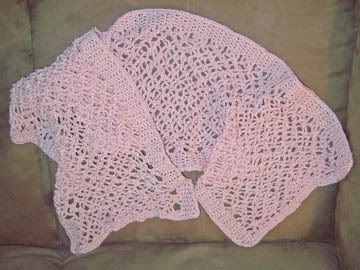 And I also made her a teapot cozy. Now she doesn't have a teapot...but that is part of the surprise of this...but you all won't be able to see that part of it.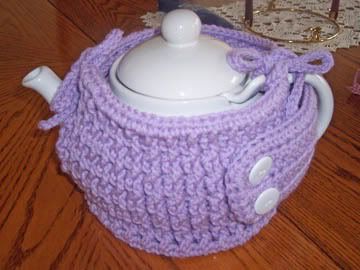 This pattern is in testing right now. (it is flying through too so you just might see it soon.) I adore this cozy...in fact, I may have to make a few for myself. (if I could ever find the time...but alas...that is a dream, only a dream)
So, after the stole...I made this shrug for one of my neices. This is the biggest of the shrugs that I have to do for gifts. It is a size 6 girls.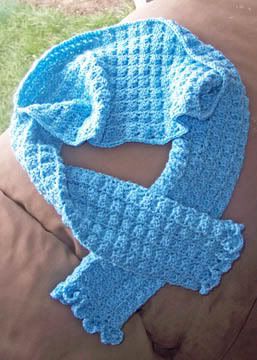 This is my
Sweet Decadence Shrug
pattern in children's sizes. (which you all are probably getting pretty tired of seeing...and I still have two more to make...he he he)
Nest I have two doilies I whipped up today. These both were extremely fast (which I am EXTREMELY grateful for...or I wouldn't be sitting here blogging right now) The first doily is for James oldest sister. It is a PK doily from the mini book called Dainty Little Doilies. (at least that is what I think its called...I will have to check on that.) I believe the name for this doily is Cosmos. (reminds me of the movie Sneakers...just the name...not the doily.)
The second doily is from the same book and is called Floral Filigree. (a fitting name I do think...) This is for James other sister.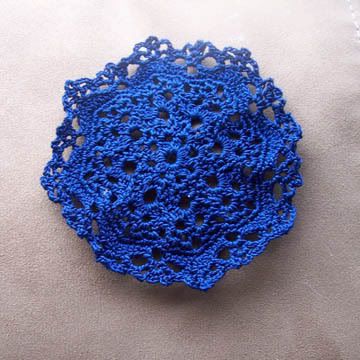 That is all I have made in the past 2 1/2 days (quite a lot though if you think about it) but that is not all I have to show you. I recieved some lovely snowflakes in the mail yesterday from one of my testers. She is such a sweetie. This was my Christmas gift from her.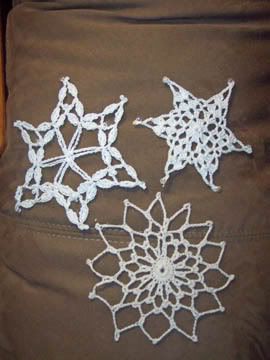 I was also in a snowflake swap over at my forum and I don't remember if I showed you the snowflakes I got from there...so I am showing them now. (sorry if I did and my memory has failed. But you can never get tired of seeing beautiful things, right??)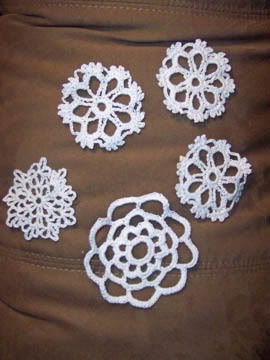 And now I also don't think I ever showed you the last ornament I got from the ornament swap over at the
Ville
that I was in. So, here that is too.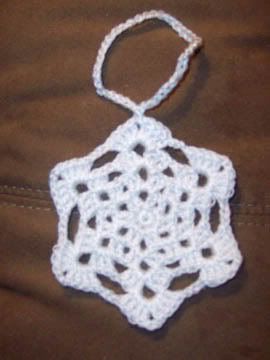 Well, I have doilies blocking and tea brewing and it is a perfect day here. I am in a very romantic mood. An Anne of Green Gables kind of mood...you know those delightful moods when the whole world seems to be in love with you and the clouds are carrying you off into fanciful daydreams??? Yup...that is my mood for the day. So, I am off to rescue my child from her jail...opps...I mean crib and we will have a little book reading time with Harmony the Care Bear and Kitty the Kitty. (they love each other very much and have some nice little chats in high pitched voices every now and again...in fact, I hear such a conversation going on as I type.) I must not miss out on much more of this conversation...it is a delightful one. (the giggly kind...which are the best kinds)
Have a great day everyone. (and send up three cheers for me since I am almost done with the Christmas gifts. Hooorayyy!!!!)