Pray like you have never prayed before. Alas...I have done it to myself again. "What's that?" you say? Well, it would seem that once again I have busied myself with everything but what I am SUPPOSED to be doing. Namely Christmas gifts. So, all the gifts that need to be bought have been bought. But what of those that need to be made? I have made three. Yes...three!!!! No problem if you have a small little family with only 3 people in it. But that is not my case. No, I come from a rather large family with siblings who got married and had kids. On top of that, I went and married someone with a large family - although not quite as large as mine - and they all went and got married too. (and had kids) So, you see...its quite a large amount of people we have to make gifts for every year.
Now usually I am one who starts making gifts in January. I make for one family per month and so I am done by September/October. Why was this year different? Two reasons really (although neither one of them are very good reasons.) One was that I started my business this year and have been designing and crocheting like mad to get that up and running. The other reason is I am procrastinator of the largest kind. I don't think there could be anyone worse than I...wait...I may have married one, but we won't go there.
Anyways, I was so proud of myself last night when we bought the very last gift on our list to buy. I sat down this morning to crochet up a gift and I started thinking about how close Christmas really is. We leave town on the 19th of December to go home. That means I have 14 days (now 13 since today is almost over) to get all the Christmas gifts done. Now the organizer part of Anna kicked in at this point and I started typing up a list of who all I still had to make gifts for. My list became the grand total of 14. No problem, right? But hold on a sec...that would make 14 gifts to make in 14 days. WHAT????? I am not the mathematical genius that others are...but I can match pretty well and 14 equals 14 anywhere you go. That would mean I have 14 days to get 14 gifts made. Oh boy!! Now you know why I wish for many prayers for flying hooks and silky yarns. (the flying hooks I am assuming you get...but the silky yarn would be so that it would slide through my fingers quickly...this stuff that splits horrible and chaffs my fingers is just no good - it really slows me down.
So, in light of this...I crocheted like lightening this afternoon and whipped up this shrug for one of my neices. It is my very own
Sweet Decadence Shrug for Children's sizes
that can be found on
my site.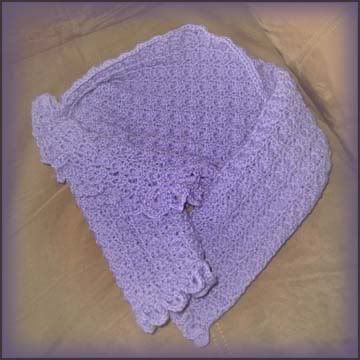 So, this is a test...you all can keep me accountable. Do you think I can get all these gifts done in the next 14 (well...now its 13) days???
On a side note, I received some lovely Holiday surprises from
the ville
for the Holiday RAOK.
First is a Christmas tree ornament all the way from Argentina!! Wow...that came a long way. Isn't it beautiful?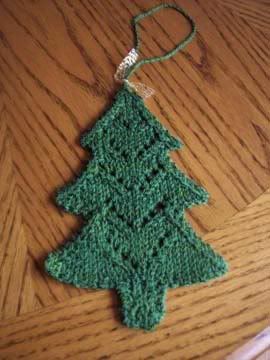 Thank you Christmas Elf for the lovly ornament. Another little elf visited and left this wonderful dishcloth in my mailbox. What a great little elf. I need loads of dishcloths and so this is perfect.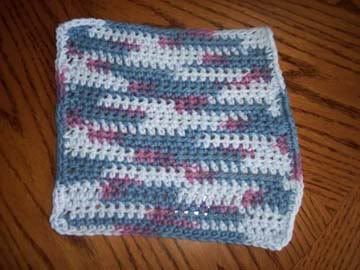 Thank you elves. You have made my Holiday Season bright and merry. I really do appreciate your thoughtfulness and kindness and generosity.
Well, now...I am off to cook some dinner and then we have a Bible study to go to tonight. Have a wonderful evening everyone. (and don't forget a teeny tiny little prayer (or even a sentence or a whisper) for speed in crocheting these gifts. {wink}