As promised, I am now about to tell you about the "new" thing I am going to try. Saturday I mentioned to you all about a blog I found,
5 Minutes for Moms
. I love this blog and have been back a few times since my first visit. I really do enjoy it. Well, I noticed last week that they have something called Tackle It Tuesday. (I noticed it at too late of a date to play last week) You may have noticed that I didn't post a Monday Memory yesterday. Why's that? Well, little did I know (being oblivious to these kinds of things) that Monday's Memories was cancelled. I feel a little embarrassed that I didn't know this and I kept right on posting anyways. Guess that is what I get for not going to other people's blogs and reading. But come on...I am a busy person and I don't have time to read ALL the blogs out there.
Anyways, I needed another meme to take the Monday's Memories place and wouldn't you know it? Tackle It Tuesday popped up in front of my very eyes. I am very excited about this meme as I feel that it fits my personality so much better than sharing memories. I really was trying hard to come up with decent memories worth sharing that wouldn't scare anybody off.
So, now I am going to participate in this meme. It sounds like a very good idea. Every Tuesday (or Saturday or whenever I have time to accomplish something) I am going to tackle a project on my "to-do" list. Now, I must explain that this particular "to-do" list is different than my every day "to-do" list which sits at the front of my management binder. Each page represents one day and on that day I tackle that list. So, this other "to-do" list sits somewhere far back in my binder where I don't have to see it and I can ignore the things it tells me I need to do. (cause come on...let's face it...I would rather crochet than to do some of the things on that list)
But now...with this meme, I hope to tackle those seemingly impossible tasks that I wouldn't ever get done. The first thing I decided to do, seeing as how this is my first time playing, was a job that I did not want to face and so I stuck it in the corner of my basement under some other empty boxes.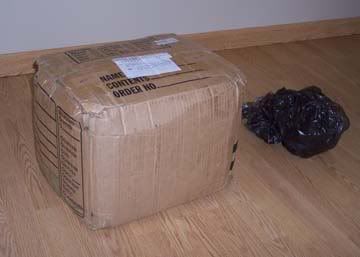 Now...a little bit of background about the box you see pictured above. It appears to be a harmless little box, right? WRONG!!! You see...last August when we were packing up to move, the movers informed my husband that they would not ship my candles. So, we decided to mail them to ourselves. Bright idea!! Well, as many of you might recall, we were in a hotel for around 2 months worth of time and that is quite a
long
time to have to remember everything we packed inside that box. Well, needless to say (with my kind of memory) I couldn't remember what all was in it. When we picked it up from the person holding our mail, I heard a little rattle. More like a loud clunking. Well...actually...to be honest...it was more like a LOT of loud clunkings. It even sounded a tad bit like broken glass. Now, with the sort of memory I possess, I racked my brain to try and figure out what was in this box. Surely I wouldn't have packed glass candle holders with the candles? The packers DO pack that sort of thing...and a very good job they do at it too. (unless they happen to pack them under the television and then the glass is toast) But alas...when picking up the box again, it sounded like glass and a bunch of broken things.
I couldn't face it!! I mean, who could? Who wants to open a box and find all your precious candles broken into bits? (for they were precious...they were my expensive Partylite candles...you know...the ones that are $10 for one pillar) And not only that but to find shards of glass everywhere just waiting for you to insert your hand in just the right hole and pull out a bloody nub in its place. So, I put the box in the corner in the basement under some empty boxes.
So, let's get to tackling this box.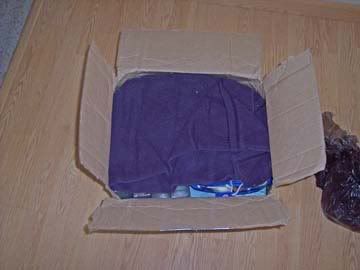 So, far so good. I carried the box upstairs, listening to the multitudes of clunks the whole way and dreading what I was going to find. But so far...I found a towel I forgot I owned. Surely this must have blocked
something
from getting broken.
And then, one by one, the items came out of the box. I didn't find one single piece of glass in the whole place. (I KNEW I didn't put any in there.) In fact, all that was in there besides the purple towel was candles.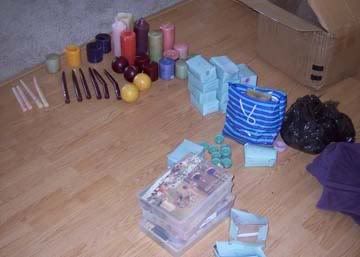 And out of all those candles, only 3 tapers were broken.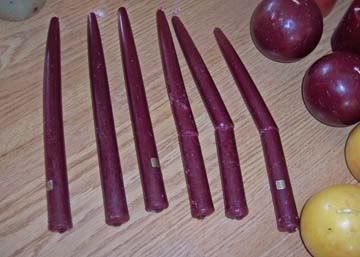 The other candles were a little worse for wear...but nothing an old pantyhose can't fix with a little buffering.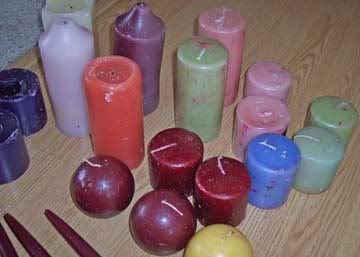 Part of the "tackling" of today's project though was to put all the candles away. First I lit my wax burner with one of my favorite candles...the Strawberry Rhubarb candle from Partylite.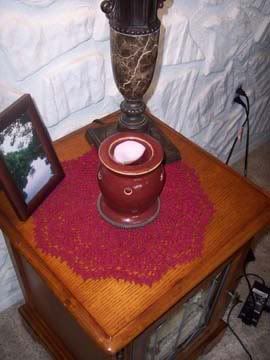 I also put some on my wall sconce. (Please don't mind the lack of curtains. Its on my "to-buy" list for the living room.)
I put another one in my sewing room on my shelf.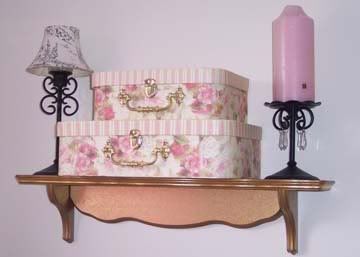 And the rest of them??? I found an empty drawer in the bedroom so there they will sit until I save up the money for my china cabinet and hutch. (for like $1,000...I dream big)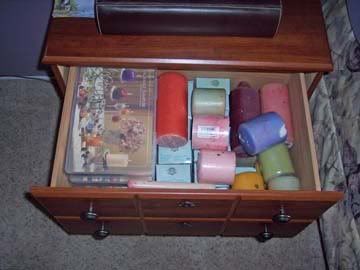 So, I learned a valuble lesson today. Never judge a box by the rattling you hear. It could contain a treasure.
And an update on my cleanse "program" for those of you following me in this quest. Today is my last day!!! Tomorrow I am eating oatmeal and flaxseed for breakfast, a peanut butter and jelly sandwhich for lunch (and I might make some oatmeal butterscoth cookies to go with it) and then James will be bringing home some Outback after he gets off from school. I know I said that my "congratulations meal" was going to be at Red Lobster but the problem is that James has school tomorrow night and won't be home until 8:30.
Of course, I tried to no avail to talk him into bringing me something tonight to wound my crushed heart but he wouldn't give in. And I have a very sick baby today (running high fevers ever since yesterday morning) so I can't venture out myself. Good thing though...because that would not be finishing RIGHT and I want to see this thing through to the complete end. But you can count on me. I will be setting my alarm clock for 12 midnight and I will be enjoying some peanut butter and jelly. Oh yay!! Ummm...I can almost taste it.
Well, James has promised me that I still get my Red Lobster "congratulations meal" only it will be Thursday instead of Wednesday. But that's okay...I will survive. I only have one more nasty drink to have tonight and then I can go to bed early tonight and wake up to some yummy oatmeal. James is now trying to tell me that I can't have breakfast tomorrow. I have to eat the "shake". But oh no...that shake can wait until Thursday. Tomorrow I will spend the WHOLE day eating REAL food. I think I have earned that much from the torture I have been through the past 9 days.
Have a wonderful Tuesday evening everyone!!! (and enjoy your food!)