You gotta love her. Once you are around this kid for more than 1 second, you will fall in love with her. At times she does things that I never dreamed a child would do. Not that I didn't think they were capable of it. Quite the contrary. Its just that you wouldn't
think
of such a thing.
The night before last, I was getting Chloe ready for bed when I needed to run downstairs to grab something. When I came back into her room I saw a mess of books on the floor and no Chloe in sight. Then I heard the giggle. This is a certain kind of giggle. One that speaks. It was clearly saying, "Come find me Mama. We're playing hide and seek!!!"
So, I started looking. I didn't have to look far for the mess of books on the floor was a huge clue. It still surprised me when I gazed at what I saw next. Take a look.
She had climbed into the shelf of the bookcase. The middle shelf...not the bottom. I was laughing harder than I have laughed in a long time.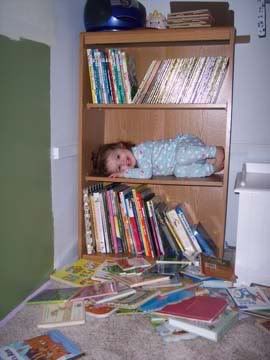 Oh the joys and thrills of motherhood. I wouldn't trade it for anything in the world. This child is priceless.
I wanted to tell you about a very special swap I am part of. We have started having swaps over on my
pattern forum
. My friend and co-administrator Ladysnow came up with the idea to do an afghan square swap. She made some rules, one of which was the colors and yarn type we were to use. Well, I have recieved all but one of my squares for this swap. I also have to make one square myself. (which I did but don't have a picture of yet)
This afghan is going to be so special since each square is from a dear tester on my forum. I will always remember this chapter in my life when I wrap myself in this one of a kind afghan. No one else in the world will have an afghan quite like mine.
Have a wonderful day everyone.