Hold Fast Your Dreams

Hold fast your dreams!
Within your heart
Keep one still, secret spot
Where dreams may go,
And sheltered so,
May thrive and grow-
Where doubt and fear are not.
Oh, keep a place apart
Within your heart,
For little dreams to go.

~~Louise Driscoll~~
I love that poem. It captures something deep within my soul and explains a bit of who I am. I have been called a dreamer before. I tend to daydream more often than I should. Most of the time, as a child, I kept these dreams to myself, hidden within my soul for fear of reprimand or criticism. Now that I am away from home and free to do as I please, I find myself reverting back to my childhood dreams more and more. I guess that special place in my heart has been there all along...just hidden deep within myself and longing to be set free.
Anyways, back to the title of this post. A bit of love. Seeing as how last week was Valentine's Day and I never got around to showing you the "love" we recieved, I thought I would do so today. (since, obviously, I am in a bit of a romantic "dreamy" mood anyways)
Chloe got her first Valentine last week. It was so cute. I actually got it while she was sleeping (since that is when the mail is usually delivered around here...mid-afternoon) I saved it for her to open, even though I really wanted to open it myself. But it was addressed to her and so I saved it for her. (good mommy...good mommy!)
Okay...the little red thing in her hand is not part of the Valentine card. No...that is a very new "high tech" gadget that all "cool" and "trendy" people should have. What is it? You don't know??? Why that is nothing else than a Clover Knitting Row Counter Cell Phone. Don't believe me??? Just watch...
So the orginal purpose of this was to help me count my rows while knitting dishcloths. But as you can see from the photo above, little fingers had something else in mind for it. I think it works very well as a cell phone. Not only can we talk to Daddy and Grandma but every once in a while Mickey Mouse calls. Now
that
is special. You can't get Mickey Mouse on the regular cell phone. Only the Clover Knitting Row Counter Cell Phone. Now you gotta get one!
So, what
was
in the envelope?
Ahhhhhhh....how sweet. This is her first Valentine and it was from her Grandma and Grandpa. Thank you guys. That was a special treat. Chloe loved it.
I got a couple of books I ordered from
Amazon
in the mail last week as well. First off my Crochet for Barbie book arrived.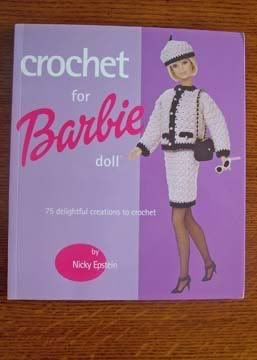 Too excited to do anything else, I immediately sat down and proceeded to crochet a couple of patterns. Well, I quickly became frusterated since I don't have ANY of the yarn or thread used in this book. AC Moore and Micheals don't carry this stuff either. Its not your "run of the mill" type stuff. No...Barbie gets cashmere. And silk. I tried to substitute DMC size 5 Pearle cotton but that is not going so well. Even for the patterns that
call
for the DMC size 5 Pearle cotton I can't get the gauge. I am off by way too much. I did manage to make one outfit that fit Barbie only I used some Bernat Cool Crochet. I have fallen in love. This stuff is great. Its not 100% cotton but almost should be. It has some nylon in it which gives it this kind of sheeny sparkly look to it. VERY nice. Not as nice as Paton's Grace, mind you...nor even Red Heart Lustersheen, but I would rate this as my new third favorite yarn. I am thinking Chloe's birthday dress might be made in this. We will see. Depends on the stashbusting efforts and what happens with that. I will have to show you all the picture of the outfit that "worked" tomorrow. I put it up with Chloe's other birthday gifts and keep forgetting to get it down to snap a picture. I need to get cranking on more outfits for her too. But Barbie outfits don't help much in the stashbusting efforts. Oh well.
Lately I have been on this knitting book kick. I don't know what's wrong with me. I see a knitting book and I want to buy it. So I do. The first book I got last week was this one...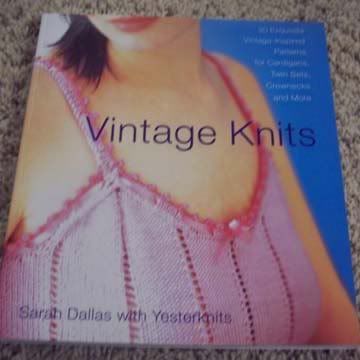 Vintage Knits
This book would fall into the "dream" category. I "dream" of knitting the items in this book. I am nowhere
near
that skilled yet. (still trying to get beyond dishcloths at this point...I don't know how I knit two baby sweaters two summers ago. Can't figure that one out) Once I am skilled enough, there are a million things in this book I want to make. (for
myself
too!!!!) Like this...
...and this...
...and this...
Okay. no...I won't show you the whole darn book...because I could! I won't. But I could. This book has some of the neatest patterns in it and I want to make most every one. There are a couple that I wouldn't make for myself but for the most part, this WHOLE book is a must have. Yay!! Good buy.
Next book I got.
Fun and Funky Knitting
Now this book is really a cool book. "Fun and Funky" are two words that aptly describe the items in this book. They are not "over the top" like some teenage type things can be. They have style with a hint of romance yet they appear to be a little easy with some "new to me" techiniques that will challenge me and increase my knitting knowledge. What can I say? I want most of the things in this book. Like this...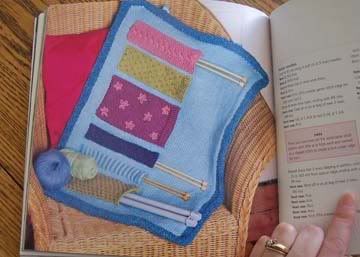 ...this was why I bought the book. How cool is that? Its a knitting needle holder that you knit!!! Amazing!!! I love the look and the different stitches used for the pockets. It rolls up too so it will store easily. I
want
this!!! If I weren't so slow at knitting this would make a great stashbuster project. But I would like the stashbusting to go rather quickly so I will stick with crochet...which is fairly quick for me.
I also thought this would make a lovely gift for my mother. (and I wouldn't mind one for myself as well...but she is the first one who popped into my brain when I saw it)
This book is chock full of wonderfully small and relatively simple looking things to knit. (I say "simple looking" for the simple fact that I have yet to
knit
anything in this book and so I cannot say as to whether they actually
are
simple or not. I will let you know.)
I did a very naughty thing. Very naughty indeed. Of course, naughtiness is all in how you look at it. If you think of all the money I saved, then you might say I was a very good girl! As you might recall, I recently had a
debate with myself
as to whether I actually "needed" some new used books from the used bookstore. Well, I lost. Myself won. I couldn't take it any longer and I went yesterday and bought more books. Why? They were having a sale. That was my
only
reason. Okay...so the fact that I am addicted to books might have played a small role in things. A very small role. One that shouldn't even be considered a role. Come on!!! Who can pass up a 50% off EVERYTHING sale at a
used bookstore
???????
Not I...not I...
You can see Max Lucado and Shelia Walsh and even a book put out by the Woman of Faith. I must say that I did pretty well for myself. I think you should agree with me.
Do you wanna hear something very sappy and "full of love"? (since that was the title of this post to begin with?) I was supposed to show you two weekends ago what we did for our Friday night date night and I never got around to it. I will show you now. (since obviously we are not having date night tonight. We went shopping instead. Always fun.)
Okay, I am quite proud of this particular date night since it was my idea in the first place. You see...I have been trying to come up with ideas of things James and I can do together after Chloe goes to bed for our date night. I am tired of waching movies all the time. I don't feel like we really "get to know" each other while staring at a television screen. And James hasn't been very good at his movie screening process lately and we have been watching some pretty raunchy things lately. (well, he falls asleep if its too bad and leaves me to finish it by myself. I usually end up turning it off)
Anyways, we tried the whole model car thing and that lasted about 30 minutes and now it sits in the back of the top shelf of the closet...never to be seen again. Well, two weeks ago, I had the "brilliant" idea to buy some music. James loves to play the guitar and I thought it would be cool for me to learn a song on the piano while he learned it on the guitar and we could play it together. We went to the Bible bookstore and I picked out the book.
I love Casting Crowns music and hey...notice at the top of this book it says "Easy Piano"???? That means I might be able to learn it. We got home and lo and behold, James doesn't know the chords for the song I chose...nor any of the songs in the book. Some of them are too hard for him to learn. So while it said "easy" for the piano part, I guess the guitar part is "extremely difficult" or soemthing like that.
So, we ordered a song off the internet that James already knows and I learned that one. Maybe one of these days I will get brave enough to play it for you all on You Tube or something...or maybe not. I am shy, remember.
Chloe loves the keyboard. We left it up for almost two weeks and she would climb up and turn it on and play it whenever she walked in or out of the room.
So now I must say goodnight. I need to try and get some sort of "date night" going around here. Its Friday night afterall. The night for love and romance. The night to stay up later than 8:30pm. The night to...well...nevermind. *blush* Goodnight everyone!!!