You know those things that make you say "awwwwwww" without your knowledge or consent? The types of things that can evoke an "awwwwwww" from even the manliest of men? I have made such things this past week. Yes...I said "awwwww" and even my husband (who thinks himself a pretty manly man - he is pretty handy with a monkey wrench) said, "awww, how cute". (Sometimes, manly men can say the word "cute" and its okay. It takes a real manly man to be able to admit that a cute something is indeed cute.)
First, let me say, I had no control over the item that I am about to show you. It was not on my "to-do" list this week nor was I going to make it this week. I don't know how these things happen, but they do...and it did. I cannot say that I am not proud of it though...I am immensly proud. While I should have been knitting dishcloths, I knitted an itty bitty little mitt.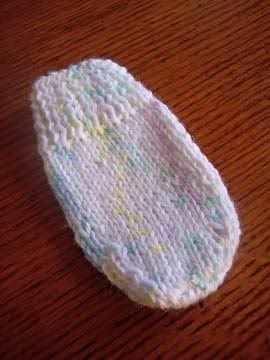 (I can hear all the "awwwww's" coming through the computer as you are reading this - okay...not really, but only because I do not have time to sit here and listen to them all. I know you are saying it though)
So, I made one...do you think I can knit another one? AND have them match? Let's see...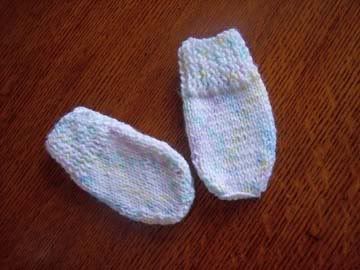 Ah Ha!!!!! (that is worth
at least
a double "awwwwww") They are almost identical! I am so proud.
I made another Itty Bitty Little thing. This has even MORE awwwww factor to it as it is even more itty bitty than those mitts. My good friend
Debra
informed us the other day on
my forum
that she has a good friend who just gave birth to a 3 lb preemie. They have absolutely nothing for this precious baby boy and so Debra asked us if we could crochet up some clothes for him. I immediately took up the challenge (well, after I finished a few other things I had to get done first)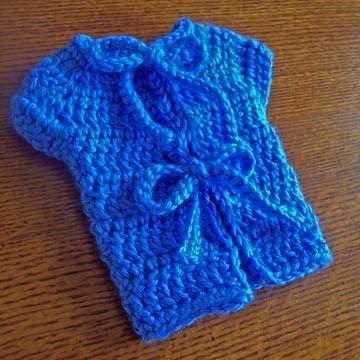 Isn't that just precious? I got the pattern
here
...but after working up the bottoms, they turned out NOTHING like the picture and were way to huge. I followed the directions as written and mine turned out like speedos. (gross) So, I threw them away. (I was in a bad mood that day and did not feel like frogging. When I went back to retreive them the next day, they had leftover oatmeal and splatters of something bright orange all over them so I decided it was NOT worth it for a tidbit of yarn - acrylic at that...had it been cashmere or wool...no doubt...I would have been all in that garbage can.)
Anyways, just to show you a size comparision, I took a picture of the itty bitty t-shirt and the itty bitty mitts together.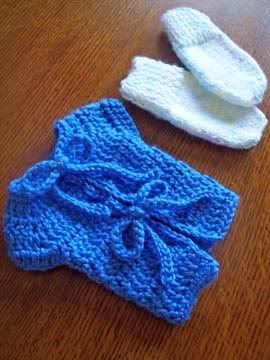 (Now I can really hear those "awwwww's"...they are sooo loud I can hear them without sitting next to my puter.) The t-shirt is for a 3-5 lb preemie and the mitts are for a newborn. Look at that...the size difference is amazing!!!
But what else have I been working on? I haven't shown you all anything in quite some time so a little t-shirt and baby mitts cannot possibly be ALL I have been up to in...oh...say a week. Well, I finished a doily that I started before Christmas. Alas...this one is not for me. It will go in the gift basket for my sister-in-law for Christmas next year. We draw names out of a hat and we get that person a $50 gift. I, of course, still make a small gift for everyone else because giving gifts is in my nature and to not allow me to do so would be like telling me not to love someone...it just isn't possible. (and gifts is my love language anyways) So, here is the doily.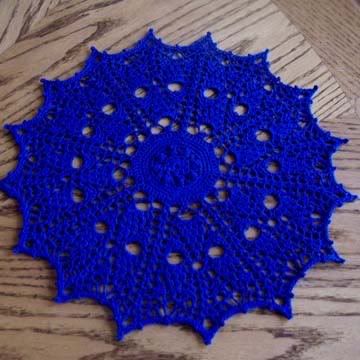 And you all know what is coming next, don't you??? (if you don't...you will soon.)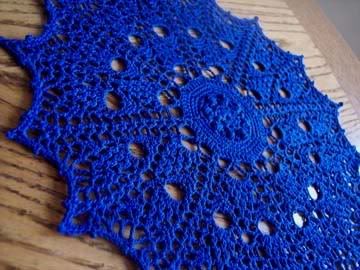 The fun shot. In case you couldn't tell...this is yet another PK doily. This one is from my book "Absolutely Gorgeous Doilies" which is properly named in my humble opinion. (because the doilies are ABSOLUTELY
GORGEOUS
!!!!!!!) I forget the name of this doily but it you
really
want to know I will go look it up. Leave me a comment and I will do it. This doily was done in size 10 thread.
Okay, I finished another book for my 50 book challenge. I am now 4 down and 46 more to go. I am getting there. I have calculated it out (because I am anal that way) and I only have to read a tad over 4 books a month to get 50 done in one year. I am now halfway through book number 5. (started it yesterday and will probably finish it tonight) The book I finished this week was "On Becoming Toddler-wise". Love this book. My second time reading it although my first time I didn't read the last chapter. This time I did...and now I am looking for signs that Chloe is ready to potty-train. This book has a method in it for potty-training that will suit me I think. And it appears to be fun. (can you believe that I think potty-training will be fun???? Weird, huh??? But then you always knew I was weird. Why else would you keep reading my blog?)
So, anyways...I will keep you posted on what my findings from my "Chloe Observations". In the meantime...I have some other pictures to show you. Once a day I have what we like to call "mommy-time". This is the time of day when I sit down and actually play with Chloe on her level. Its not me teaching her...or cooking with her...or having her help me do chores (which we do all of those too.) No...this is just good, old-fashioned playtime. She loves this time of day. She gets my total and undivided attention for a whole 30 minutes.
Well, yesterday, we pulled out the Mega Blocks. (like Legos only much hugermongous!!!) We made some creatures. I had Chloe hand me a block and I put it somewhere. I never knew which block I was going to get next. We had fun and found a new friend.
We call him "Thingly Unster".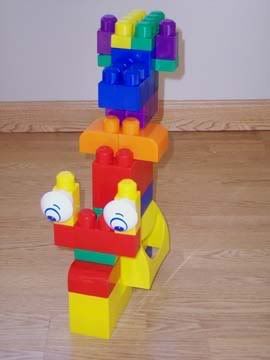 Now most Thingly Unster's are very nice. Ours happens to be nicer than most (which is a pretty big thing.) Thingly Unsters loved to be pushed around the floor so having them in the kitchen is a wonderful idea since the floors in there are smoother. (carpet tends to scratch thier under-bellies and if you make a Thingly Unster mad, you have done the terrible "Don't Do" and they will not speak to you for days afterwards. Its better just to avoid all this and stay in the kitchen.)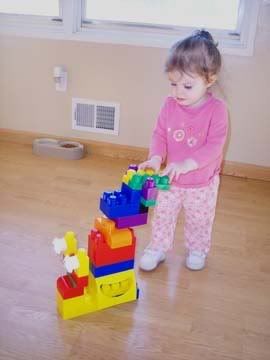 The next creature I made (without Chloe's help) was the Diddly Do.
Now I must give you a word of warning. Diddly Do's are all right with young children but you must watch them closely if you have pets.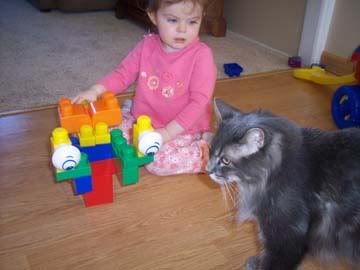 They can be a bit tempermental and have been known to kick and scream for no reason.They attack anything that walks around on four legs. (it is quite a comical sight if you have ever happened to see such an episode. Thier eyes start rolling around in cirles and they start drooling and then all of a sudden they stop and then pounce.)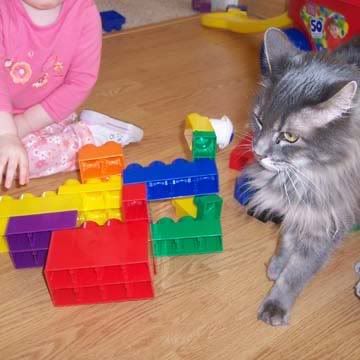 As you can see from the photo above, Pattycakes came out on top of that fight, but it could have very easily gone the other way. Needless to say, Pattycakes will not be coming around the Diddly Do again very often. And if she does, she will practice heeding to my warnings.
If the Diddly Do is a bit on the rough side for you, you may consider settling for his cousin - Diddly It.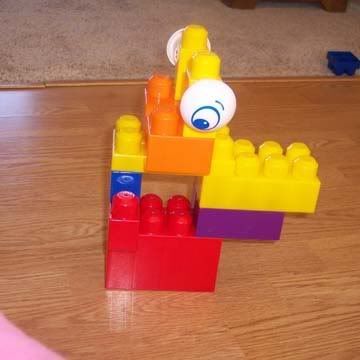 The Diddly It is very much like his cousin the Diddly Do in appearances except that his eyes are on the side of his head. This is quite neccessary for him since he is much more passive than his cousin and needs to be on the lookout for any attacks coming from behind or to the side. He would more likely run and hide instead of attacking like the Diddly Do would. He plays very gently too. A nice companion to any child, I must say.
Well, I hope you all have a wonderful day. I am off to a yummy cup of coffee and knitting a dishcloth. (feel more like coffee today instead of tea...caffine would be nice and hey...it snowed yesterday so coffee sounds nice) Just wanted to mention how weird things are in the city. Okay...so we got about 2 inches of snow over night. James didn't have to go to work until 9:00 this morning (instead of 6:00) because of the loads of snow we got on the grass. (none was on the streets...just grass...but I guess that can be pretty scarry when your driving. If your not used to seeing snow on grass, that is) And to top it all off...they completely cancelled school for the kids. It is now 1:30 in the afternoon and half of the snow is melted off the grass and yet it was too dangerous to make the trek to school. Weird, eh? (I can remember the 4-5 ft snowdrifts I used to to have to walk to school in...
both ways
!!!!) These kids have it good. (and yet I don't see a single one playing outside in it - that's what we used to do if ever we had the rare "snowday" off from school.)
Well, anyways, I have GOT to get going. That dishcloth needs to get done. Have a great day everyone!!!