When I was first married I started a notebook to hold my important things together all in one place. Things like our bills, budget, menus and such. Over the years I have added to and revised this notebook. I have gotten many a good idea from different sources such as
Flylady
, books I've read and other women. (Anne Ortlund's book "Disciplines of a Beautiful Woman" is one of the books I have gotten many good ideas from)
I thought that since I no longer have Monday Memories to participate in, I would share a bit of my binder with you each Monday. My binder is precious to me as it contains every aspect of my life in it. If I were to lose this binder, I would lose myself. (so to speak.) You will soon see why over the next few weeks. My hope in sharing this with all of you is that you too may find encouragement and maybe even help in our duty as wives and keepers of our homes.
First I will show you the cover of my binder. I have always just left it plain until I was reading
this blog
and her idea to make the binder pretty. So this is the cover I made for mine.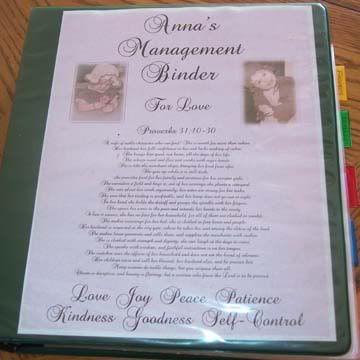 I have two pictures of Chloe on my cover along with my life verse...Proverbs 31. I have loved this verse since I was a teenage girl dreaming of keeping a home someday. Now that I am living my dream, this chapter has even more meaning to me. After this verse I also have written the Fruits of the Spirit. I have done this to remind myself each morning as I reach for my binder that it is the Holy Spirit working in me and leading me that helps me to be the woman God wants me to be. He will cultivate these fruits in my life if I allow myself to be led by Him. This is my daily reminder of that truth.
Now, on the inside of my binder I have a zipper pouch right in the front where I can access it quickly. I have two zipper pouches...one in the front and one in the back. I will talk more about the one in the back another day. The one in the front contains a bunch of pens. That is it. Just pens. And not just one...but many.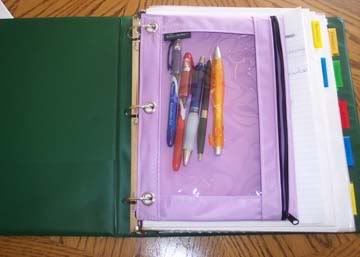 This way, if I lose a pen, I know exactly where to get a new one. I always try to keep my pen with my binder but you all know what it is like to have a toddler with exploring hands around...even if you don't have a toddler like that, I am sure you can imagine.
Next in my binder is something I find very important. I got this idea from that Anne Ortlund book I talked about earlier and instigated this portion of my binder about 4 years ago. It is my daily "to-do" list.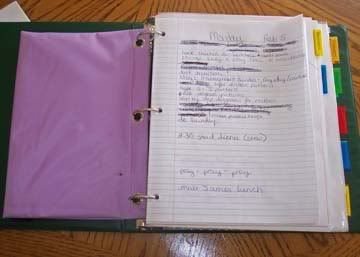 The first page is today. I write each page for a full month ahead of time. I am running low on notebook paper but once I get more (on my errand day) I will start running this out for two months ahead instead of only one. Each day gets its own page. I write all my appointments on the pages, what I need to get done, what I aim to get done...things like that. If I have Bible Study, I write what time that is and what I need to take with me. On the night before, I write that I need to make sure the diaper bag is packed and my Bible is by my purse by the door. I write when I need to clean my house...do laundry, pray, change the fish tank water, blog (each entry is planned out ahead of time), cook, write notes to friends, crochet...if you can think of it, its on my list.
At the end of the day, I review my list. If anything is not crossed off, it gets transferred to another day. (not neccessarily the next day because that day might be full already...but it gets written somewhere.)
Whenever I have an appointment in the future, I put in it on that particular day. If I need to take a card to someone at church, I write that in on Sunday. On Saturday I might make a note to write the card out and put it in my Bible.
I find this section of my notebook most helpful. It reminds me of my focus and where I need to spend some time that day. I also do that which I feel is most important on the list first. I do this according to my priorities - God first, husband second, Chloe third, house fourth, business fifth and so on and so forth. You get the idea.
Well, now it is time for me to get going and work on my "to-do" list for today. I hope you all got some form of encouragement or ideas from this. I will post my next section or two next week. I will also be adding a link to this post (and all the posts about my binder) into my sidebar so you can always view it whenever you feel like it.
Have a wonderful day everyone.