Well, the good news is I have been crocheting. Can't show you what yet (which means that this crocheting I am doing is designing...yay for me) but just know that I picked up my hook and some yarn today and I really
felt
like crocheting. I wasn't forcing myself to...I wanted to.
Well, anyways...I wanted to show you something very special. You see...it was Valentines Day this week. I awoke Valentines morning to snow and ice. James was given a "snow day". (the "snow days" around here still crack me up.) Well, I got up and cooked a yummy breakfast of pancakes. (a little tradition of ours - only I forgot to use the heart pancake cutters, drats!) I set out my little gifts for Chloe and James at thier places on the table. I enjoyed watching them open thier gifts. The joy...the thrill...the smiles. But alas...I must say...there was nothing on my plate. (aside from a few crumbs and tad bits of syrup) I was sad. When I asked James if he had gotten me anything he said no. This dashed all my hopes of chocolates or candies or cute things. Usually he would say somethign like "I didn't know what you would want" or "I am going to get you something today". Only problem is that the "today" we were currently having was a "snow day" filled with ice and snow...so no shopping trips for me.
At this point, I was convincing myself that James
does
love me. He shows me this love in
so
many ways. He provides for our family so I can stay home with Chloe. He rarely (notice I said "rarely") complains about my crochet stuff and other hobbies...he is a wonderful husband. And hey...didn't he just buy me the nicest
Christmas gift
not too long ago???
So, I did it. I convinced myself that this was okay. I would survive a presentless Valentines Day with no dinner out. (since we were snowed in and all, you know) Well, Chloe's
dollhouse
was delivered at about 1:00 that afternoon. Yup. UPS can be on the roads but James can't drive 10 minutes to work...funny. Anyways, the
dollhouse
came. Yay. It was whisked away to the closet in the basement to hide until Chloe's birthday next month. Well, the UPS lady said to hold on...she had one more package. I just knew it was my books I had ordered and the two rooms I ordered to go along with the dollhouse. (each room is sold seperately...they sure know how to make a buck, don't they?)
Well, when she came back up the walk...the box she was carrying said "ProFlowers" on it. My heart skipped a beat...and then my face broke out in a grin when I realized what it was. (I must have looked pretty stupid to the UPS lady with that grin smeared all over my face.)
James got me 18 red roses.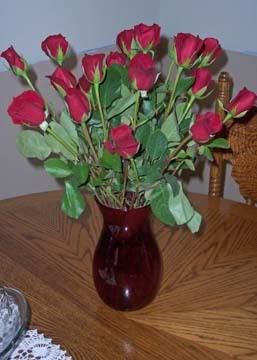 Ahhh...aren't they gorgeous??? I had to take more pictures.
Its like perfection. It IS perfection. They are so gorgesomous!!!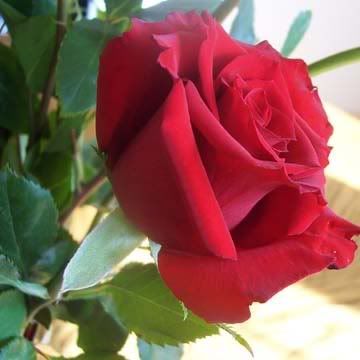 Oh I love roses.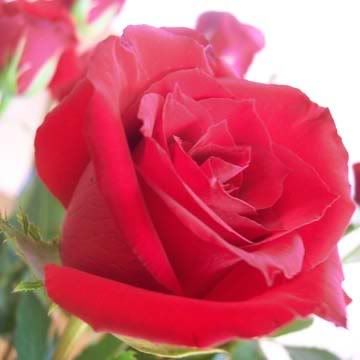 .
All these pictures of roses reminded me of Shakespeare.
"O, be some other name!
What's in a name? that which we call a rose
By any other name would smell as sweet."
I got lost in a moment of romanticism...so much so that it drove me to the used bookstore today. And you will never believe what I got there. Well..books are kind of a given. But think hard. Really hard. Okay...can't get it? Let me show you.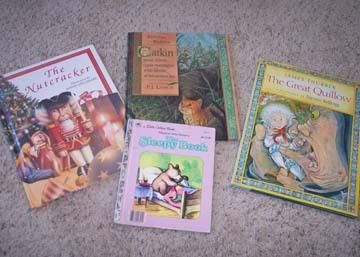 First, here are some books I bought Chloe. I am getting a little tired of the "lift the flap and count the two rabbits" type of books. They aren't holding my attention much any more. (I guess you could say the "novelty" is wearing off.) So, I got Chloe some neat books. You should read these books. They are full of imagination. I love them.
Anyways...the next picture will show you just how weird I really am.
Doesn't look so bad??? Little bit of Jan Karon...little bit of Laura Ingalls to start off that collection. I even picked up Heidi. Thought it would be a good book once Chloe gets a little bit older. But no...check out the book in the upper right hand corner. Yup...that one. Am I totally weird? or what? You do see it correctly. That is Romeo and Juliet. Funny how receiving 18 roses for Valentines Day will create this burning desire withen me to read Romeo and Juliet. All because of a quote. Hmmm...I think I have gone completely mad. Anyways...it will be a challange to see how much of the old 1500's version of English I understand.
Somehow all this talk of Shakespeare makes me miss England. Ohh...my most favoritist place in England was Stratford-upon-Avon. It was so gorgeous. I even saw (and possibly touched...I don't remember) the bench that Shakespeare and Anne sat on while they were courting. Ahhhh...how romantic!!! (now I REALLY want to read Romeo and Juliet)
So weirdness must run in the family.I leave you with a picture. You can decide for yourself what happened here. (let's just say that Chloe has yet to grow out of her "climbing" phase)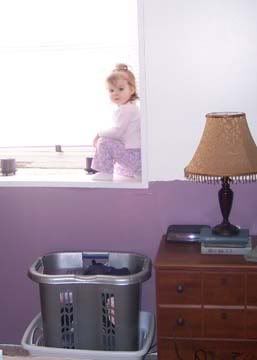 Have a great evening everyone. I am off to crochet until we crawl into bed. James is busy building his website on noodling for his college class at the moment which means I have some time to crochet before bed. Maybe I will have some pictures to show you all tomorrow. (I still haven't shown you the Barbie outfit I made this week for Chloe's birthday. I should get on that.)