The stashbusting continues. I chose to crochet up two
Vintage Shell purses
to get rid of some kitchen cotton that I had bought about a year ago for that very purpose only I bought cones of it. 1 pound cones. Which means that is
alot
of yarn to bust. And the sad thing is that since these were already partially used (since I had already made myself a purse last year) I only got 6 points total for these two purses. I feel like I should have gotten more since I spent a whole day crocheting them...and it was alot of yarn...and it took me all day to make them. (did I mention how
long
it took me??? And how much
yarn
it was???) Anyways, they are done...comeplete...finished...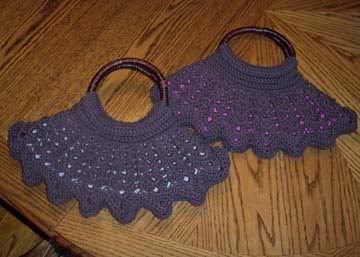 And, of course, these purses have my signature crocheted lining in them. First the tan one for my pastor's wife.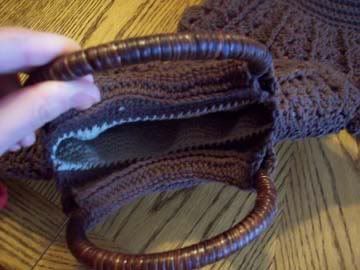 And the pink one...for my secret pal. Only this will be in her reveal package so she will not know it is I who is spoiling her. (in case she reads this blog. I don't know)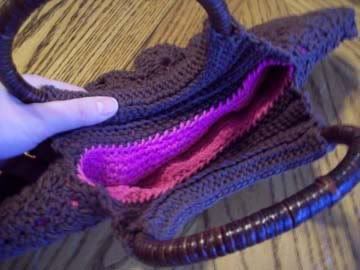 One purse will go to my pastor's wife since it was her birthday Saturday. I should have taken it with me to church yesterday to give to her but we were supposed to be taking her out to lunch today. Now I am not so sure if that will happen. We got about 5-6 inches of snow dumped on us yesterday afternoon. Ick! I was sooo ready for spring. I really believed it was coming too. Birds were chirping outside my window. The sky was sunny and bright last week. And then this. Snow. Buckets and buckets of snow. Right when the old snow was melting. What to do...what to do. Guess I will have to bust more stash.
Wanna know what my reward will be for all my stashbusting efforts??? The big reward that everyone gets is to BUY MORE YARN!!! Yay! I can hardly wait. But my reward is going to be bigger than just yarn. Check out this knitting book I bought a couple of weeks ago with my 40% coupon from AC Moore. (yes...
another
knitting book. I know! I'm a little crazy. So what! I am addicted to knitting books. Aren't you addicted to something silly too?)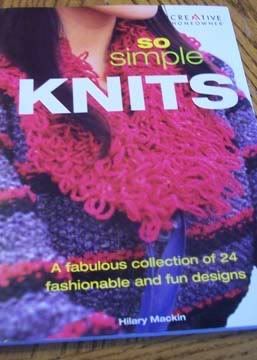 I have yet to decide what I want my reward project to be. I have two from this book that I am thinking about. Either this one...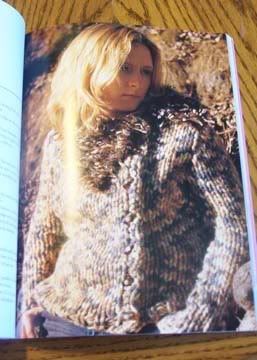 ...or this one...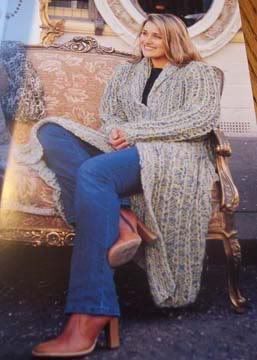 Hey! Do you think I deserve
both
??? I mean, stashbusting is a pretty hard thing to do. Especially when you are addicted to yarn as I clearly am. Another question that has been floating through my brain is when I will call it quits on this stashbusting spree. Should I choose a number of points and once I reach that I am done??? Say...200??? Or should I say that once I empty the oversized rubbermaid tote (you know those obscenely HUGE ones? That you could fit two people in?) that is enough? I would like to get that out of my sewing room since it takes up so much space. Hmmm...decisions, decisions. What to do, what to do.
Guess what! I paid myself on Saturday. This is the first time since I started my business last July that I have actually paid myself in something other than yarn (or knitting books. But those don't count since they are kind of related to "fiber arts".) I was shopping with a girlfriend on Saturday and I saw this gorgeous set of dishes at Kmart. (yeah. I know.
Kmart
! But they were gorgeous) See?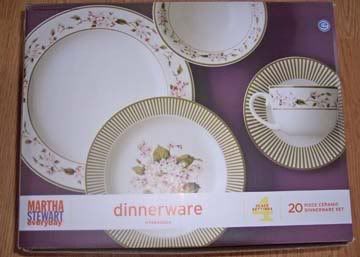 What did I tell you??? Gorgeous. (as if Martha Stewart could do anything NOT gorgeous.) I am tired of those beautiful pottery type dishes that chipped the first time I washed them. (I
tried
to be careful. Honest I did.) They are all chipped to smitherines. And I didn't particularly like them anyways. Everyone else did and would say how pretty they were but to me...they were boring. Just solid burgandy and solid green. Plain. Nor frills or ruffly edges. Nothing. But this new set is gorgeous. They fit me perfectly.
And
, in case you didn't notice, they even have a touch of pink. Yay!!!
But I didn't stop at just the dishes. I went all out. I got two sets of dishes, the platter, two serving bowls, the placemats and look at this!!!!!
Oh yeah, Baby! I got the teapot. (and sugar bowl and creamer jug)
Told
you I went all out. Boy do I feel great. It was kind of weird eating off these dishes. I haven't had anything as nice as this that I truly loved. Oh boy!!! Now if only James will get me my china hutch for my birthday. (he didn't say NO when I asked him so this is a good sign.)
I leave you with a picture of a little doily I made for my friend Pam for Valentines Day. She loves doilies and she looks wonderful in red (not that she is going to wear this doily, but you know. Its a color that suits her)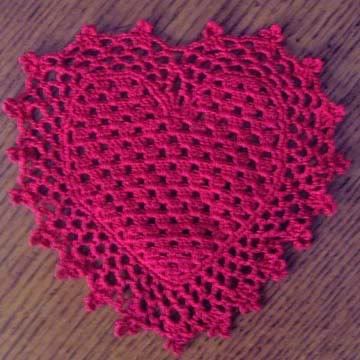 Okay. I am off now to stashbust more yarn. (I
really
want one of those coats. Can you tell???) I am going to skip housecleaning today. It is cold and snowy and I just don't want to clean today. It is not going to kill me to put if off for a day. I will be posting later on my Management Binder so stay tuned. Have a great day everyone!!!