Tackling Painting and Sewing Room Clutter
Tackle it Saturday and Sunday and Tuesday is more like it. Tackling for me began on Saturday when I decided to finish painting Chloe's nursery. We painted (well I painted) the whole house when we first moved in, but that was only the first coat. Now I am going back and putting the second coat everywhere so we can get the chair rails put up. (which we will be putting one up today in the living room. Yay!!!)
So, I tackled Chloe's room on Saturday. It went pretty fast too. I thought it would take me all day but it didn't. It took a couple of hours and then I went shopping with my girlfriend Pam. (when I bought that great set of dishes as Kmart)
Here is the "before second coat" ...
...not that you can see much there. But it was pretty streaky and such with bare spots showing through. Now bare spots are no more. Isn't it beeeeutiful???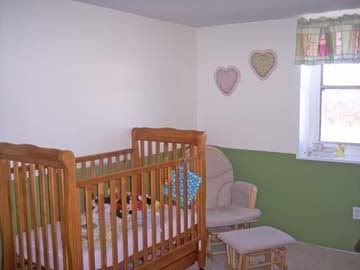 That was Saturday. The it snowed on Sunday and James thought it would be a good idea for me to continue painting. So I ventured into the bathroom. (which has been a sore spot for me ever since we moved in.) I hate yellow. I mean, I do appreciate the sunshinyness of it and all, but it just doesn't suit me. I don't enjoy looking at it. And if ever there was a yellow...it was this wall.
I just don't like this color. And it went horribly with the tiles they had down. (the fake tiles, mind you...not the ceramic ones.) I have told James that one of the things I would like to do is replace them with ceramic tiles. And check out this bathtub...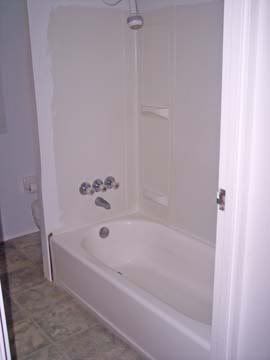 It will need to be fixed (or replaced) but that will be a tackle for another time. I am only painting. I prepped the yellow wall...
...which had a broken down old towel rod which I will be replacing with hooks this week. (I need more spots for towels than just two...there are three of us after all.) And then I primed away that old yellow to a nice white.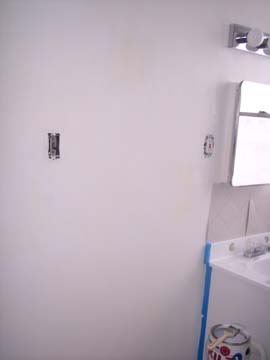 Ahhhhh....much better. Much better. I like it already. But that isn't enough. I
need
color. I
love
color. So, I put on some color. Okay...maybe neutral but it still is better than white (and heaps better then yellow, I must say)
And more of the same...
Ummm...gorgeous. I love it. Now see how much better that goes with my beautiful shower curtain???
Ahhh. It is beautiful, if I do say so myself. I love it. Now I just need some money to buy those hooks for the towels. I will also be replacing the lighting fixture to something a little less cold and more warm and inviting. (I have it all picked out at Lowe's too. Just you wait and see.) I also want to replace that medicine chest with something more woody...like oak or something. We will see.
That was a great tackle but it wasn't on Tuesday and since this is Tackle it Tuesday, I thought I had better do something at least. So, check this out.
Can you believe that is in
my
house??? I bet your all thinking that I went over to the neighbours house and photographed thier sewing room. Nope!! That is indeed my very own sewing room. It is the one room in the house that has no order. Well, it does have a bit of order but I tend to let little things pile up. I shouldn't do that, but I do. Can you handle more?
Are you choking from shock yet? To be honest, I didn't realize how bad it was until after I photographed it and started looking at the pictures. I am a little dismayed and in awe that it got this bad.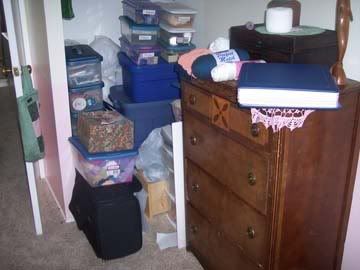 Anyways, sometime today between stashbusting and typing up new patterns, I will be working on this. It shouldn't take me too long. So, a-tackling I will go. (and stashbusting. I have a couple of things to show you later in regards to that topic.) Tune in later today to see my Tuesday Tackling efforts.
UPDATE:
Okay. I really should be in bed but hubby is off feeding the homeless tonight and so I am unable to sleep without him. I probably COULD sleep if I climbed into bed and shut my eyes, but the point is that I don't want to. I love falling asleep with my hubby next to me.
Anyways, I am here to show you all my after pictures of the sewing room. I almost didn't do this tackle. I almost had myself convinced that painting for two days was enough of a tackle this week. But then I stopped and thought how great it would feel to be able to walk into my sewing room without stepping on Chloe's face. (not her literal face...just the photos that didn't make it into the scrapbook and were left discarded on the floor - poor Chloe)
Here is the new and improved sewing room.
As part of my stashbusting efforts, I plan to completely remove that cardboard barrel from my sewing room. (need I explain that this barrel is chock-full of yarn??? Nah! You probably already knew that)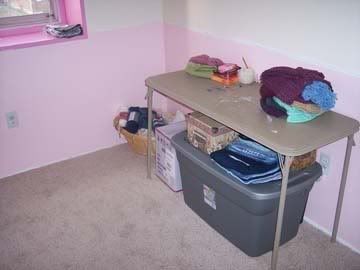 And I betcha can't guess what is inside that gray tote. (the one that can fit two bodies in it...) Darn. You know me too well. Yes...that is more yarn that is going to get busted.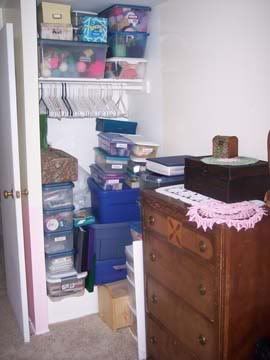 While I am quite pleased with my tackling of this room, one thing in this last area has me kind of stunned. I didn't realize it was
this
bad. Do you see that larger of the blue totes stacked in the closet area? I went to put some cross stitching supplies away in that tote and lo and behold...it wasn't the cross stitching tote at all. Nope. It was chock-full of yarn. Can you believe that? I can't. I don't remember putting it in there.
Oh well. At least the sewing room looks almost presentable. Now I need to get going on this stashbusting venture. I wonder if I can do it? (or how long it will last, I should say)